VINCI Airports starts new modernisation phase at Belgrade Airport
Belgrade Nikola Tesla Airport has welcomed VINCI Airport's new modernisation phase, aimed to improve the airport's environmental performance and operations efficiency.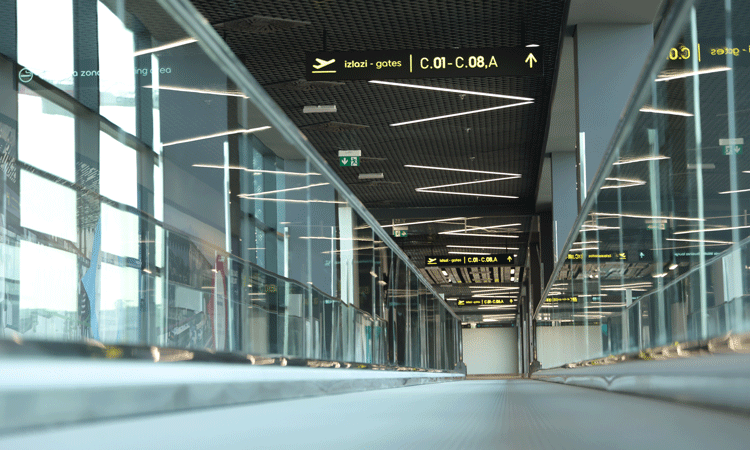 Credit: Belgrade Nikola Tesla Airport (BEG)
VINCI Airports has kick-started a new modernisation phase of Belgrade Nikola Tesla Airport (BEG), which aims to improve the airport's efficiency and environmental performance, in line with its commitment to its licensor, the Serbian authorities.
Boarding Pier C has been commissioned. With a surface area of 13,600m², it offers 13 boarding gates, bringing to 19 the total number of gates available at Terminal C. The new spaces are now aligned with VINCI Airports' signage and visual identity. Several improvements have been introduced for the first time at the airport, including an open-plan boarding area and moving walkways that facilitate passenger flows.  
The first phase of the tarmac modernisation works have also been completed, offering an additional surface  area of 27,000m² and four new spaces for aircraft parking lots, one of which allows the reception of wide-body aircraft.
Finally, the construction of the  airport's solar power plant has been completed. On a surface of about 15,000m², it hosts 3,000  photovoltaic panels. In operation, it will supply the airport with 1,200,000kWh of solar energy each year, supporting VINCI Airports' objective of achieving net zero carbon emissions over its entire network by 2050. Since its integration into the VINCI Airports network in 2018, Belgrade Airport received its first  Airport Carbon Accreditation (ACA) certificate and its first  ACI Quality of Service Award  in 2021.
VINCI Airports will complete all the modernisation works in 2023. They will include the extension of the passenger terminal, new boarding gates, the construction of an additional runway and the renovation of existing runways.