Testing updated check-in services at Helsinki Airport
At Helsinki Airport's Terminal 2, updated check-in services have been tested with trial passengers, in order for Finavia to gather valuable information and feedback on the new processes.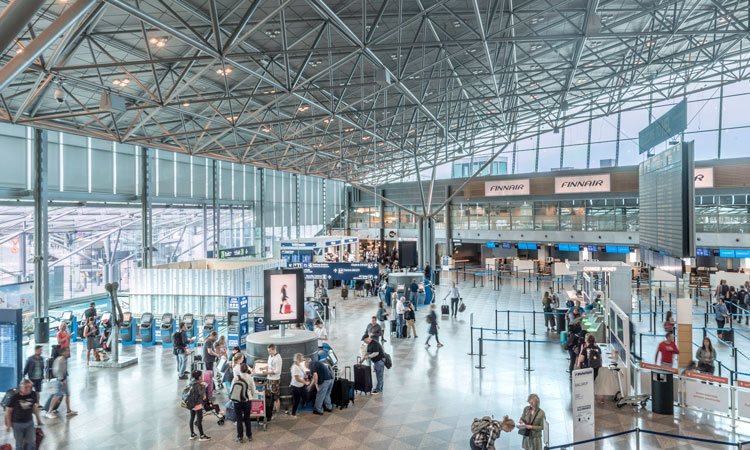 Finavia has tested its renewed check-in services at Helsinki Airport's (HEL) Terminal 2 with trial passengers. Students studying tourism at Haaga-Helia University took the role of passengers in the test. The airlines, freight forwarders, and Finavia received valuable information and feedback on the new processes.
"So far, we have tested the check-in process of the extension piece by piece. Now we will see how the process works as a whole and how the service feels like to the passengers. There were many people involved, as freight forwarders and airlines also participated in the testing," said Jenni Koskinen, Project Manager for Helsinki Airport at Finavia.
The service is tested to ensure that everything runs as smoothly as possible when the premises are opened for passengers in the spring.
The students from Haaga-Helia were excited to participate in the test day. Finavia provided them with bags, new names and boarding passes that they used at the check-in counter.
Hasen Al-Juran, student in international tourism from Turku, described the day as a nice experience. This was the first time he participated in testing airport operations. Al-Juran had already travelled to Paris and Oslo via the new extension of Helsinki Airport, but now he had the chance to see the premises in more detail. 
Kristina Slavikova, Keisha Shareen Oliveira and Tiana De Sousa, exchange students at Haaga-Helia's Haaga campus, would like to work at airlines and airports after their graduation.
At Helsinki Airport, they appreciate smoothness and short walking distances.
On the test day, they had a few tricky situations when their luggage did not leave as expected.
This is precisely the reason why Finavia organises test days. After the test day, the incidents are reviewed and any problems can be corrected.
 "We made some good observations today that we had not noticed before. We received valuable information from the passenger perspective," added Koskinen.