New report shows an increasingly robotic future for airports
According to a comprehensive research report by Market Research Future (MRFR) the airport robot market is predicted to grow substantially between 2021 to 2027, at a compound annual growth rate of 16.8 per cent.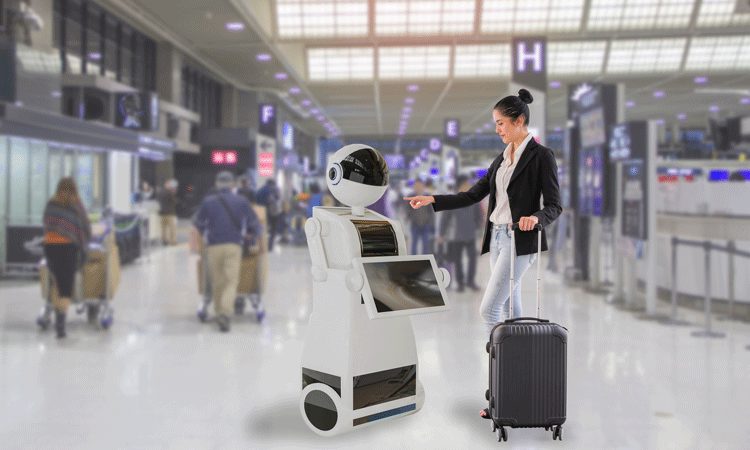 The MRFR report looks at the "Airport Robots Market Information by Application, and Region – Forecast till 2027." It further discusses Airport Robots Market Insights and Industry Analysis by Application (Landside, Terminal), and Region (North America, Europe, Asia-Pacific, Middle East & Africa, and Latin America), Competitive Market Size, Share and Trends.
The airport robot market
Airport robots are a cutting-edge concept that has been implemented in several airports throughout the world. It is projected that robots will replace human airport workers in the airport operations environment soon. In the meantime, several airports are conducting tests to provide customers with entertainment, information, and advice. Furthermore, with the rapid advancement of technology, an increasingly robotic future for airports appears to be a certain conclusion. The usage of robotic technology in airports is set to steadily grow, with certain models requiring the presence of a human before becoming fully autonomous.
Market drivers, restraints and competitors
The expanding use of airport security robots for security applications is highly sensitive, as it still requires manual labour which raises overall costs. However, the use of robots lowers security costs all while enhancing efficacy. Airports worldwide are under increased pressure to become more efficient as air travel takes off after a year of decline. Many customers identify airports with delays, expense, and inconvenient experiences, which are all associations that are becoming increasingly unfavourable as the world becomes more responsive due to digitisation. Due to the increasing deployment of airport robots for cleaning services and security applications, the worldwide airport robots market has seen significant growth in recent years.
The progression, albeit gradual, of the airport robot market is heavily influenced by the high-cost of manufacturing the machines. The costly production is anticipated to stifle the market's expansion and can be viewed as a major limitation on the global market. Since robots are a substantial investment, airports must develop efficient, high-performing use cases to capitalise on them. This aspect is estimated to be a major restriction for the overall development of the airport robots market.
As the airport robot landscape continues is progress, competitors and contenders in the market also surge, including: ABB Ltd, LG Electronics Inc., SoftBank Corp., Stanley Robotics, SITA, YUJIN ROBOT Co., Ltd., Universal Robots A/S, ECA GROUP, Avidbots Corp and Cyberdyne Inc.
COVID-19 reflection
The COVID-19 pandemic is significantly impacting the global airport robotics industry. Furthermore, flight cancellations throughout the world because of the government's travel requirements and restrictions during COVID-19 lockdowns, have also had a tremendous impact on the market. To avoid any unintended accidents at airports throughout the world, the key parties have begun testing autonomous robots that are expected to assist airport security employees. Additionally, automated cleaning methods continue to be used throughout the changing airport environment, as government requirements shift in reaction to the advent of new COVID-19 versions.
Regional insights
With the presence of major competitors in the industry and the increasing automation of airports, North America is likely to lead the airport robotics market, as it has the world's busiest airports. Therefore, the government is anticipated to raise spending to assure safety measures. Recently, Amazon has approved the installation of its $1.5 billion aviation hub at Cincinnati/Northern Kentucky International Airport and has begun operations there. In 2019, Amazon launched construction on the 800,000ft2 complex, which now includes robots, kilometers of conveyor belts, and other upgraded features.
The country's early adoption of airport automation technologies has led to successes such as, the testing of a 5G robot for perimeter-fencing security checks was recently completed at Hans Christian Andersen Airport. TDC NET's Ericsson-powered 5G, which was trialled in collaboration with the Danish Technological Institute, was used to connect the robot. 'Spot', the Institute's four-legged mobile robot designed by robotics company Boston Dynamics, was connected to TDC NET's nationwide commercial 5G network as part of the agreement. Spot had previously only completed duties for the Institute via Wi-Fi. However, using Wi-Fi can restrict the range of reachable connectivity, therefore it required the robot's operator to be within 30m of the robot.
Due to the increasing adoption of automation technology at airports, the Asia-Pacific region is expected to have a high compound annual growth rate (CAGR) during the projection period. Increased defence spending by countries including: Israel, Saudi Arabia, and the United Arab Emirates, is expanding demand for robots in the Middle East and Africa region.