Kansai Airports signs contract for renovation of KIX Terminal 1
The renovation of Kansai Airport's Terminal 1 will focus on expanding the capacity of international flights and improving the passenger experience.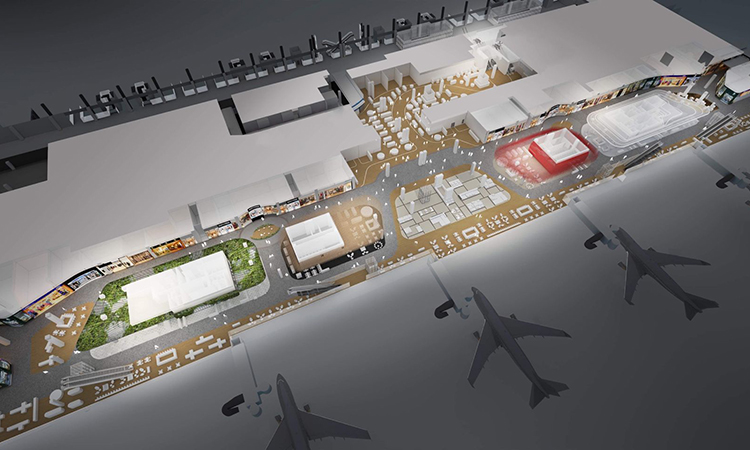 Credit: Kansai Airports - Concept art of the renovation of KIX's Terminal 1.
Kansai Airports and the Obayashi Corporation have announced that they have signed a contract for the Kansai International Airport (KIX) Terminal 1 (T1) Renovation Project.
The T1 renovation mainly aims at expanding the capacity of international flights and improving the passenger experience at Kansai Airport. The renovation works are scheduled to commence on a full scale on 28 May 2021, so that the main functions of the airport will be ready for use by the Osaka-Kansai Expo in 2025.
Kansai Airports' Representative Director and CEO, Yoshiyuki Yamaya, and Representative Director and Co-CEO, Benoit Rulleau, commented: "We would like to express our sincere gratitude to everyone who supported the conclusion of the agreement for the T1 Renovation. As an international airport that plays a vital role in driving the Kansai region's economy, we are committed to accommodating future air travel demand. At the same time, we will strive to provide a new and comfortable travel experience for airport guests, transforming the airport as the First Pavilion of the Osaka-Kansai Expo 2025."
Meanwhile, Obayashi Corporation's President and Representative Director, Kenji Hasuwa, said, "We will use our best efforts and take every possible measure to ensure quality, safety and health during construction so that KIX can offer a new terminal experience for all passengers and contribute to the success of the Osaka-Kansai Expo 2025 as the First Pavilion for foreign visitors."
In cooperation with stakeholders, the two companies will steadily advance the renovation project in a strong partnership to enhance the functions of KIX, the gateway to Kansai for people from around the world.