Arrivals hall at Teesside Airport undergoes major transformation
With the aim of improving the passenger experience, the arrivals hall at Teesside Airport has undergone significant renovation.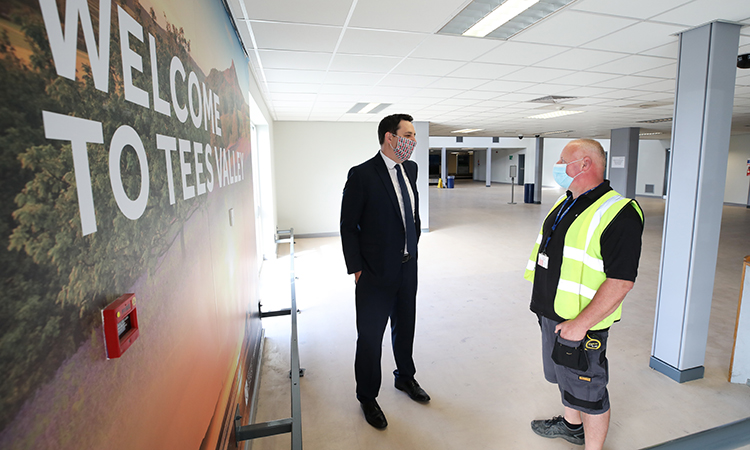 Credit: Teesside International Airport
Teesside International Airport (MME) is becoming more welcoming than ever, with major renovation works now taking place to transform the arrivals hall.
The space has been remodelled, with new walls and signage to help guide passengers and make moving through arrivals as smooth as possible, alongside fresh flooring and painting work to improve the overall passenger experience.
The upgrades are being carried out by Stockton-based MJ Joinery and Ideal Decorators North East, as part of the commitment by Tees Valley Mayor, Ben Houchen, and Teesside Airport to support local businesses and workers.
The renovation follows similar improvements carried out in the departures lounge – again, with new carpeting, paint and signage making the entrance more appealing and easy to navigate. 
The upgrades have been revealed just days after it was announced that popular flights to Aberdeen and Belfast would be operating twice every day from 7 September 2020. The airport has also recently secured a new route to London Heathrow Airport (LHR), the UK's biggest airport, with the service set to begin operation on 14 September 2020.
Houchen said: "For many visitors and investors, the arrivals hall at Teesside International will be the first thing they have seen of our area, and we needed to give it a facelift and get it out of the 70s. It's vital that we give those arriving a great first impression, because investment in our area isn't going to come on a bus, it will come through that terminal. We need to project the image of our area as modern, confident and a great place to invest, live, visit and work, and that's exactly what this revamp will do."
"From day one of bringing this airport back into public control, investing in the passenger experience and developing the site into one we can be proud of has been a massive strand of our work here. The improved departures and arrivals areas compliment our new and expanded routes, and show we'll soon be open to do business when our Southside development is complete – a key part of my plan for jobs. By once again using local companies to carry out our upgrade work, we're backing our workers and showing the airport's direct value in Teesside, Darlington and Hartlepool today," he added.
All work is being carried out in line with UK government guidance on COVID-19 safety and social distancing. For the wellbeing and safety of staff and passengers, new health and safety measures have also been put in place for the airport, with six simple steps – including hand sanitisation points and face masks – now in operation.