Teesside International Airport joins Hidden Disability Sunflower scheme
Designed to support those with disabilities that are not visible or immediately noticeable, the scheme is now in effect at Teesside International Airport.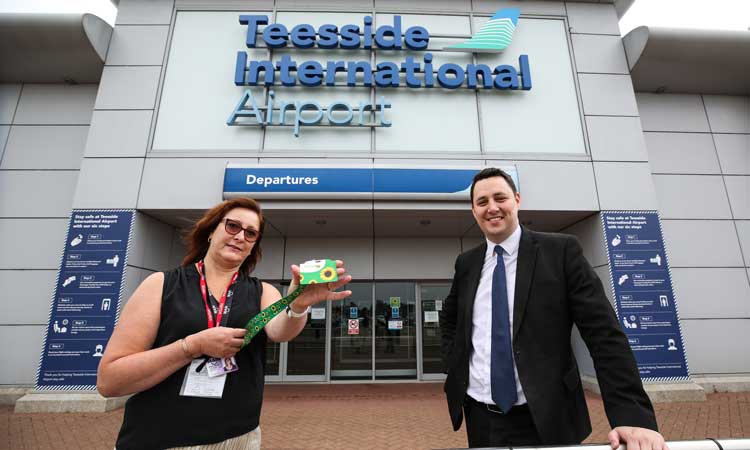 Credit: Tees Valley Combined Authority
Tees Valley Mayor, Ben Houchen, has signed Teesside International Airport (MME) up to an internationally recognised scheme to help airport staff support people with hidden disabilities. The sunflower scheme is recognised and has been adopted by airports across the world, as well as stations, high-street shops, venues, businesses and other organisations. 
The Hidden Disability Sunflower scheme was launched in 2016 and provides lanyards and badges which subtly signal to members of airport staff that the wearer has a disability and that they may need additional help, time or assistance when moving through the airport or on board the aircraft.
Not all disabilities are visible and some are not immediately obvious, such as autism, chronic pain, dementia and anxiety. Hidden disabilities include learning difficulties and mental health problems, as well as mobility, speech, visual or hearing impairments. The sunflower lanyard enables someone with a hidden disability to choose to be visible. 
These lanyards and badges can be picked up on arrival at Teesside International Airport and can be used solely for travelling purposes at Teesside or at other participating airports around the world. One such airport is Amsterdam Airport Schiphol (AMS) and, with KLM Royal Dutch Airlines resuming its service from Teesside to the Dutch capital in early August 2020, wearers can be assured that both airports apply the same standards.
At the launch of the Hidden Disability Sunflower scheme at the airport, the Mayor was joined by Helen Jaques, Charity Manager for the Middlesbrough-based autism charity MAIN, and she will be working alongside the airport to raise further awareness of autism. This includes improving and tailoring security procedures and research into the introduction of a 'quiet room' at the airport.
Mayor Houchen said: "I'm proud to be launching this important scheme which will make Teesside International Airport more enjoyable, accessible and comfortable for those living with a hidden disability and their travelling companions. Living with such conditions can make life extremely difficult and, even with the most attentive and trained staff, it can be hard for them to recognise or understand the level of support people might need. The sunflower, a symbol of positivity, discreetly signals that help might be needed."
He continued: "It was fantastic to meet Helen as part of our launch, an inspiring woman who is raising awareness of one type of hidden disability, autism, through work with MAIN and her day-to-day life by backing the efforts of others. As we continue to redevelop Teesside International for our local people, visitors and businesses, this scheme, and considerations surrounding those with hidden disabilities, will be front and centre of everything that we do."
Helen Jaques said: "I am delighted that Teesside Airport has come on-board with the sunflower lanyard scheme. I have seen first-hand the success of this scheme in shops and at other airports, and I'm keen for it to be rolled out and become universally recognised as the international symbol of access."