Haneda Airport's passenger waiting time system put into full operation
The system has been in operation since October 2019, visualising the status of passenger traffic at security inspections.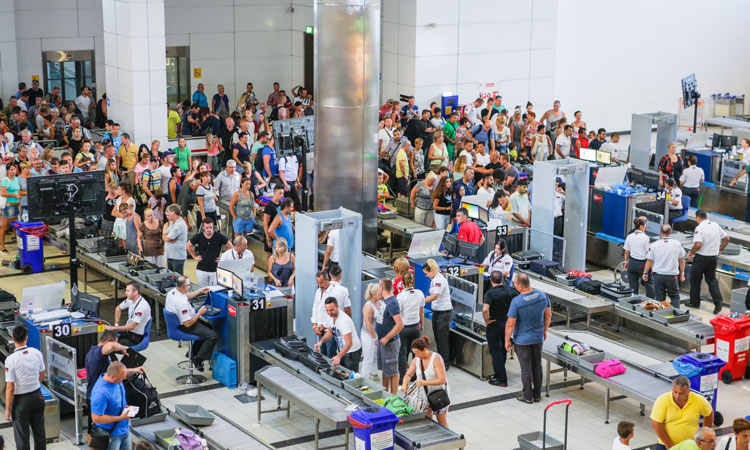 Haneda Airport's 'Waiting Time Forecast System', first put into operation in October 2019, is now providing fully automated waiting time forecasts for passengers. 
The system analyses and visualises the status of passenger congestion at security inspections throughout the airport's International Passenger Terminal.
Crowd behaviour analysis technology, which detects crowd congestion in videos, is combined with 3D stereo-visual sensors, which capture the movements of people who appear on screen. The crowd behaviour technology has been provided by NEC, and is part of the company's AI technology portfolio.
The technologies collect and analyse information regarding passenger flow and numbers, then visualise the status of congestion in real time in order to provide passengers with estimated waiting times.
The system will improve the experience for departing passengers, enhancing convenience levels and improve the on-time performance of aircraft operations by levelling the utilisation rates of security inspection sites, allowing passengers to strategically choose the security inspection point they go to.
NEC plan to further increase the accuracy of the AI-enabled forecasts and expand its capabilities, such as predicting waiting times hours in advance.
In October 2019, the International Air Transport Association's (IATA) released their 2019 Global Passenger Survey, showing that passengers are looking for less waiting times. The survey indicated that 80 per cent of passengers want to wait no longer than three minutes to drop off a bag. This increased to 10 minutes for queuing at immigration/customs for 79 per cent of travellers. Passengers (74 per cent) also want to wait no longer than 10 minutes for baggage delivery. Almost none want to wait longer than 20 minutes. The survey also found that for nearly three quarters (74 per cent) of passengers, speed was the main benefit of using automated immigration gates/kiosks.
Haneda Airport's new system will help to limit the dissatisfaction of passengers and improve the efficiency of the airport.