Birmingham Airport launches fully electric bus fleet
The new fleet is the result of a £1.8 million investment and will replace the diesel vehicles currently in operation at the airport.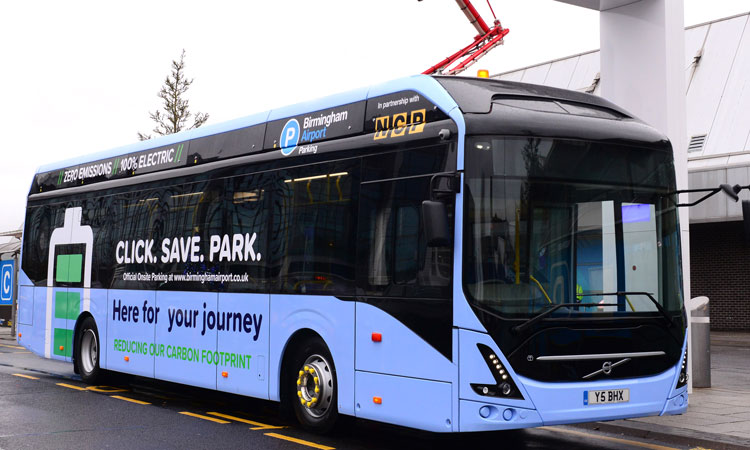 Copyright: Birmingham Airport
Becoming the first airport in the UK to implement the new ultra-low emission buses, Birmingham Airport has officially launched its new fully electric bus fleet. The new fleet will replace the diesel vehicles currently in servicing the airport and will operate as a free passenger service via all landside car park routes.
Following an investment of £1.8 million by the airport, with an additional grant of £1.4 million provided by the Department for Transport under its Ultra Low Emission Bus Scheme, the fleet consists of six 7900e single deck electric buses, providing an 80 per cent lower energy consumption than their diesel counterparts. The fleet utilises a pantograph charging type, the only one of its kind in any UK airport, that allows buses to be recharged on route – by using the new OppCharge system, charging takes only six minutes to complete and enables continuous operation.
CEO of Birmingham Airport, Nick Barton, said: "I'm extremely proud to say we are the first UK airport to implement a fully electric landside bus service. The buses are not only a big win for us in terms of the reduction in emissions, but they will also contribute to providing an improved passenger experience."
The development and implementation of the new fleet came as a result of a review undertaken by the airport, and follows the airport's announcement of its commitment to becoming a net zero carbon airport by the year 2033, ahead of the 2050 UK target.
Barton continued: "This is a really exciting time for Birmingham Airport. Over the next 15 years, we are investing significantly to improve our facilities and service for customers, whilst reducing our carbon footprint to reach an ambitious target of net zero carbon by 2033."
The Mayor of West Midlands, Andy Street, said: "A huge congratulations to Birmingham Airport on the launch of their electric buses. It really is great to see the airport leading the way in the fight against climate change, not only as the first UK airport to implement a fully electric landside bus fleet, but also with its wider commitment to become net zero carbon by 2033. We know around a third of carbon emissions across the West Midlands come from transport, but the good news is that we are making progress to tackle this, with Birmingham Airport's electric bus fleet a prime example."