Luton Airport rail link moves a step closer with bridge installation
The direct rail link into Luton Airport has moved a step closer with a bridge to carry trains over the main A1081 road now in place.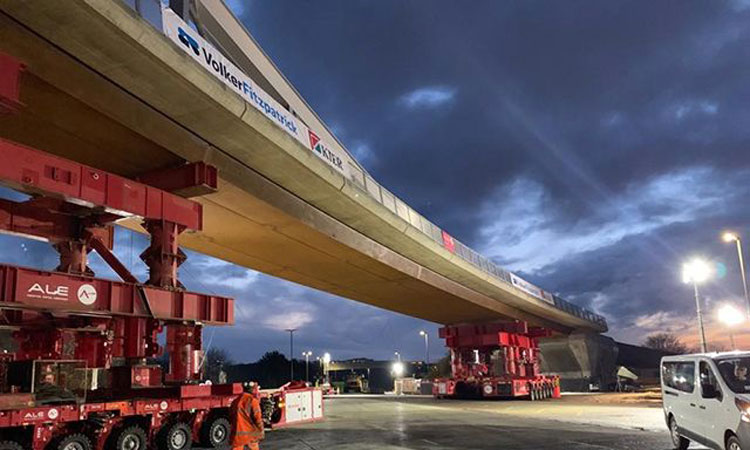 Credit: VolkerFitzpatrick-Kier.
The direct rail link into Luton Airport has progressed a step further with the DART Gateway Bridge, which will carry trains over the main A1081 road, now in place.
The move of the 1,000 tonne structure took approximately just over two hours and was then eased into position using heavy-duty jacking tools in a process that took a further four hours.
"We'd like to thank our passengers for their patience this weekend while this vital work was carried out," said Clare Armstrong Head of Passenger Services at London Luton Airport. "Thanks to some thorough planning and great teamwork from everyone involved we were able to keep disruption to a minimum. We look forward to our passengers enjoying the benefits of this work when the DART opens in 2021."
Once operational in 2021, the £225 million Luton DART (Direct Air-Rail Transit) will take travellers from Luton Airport Parkway station to the terminal of London Luton Airport in under four minutes.
Passengers will reportedly be able to travel between St Pancras and London Luton Airport in 30 minutes using the fastest trains, then transferring to the Luton DART. The scheme will be a double-shuttle, fully-automated people-mover, based on the latest system technology and design innovation, capable of operating 24 hours a day, seven days a week. The cable-driven system is energy efficient and environmentally friendly. 
The project is being funded and delivered by London Luton Airport Ltd (LLAL) and is reportedly to contribute significantly to LLAL's target of encouraging at least 45 percent of all travellers to the airport to use public transport.