Works begin on £225 million London Luton Airport transit system
Work has begun on a state-of-the-art £255 million automated shuttle between London Luton Airport and Luton Airport Parkway railway station.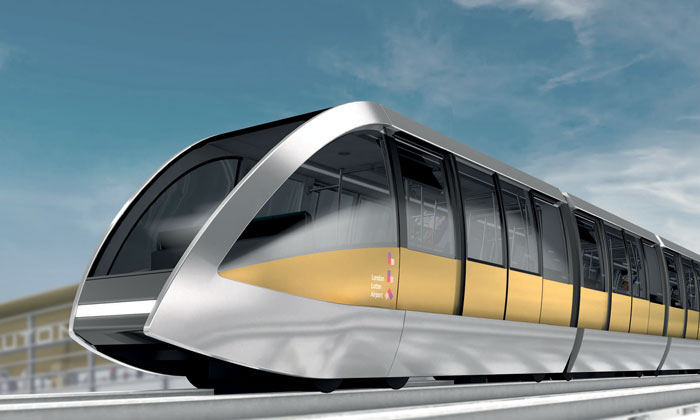 COMING SOON: A mock-up of the transit system
The ground was broken on the project, Luton DART (Direct Air-Rail Transit), on Tuesday (April 17) by Lord Porter of Spalding, Chairman of the Local Government Association.
He was joined by Cllr Hazel Simmons, Leader of Luton Council, and Cllr Andy Malcolm, Chair of the Council's airport company London Luton Airport Ltd (LLAL).
The rail link's journey time from Luton Airport Parkway to the airport terminal is expected to be under four minutes – enabling access from central London to the departure terminal of the UK's fifth biggest airport in 30 minutes by the fastest train.
Cllr Hazel Simmons said: "The Council is proud to be at the forefront of creating a brighter future for Luton, and this is another exciting landmark moment in the ongoing transformation of our town under the £1.5 billion Luton Investment Framework.
"The Luton DART will benefit not only airport passengers but also the people and businesses of Luton in that it supports our ambitions to secure long-term economic growth and ensure local people have access to high-quality employment opportunities. We are all looking forward to the Luton DART opening in 2021."
LLAL awarded contracts in December for the civil works to a VolkerFitzpatrick-Kier joint venture and for the transportation system to Doppelmayr Cable Car UK Ltd.
The project has full planning permission from Luton and Central Bedfordshire councils, and is on track to be ready for operation by spring 2021. It will create 500 construction jobs over three years, 30 apprenticeships, and 17 permanent positions.
Cllr Andy Malcolm said: "Luton Airport has come a long way from the grass airstrip that opened 80 years ago. It is experiencing unparalleled success, with a 50 per cent increase in passenger numbers since 2014.
"The Luton DART will support ongoing growth to 18 million passengers per year by 2021, and make sure the passenger experience we provide is significantly enhanced."
The Luton DART will be a double-shuttle, fully-automated people-mover (APM) which will be capable of operating 24 hours a day, seven days a week.
The 2.1km route will run between two purpose-built stations at Bartlett Square and the airport terminal, crossing a new gateway bridge over Airport Way. In peak time, a service will leave each station every four minutes.
As a key delivery partner for the Luton Investment Framework, LLAL is also bringing forward significant commercial developments at New Century Park, Bartlett Square and, later, an airport business park.
Cllr Malcolm added: "This investment by the Council and its airport company will encourage and transform the experience of those travelling to the airport by rail, thereby helping to reduce congestion on the roads, and confirms our confidence in Luton's potential for economic and employment growth.
"The journey time from St Pancras of less than 30 minutes will beat Liverpool Street to Stansted by 20 minutes and will be faster than Victoria to Gatwick too.
"Luton as a town is on schedule to create 18,500 new quality jobs for local people that will drive improvements to health and wellbeing, raise aspirations and enhance prosperity."
Markus Schrentewein, Chief Executive Officer of Doppelmayr Cable Car, said: "Doppelmayr is excited to form another partnership within the UK. The Luton DART will be the second APM system built by Doppelmayr in the UK after the air-rail link at Birmingham International Airport.
"With over 125 years of experience in making people mobile, we relish making long-term connections within the community by delivering not just an environmentally-friendly transit system, but also providing world-class operational service throughout the lifetime of the system. We are also excited about partnering with local educational institutions to help develop Luton's future great minds."