Autonomous baggage tractor to be tested at Toulouse-Blagnac airport
A first-of-its-kind real-world test of an autonomous baggage tractor is being carried out at Toulouse-Blagnac airport.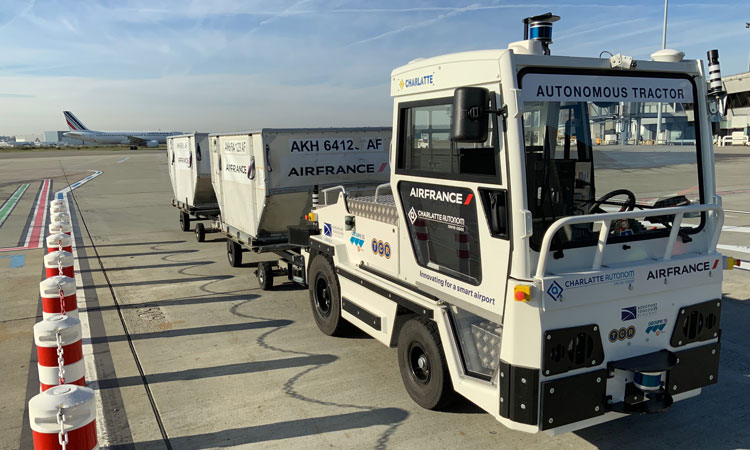 Testing of an autonomous tractor for transporting baggage between the baggage sorting area and the aircraft is being carried out at Toulouse-Blagnac airport.
The aim of this test (which is the first in real conditions) is to improve baggage flow performance and ramp safety at airport hubs. Furthermore, by automating traffic flows, operators can focus on decision-making and management actions, which saves time and efficiency when handling aircraft.
Once the passengers' baggage has reached the baggage sorting area, the autonomous baggage tractor intervenes in the following way:
An agent places the baggage in containers connected to the autonomous tractor
The baggage tractor is a smart vehicle that moves autonomously around the airport to reach the aircraft: Its destination is pre-programmed via a touchscreen 
As it nears the aircraft, the tractor stops and the agent takes control of the vehicle and subsequently loads the baggage in the aircraft hold
The vehicle returns to the baggage sorting area taking the same route in the reverse direction.
"This test is a concrete step to designing the smart airport, more innovative, connected and more efficient for our customers," said Philippe Crébassa, Chairman of the Executive Board of Toulouse. "It was only natural that this world first took place at Toulouse airport, the pioneer city of aviation."
To carry out its tasks and integrate ramp traffic, the AT135 tractor is equipped with intelligent sensors that enable it to recognise its environment, position itself with great precision, detect obstacles at 360° and make decisions. The vehicle can move around the airport autonomously due to its sensors (Lidar, camera, GPS and odometer) and its autonomous steering software. It also communicates with the hub's traffic signals.
The autonomous electric baggage tractor has been operational at Toulouse-Blagnac airport every day since 15 November and has been able to navigate the environment autonomously thanks to specific authorisations.