Israel Airports Authority (IAA)
www.iaa.gov.il Temporary Check-In Zone Tent Improving users experience while mitigating soaring traffic increase demands with "Out of the Box" solution. Ben-Gurion Int'l Airport (TLV) is dealing with amazing 3rd year in a raw 15% PAX growth (over 50% increase over last 5 years), and finds itself in need of speeding-up development plans to […]
Temporary Check-In Zone Tent
Improving users experience while mitigating soaring traffic increase demands with "Out of the Box" solution.
Ben-Gurion Int'l Airport (TLV) is dealing with amazing 3rd year in a raw 15% PAX growth (over 50% increase over last 5 years), and finds itself in need of speeding-up development plans to support proper serviced facilities to the public. As other airports, we've got some constrains that are not by-passable when you are chasing these fantastic industry's boom. We needed to bridge a gap of at least 2 summers (2018-2019) as pick times until we can start the "real" terminal solid next stage development. The airport came out with a new idea – to transform one of the employee's parking-lot into a fully equipped check-in zone….and to do it in no-time. The idea was to use the main terminal (T 3) infrastructure and to "Glue-in" additional check-in zone (the 6th in the terminal). Using that nearby concrete parking-lot transformed into a shiny smooth floor – the airport has recently introduced a simple/sophisticated solution of a respectfully decorated, air-conditioned, fully furnished Tent, connected to the main hall from a wide side door, standing up for all safety standards, having even glass doors with access control system, CCTV, and more. This new addition to airport's service offer 26 check-in drop-off desks, can service 600 PAX per hour with nice ambiance environment – and all of that happened over 4 months project with reasonable 2.5 million USD tag price, which makes it cost effective to our needs.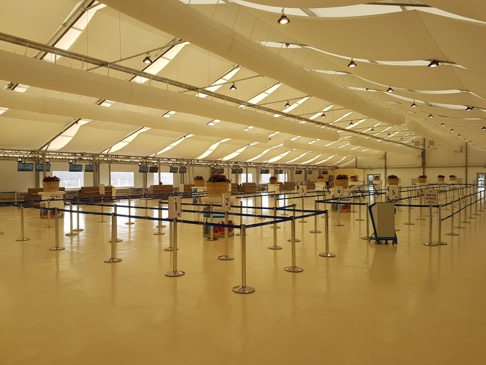 We've connected baggage conveyors to the main BHS/HBS systems, installed some additional security elements and accessibility.
Airlines/Ground handling agents, other employees and most importantly passengers as clients – all approve this imaginative temp. solution that helps "spread" the pick times better and allow nice travel experience to our guests.
Although some of us still look at their former parking spot with longing… yet we are proud of this better service, and in 15 months from now – the Tent is due to finish its service time and give way to actual construction site of a new addition to the terminal for many years to come.