Sustainability Series: Why should we invest in sustainable aviation fuel?
As part of Schiphol's Future Sustainability, Denise Pronk – Head of Sustainability at Schiphol, explains how investing in sustainable aviation fuel is vital to the success of lowering the environmental impact of aviation.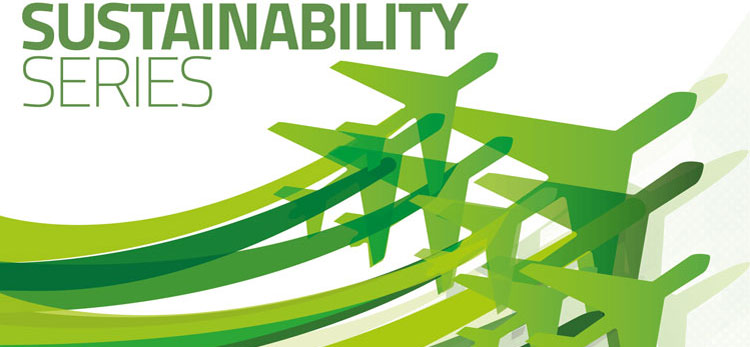 Royal Schiphol Group believes that stepping up its joint efforts to achieve sustainable aviation at a global level will improve the balance between airports and their communities at a local level. The goal is to go beyond 'zero' and create value, which can be given back to the environment and communities in the Netherlands.
Royal Schiphol Group's vision is a net-zero-carbon aviation sector by 2050. Therefore, the Group contributes to innovations and global research collaboration while advocating for a level playing field. Together with partners in and outside the aviation sector (including ACI), efforts must be increased to support each other in becoming sustainable. A net-zero-emissions aviation industry will require a combination of policy steps, measures and investments in the field of demand and supply management (e.g. substitution, airspace modernisation, EU ETS), fleet renewal (aircraft and engine efficiency gains) and decarbonisation technologies.
Decarbonisation through the use of sustainable aviation fuels (SAF) will have to play a key role on the road towards net-zero emissions (alongside other measures), as the industry is expected to rely on fossil fuels for the foreseeable future. To achieve this goal, a joint effort together with aviation industry partners, knowledge institutes and governments is required.
Sustainable aviation fuel
Sustainable aviation fuels have a two-fold positive impact with their use resulting in lower emissions that contribute to global climate change (CO2) as well as air quality at the local level (through lower NOx).
Bio kerosene is one of the few available measures to lower aviation emissions in the short term, in addition to research on synthetic kerosene, fleet renewal (including new aircraft design concepts), market-based measures like EU ETS and CORSIA and operational efficiency gains. Key challenges to make SAF mainstream are upscaling production, bridging the price gap and maintaining a level playing field.
Royal Schiphol Group announced recently to participate in two SAF projects being the development of a bio kerosene plant and research on a test plant for synthetic kerosene. On the one hand, this will facilitate carbon emission reduction, and on the other hand will increase the supply for sustainable aviation fuel.
Research on synthetic kerosene
Royal Schiphol Group has signed a multi-party agreement to study the production of synthetic kerosene obtained from CO2 (via direct air capture), water and renewable electricity. The European consortium led by EDL Anlagenbau Gesellschaft mbH hopes that the study will help them realise the first test plant for the production of synthetic kerosene in the Netherlands. Royal Schiphol Group contributes financially and with know-how.
The study will focus on the development of a technology that will enable the production of kerosene from captured atmospheric carbon dioxide, water and solar energy. It will involve a novel combination of several innovative but proven techniques. Eventually, the study is expected to result in the construction of a small installation on the grounds of Rotterdam The Hague Airport (part of the Royal Schiphol Group), which will be able to produce approximately 1,000 litres of sustainable kerosene per day.
Development bio kerosene plant
The Group financially invests in the design of a bio kerosene plant in the Netherlands. SkyNRG is the lead partner and has joined hands with various other partners in the Netherlands and beyond, including KLM and SHV Energy. The plant will be dedicated specifically to the production of sustainable jet fuel, propane and naphtha. It will rely mostly on regional waste and residual streams of raw materials (such as cooking oil), making it the first of its kind in the world. The plant is expected to be operational in 2022. In the coming years, Royal Schiphol Group expects an increase in the production of bio kerosene and an acceleration in the development of synthetic kerosene.
CO2 reduction of 85 per cent
The new production plant will be dedicated to producing sustainable aviation fuel. From 2022, the plant will produce 100,000 tonnes of SAF annually, as well as 15,000 tonnes of bio LPG (as a by-product). It will result in a CO2 reduction of 270,000 tonnes a year for the aviation industry, equal to a CO2 reduction of 85 per cent in comparison to fossil jet fuel. The use of SAF will also contribute to a significant decrease in ultra-fine particles and sulphur emissions. The facility will run on sustainable hydrogen, which is produced from water and wind energy.
Fuel meets the highest sustainability standards
SkyNRG's independent Sustainability Board advises on whether the biofuel meets the highest sustainability standards, thereby ensuring that the fuel (produced from waste streams) will not have a negative impact on the food supply and environment. There will be absolutely no use of food crops, such as soya oil and palm oil, for production.
Net-zero emissions
The aviation sector is responsible for two per cent of the CO2 emissions at a global level and seven per cent of the emissions in the Netherlands. The Intergovernmental Panel on Climate Change (IPCC) report (2018) has urged that the emissions should be net zero in 2050 to keep the rise of the temperature at 1.5°C. In the last decade multiple policies and measures have been developed at an international level to address the climate issue (Industry target, EU ETS, CORSIA). However, there is an increasing awareness that the aviation sector has to do more and this awareness has already led to several initiatives.
In the Netherlands, 20 transport organisations, including research institutes, knowledge institutes and Royal Schiphol Group, have joined forces to express their concerns about climate change and the environmental impact of the aviation sector in particular. In 2018, they jointly set up the action agenda 'Smart and Sustainable' with a goal to decrease aviation emissions in the Netherlands to 2005 levels by 2030. Via the action agenda, the Dutch aviation industry committed itself to blend 14 per cent sustainable aviation fuels at its airports in 2030.
To conclude, Royal Schiphol Group believes that airports have an important role to play in making the aviation industry more sustainable. This is both a responsibility towards society (locally and globally) and future generations. In addition, the sustainability transition is a prerequisite for the aviation industry's license to grow. Sustainable aviation fuels are an essential step on the road towards a sustainable aviation industry, alongside other measures.