From assistance to bespoke customer service
As the aviation industry moves towards a more focused approach on passengers with reduced mobility, accessibility within airports is changing. We spoke to Roberto Castiglioni, Chair of the Heathrow Access Advisory Group, who takes a closer look at how the industry should handle this.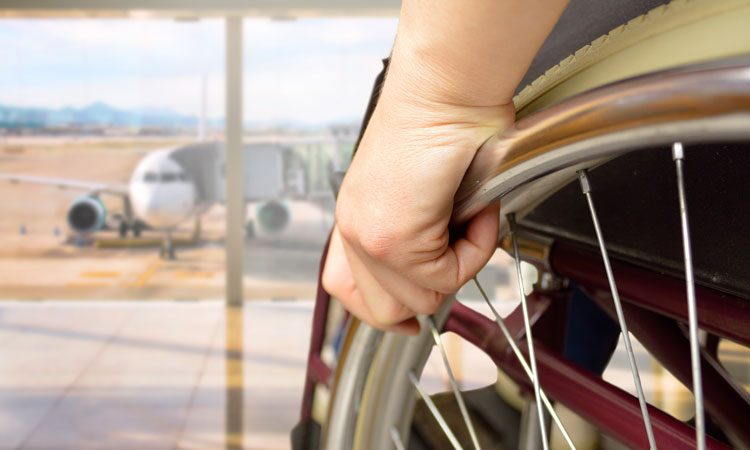 ON 2-3 MAY 2019, Heathrow Airport hosted an international workshop which focused upon passengers with reduced mobility (PRMs) and hidden disabilities. The European Commission, UK Department for Transport, UK Civil Aviation Authority, ILT (Dutch NEB), ENAC (Italian NEB), IATA, airports, airlines and service providers came together to discuss the state of play regarding accessible air travel.
Where does the industry stand?
The findings of the European Commission, currently revising the Interpretative Guidelines of 2012, provided a good insight in terms of accessibility in the aviation sector.
After their first round of consultation with industry and disability organisations, the European Commission listed a number of topics they wish to address in the new working document: A definition of PRM; a pre-notification of special assistance needs by PRM; transmission of information between travel agents, airlines and airports; safety rules of airlines to carry PRMs and their mobility equipment; assistance dogs (e.g. training requirements); medical equipment (e.g. what should be carried for free); liability in case of loss or damage of mobility equipment; calculation of PRM charges; and the quality standards of airports.
The ongoing process will see the Commission run further rounds of consultation of NEBs and stakeholders at EU level this autumn, and the adoption and publication of revised interpretative guidelines this winter.
The list of key topics raised, with more likely to surface, tells us how much remains to be done to make air travel accessible for people with disabilities. However, these topics are technical and likely to impact operation frameworks more than the passenger experience.
Understanding the needs of individuals – and designing services around them – is crucial if we are to make substantial progress in this field. At the workshop, Heathrow Airport presented the outcome of its initial Proof of Concept (PoC), which was run in cooperation with British Airways in April 2019.
The joint exercise targeted high-density flights (flights with more than 10 pre-booked PRMs onboard) to understand if the traditional wheelchair service still meets the needs of passengers. Passengers from all selected flights were offered guidance in their native language, group movement to final destination, assistance with hand luggage, or full wheelchair service.
The findings speak for themselves: 20 per cent of passengers said they booked wheelchair assistance because they needed help navigating the airport or assistance with their hand luggage; 48 per cent said they would have preferred not using a wheelchair; 84 per cent said they would rather choose to book an alternative service offered in the future. The Net Promoter Score of passengers who participated in the trials is almost double the Net Promoter Score of PRMs using standard services.
Quite clearly, these results warrant further studies on alternative assistance services that best meet the needs of passengers. More PoCs are scheduled to take place in coming months.
Where does the industry want to get to?
PRM demographics are changing. The next generation of PRMs will be a tech-savvy, well-educated generation that values independence over everything else.
Current assistance models are built around one-to-one assistance schemes, exactly the opposite of future aspirations. In coming years, one-to-one assistance services will only be required for a marginal segment of the travelling public. The vast majority of PRMs will only require help in specific instances.
For example, passengers who are in a wheelchair will likely only need help boarding or disembarking. However, this implies that infrastructure must be fully accessible; mainstream solutions like e-gates, help points, border force desks and concessions will need to follow universal design criteria.
In other words, the future will see airports and airlines move away from traditional assistance frameworks and embrace the new concept of bespoke customer service.
How do we get there?
Accessible infrastructure is the key element of this journey. The goal is to create inclusive airports and inclusive airframes.
The inclusive airport is a place where a person with a disability can enjoy the same level of access as everyone else. Inclusive airframes are those who feature provisions like accessible toilets and a dedicated space for those who can only travel in their own wheelchair.
Enhanced digitalisation of the journey will be the pillar upon which the future of bespoke customer service rests. PRM management software will need significant development to integrate features like digital self-enrolment to services, passenger real-time tracking, push/pull messages between passengers, service providers and airlines. PRM software will also require integration with fleet tracking and management of autonomous mobility devices.
Digitalisation of personal wheelchair passports will ensure handling agents can access real-time information about the device, for example how to put batteries in flight safe mode, how to fold or restore the device and technical information like weight and dimensions.
Assistance frameworks will need a major overhaul to ensure they are fit for purpose. The current blanket offering of wheelchair services on a one-to-one basis, holding passengers at PRM lounges to manage their flow whilst disregarding their individual aspirations, and the patronising experience of being escorted through the airport will be relegated to the past.
Agents training will also require a full overhaul. Training packages built around the medical model of disability will be replaced by models designed around customer service. In a not so distant future, PRMs will be offered a range of options regarding their journey, from manual or electric self-mobilisation to one-to-one assistance and everything in between. Access to choice is fundamental to drive customer satisfaction to the highest possible levels.
Far too often airports are required to make unscheduled refurbishments or post-delivery adaptations to meet accessibility standards. Designing accessibility-focused blueprints saves time and significant financial resources.
The future of bespoke customer service is set to enhance the passenger experience, improve customer satisfaction, and drive efficiencies to ensure long-term financial sustainability of a field that the ageing population is set to drive to continuous growth.
Biography
ROBERTO CASTIGLIONI has been a member of the UK Civil Aviation Authority Access to Air Travel Advisory Group since 2012. He works with airlines, airports and PRM-service providers across the world to improve access to air travel for people living with disabling conditions. In his capacity as an accessible air travel expert he has worked with National Enforcement Bodies across Europe and on projects for the European Parliament and European Commission. He has been a member of the easyJet Special Assistance Advisory Group (ESAAG) since 2012 and has chaired ESAAG's Airport Experience working group since 2014. In September 2017, Castiglioni was appointed Chair of the Heathrow Access Advisory Group (HAAG) and joined the European Network Accessible Tourism NGO as an Accessible Air Travel Expert.