Air traffic control and management: Simulating the skies of Lebanon
The Directorate General of Civil Aviation (DGCA), which manages and operates Beirut-Rafic Hariri International Airport in the heart of Lebanon, has undertaken an extensive 10-year reconstruction programme to rebuild the airport following decades of sustained damage during conflicts. Airways New Zealand explains how an innovative approach to air traffic control has ensured the airport is once again one of the Middle East's critical transport hubs.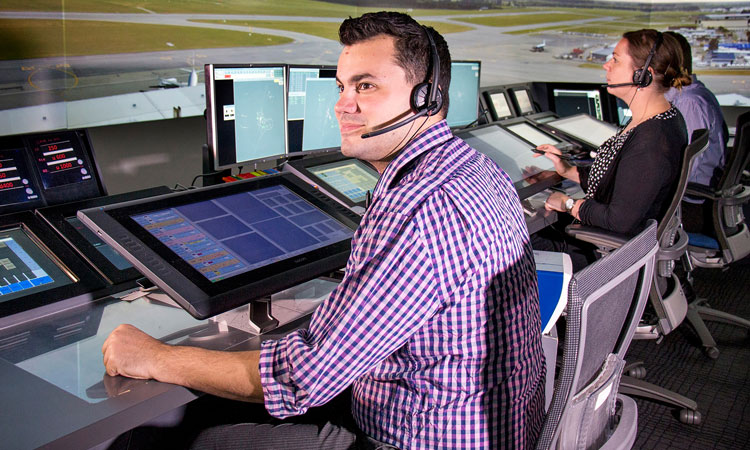 More than 71,000 aircraft movements are now handled annually by DGCA at Beirut-Rafic Hariri International Airport, with over 50 airlines operating flights to and from destinations throughout the Middle East and internationally. Passenger use and aircraft movements at the airport have increased each year since 1990, with more than 8.2 million passengers using the airport in 2017, and that number is expected to reach 10 million by 2020.
Despite this positive growth for the airport and the Lebanese economy, DGCA is facing a serious issue – the number of certified air traffic controllers available to manage these growing traffic levels falls short of that recommended by global standards set by the International Civil Aviation Organisation (ICAO).
Critical need for training investment
With their existing air traffic control simulators reaching the end of their life, and only a basic level of ATC training occurring for operational controllers and assistants, DGCA has prioritised investment in modern and robust simulation technology. This will support the organisation to meet ICAO requirements for regular, consistent and high-quality ATC training, and help to build its capability for training of ATCs now and into the future.
When ICAO issued a Request for Proposal in 2017 on behalf of DGCA for supply and installation of tower and radar simulation technology and equipment at Beirut-Rafic Hariri airport, Airways New Zealand was invited to submit a tender. The team started work on a comprehensive bid document outlining how its state-of-the-art Total Control simulators would meet ICAO/DGCA's requirements. 
Following Airways' tender submission in December 2017, and a site visit to DGCA's air traffic control operations for all bidders in early 2018, the organisation was awarded the contract to supply and install the simulators in May 2018.
"Airways is New Zealand's air navigation service provider, and we've trained our own air traffic controllers since our inception," says Sharon Cooke, CEO of Airways International. "We've been working with other ANSPs for over 30 years in the delivery of ATC and ATS training services, so our depth of experience in training combined with our advanced simulators with real-world graphics gave ICAO and DGCA confidence that Airways was the right organisation to partner with."
Simulation that mimics the real world
Airways' Total Control simulation technology enhances the quality and speed of ATC training, significantly reducing on-the-job training time – which is critical to DGCA as it works to meet ICAO standards. The high-quality photo-realistic graphics of the simulator are a key point of difference. Once the simulators are installed, DGCA's ATC students, controllers and instructors will be able to control traffic in exercises that mimic the real world – complete with all types of weather conditions.
Sharon explains that the flexible configuration of the Total Control solution is a valuable feature for DGCA. The operation and interfaces are the same across multiple configurations so there's no need for users to re-learn functionality when moving between simulation configurations. The use of off-the-shelf hardware provides further flexibility for the solution, so it can be customised to suit the DGCA environment.
"When we met with DGCA for the design review, we agreed that high quality graphics workstations will be used rather than industrial PCs which were specified in the initial RFP. This is just one example of how we've worked collaboratively to design a robust, world-class solution that accommodates DGCA's unique requirements," says Sharon.
Total Control's surveillance and flight data displays will also be customised to have the same look and feel as DGCA's situation data and flight data displays used in the radar centre and tower. This will help to ensure a smooth transition for students as they move from the simulators to operational environments.
Airways partnered with 3D graphics expert, Animation Research Ltd, to develop the high-fidelity real-world graphics of the Total Control simulation software. A photo realistic airport model of Beirut-Rafic Hariri International Airport is being developed for the DGCA solution, and the entire flight information region is being replicated – all airspace and procedures detailed in the Lebanon Aeronautical Information Publication (AIP) are being inputted in to the simulation environment. Fully dynamic weather effects are also simulated within the software – supporting advanced levels of training for DGCA.
Sharon explains that the ease of use of the simulation software is an important function: "DGCA instructors will be able to create and modify exercises within the simulator in minutes, and simulator pilots can easily manoeuvre aircraft, drive vehicles and control animals and birds, utilising the pseudo pilot positions."
Committed to success
Like most simulation projects, there are several phases. Airways is undertaking agreed customisations and has accelerated development on some backlog features, such as voice recognition. There are also site works to be undertaken, user training, and the key project milestones of factory and site acceptance testing.
Its dedicated team is made up of simulation and training experts, software specialists and project managers. "We're excited to be leading this strategically significant project for DGCA, and our team is committed to delivering a successful outcome that meets DGCA's requirements," says Sharon.
Factory acceptance testing of the solution, and an advanced simulator course for key DGCA technical and operational staff will be conducted at Airways' facilities in Christchurch. And following successful testing the simulator equipment will be shipped to Lebanon for installation, site acceptance testing and onsite training. With a modern and robust simulation solution in place, DGCA will be well placed to enhance its ATC training to ensure a high standard of training for students and controllers for decades to come.
Airways is committed to supporting DGCA on its journey to delivering best-practice ATC training, and building on the strong relationship between the two organisations. Sharon concludes: "We're proud to support DGCA through provision of world-class simulation technology, and we look forward to further developing this partnership."