The story so far of developing Manchester Airport City
Since 2009, Manchester Airports Group (MAG) has been working to make 'Airport City' a reality. Charlie Cornish, CEO at MAG, details the vision and progress to date.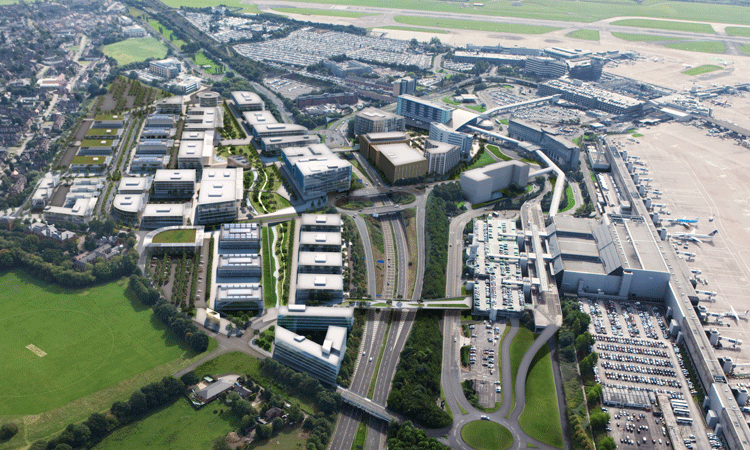 Airport City is set to become the most significant development project in the UK since the regeneration of East London began in 2005 for the 2012 Olympic Games. It will introduce a new concept to the UK; delivering up to five million square feet of new 'highly connected' business space across a north and south site over the next 10 years, and will take Manchester Airport beyond its traditional use as a regional transport hub and transform it into an international business destination in its own right.
The project will provide a major regeneration opportunity for the surrounding Wythenshawe area and help to further boost Manchester's attractiveness as a major European business city. Once complete, we hope Airport City will compete on a global scale with other airport cities, such as Amsterdam, Frankfurt and Barcelona.
In just five years, we have made real headway and the project has reached many milestones. However, there is still a lot to be done, and 2014 will see a great deal of progress in turning Airport City into a more visual entity.
Enterprise Zone status
In 2011 the UK Government declared the land around Manchester Airport as part of an 'Enterprise Zone'. Enterprise Zones are intended to stimulate business growth through the provision of subsidies in the form of business rate discounts worth up to £275,000; super-fast broadband; simplified planning procedures; and the retention of pooled business rates by the local authority for a period of at least 25 years. The Manchester Enterprise Zone will also benefit from UK Trade & Investment support for international business enquiries, and actively encourage the best overseas companies to consider the UK as their global partner of choice.
The Enterprise Zone also includes MediPark, Rowlands Way/Wythenshawe and Atlas Business Park. MediPark will be key to the project as it may help to bring certain companies – who wish to be close to the MediPark developments as well as the airport – to Airport City North.
Planning permission
Airport City took advantage of the Enterprise Zone's simplified planning procedures, with the south site gaining approval in November 2012 and the north in January 2013. Situated on land by the passenger terminals and surrounding the airport's railway station, the north site will become known as our International Business Hub and will provide a world-class business district comprising 1.5 million square feet of office space; 650,000sq ft of advanced manufacturing; around 2,400 hotel beds; 100,000sq ft of amenity and retail space plus multi-storey car parks.
 The showpiece of the north site will be a new 13-acre central park area with new wide green bridges across the M56 airport spur road to link the site to the local area. MAG is currently in discussion with a range of potential tenants for space on the north site, with a well-known hotel chain interested in a plot.
The south site will be our World Logistics Hub, offering a full range of air-to-road transfer, assembly and processing activities. It is located adjacent to the airport's existing cargo centre at Junction 6 of the M56 and will have 1.4 million sq ft of new logistics space – a mix of medium- and small-sized units ranging from 7,500 to 200,000sq ft.
Joint Venture Partners
Once completed, Airport City will be an £800 million development. British Chancellor of the Exchequer, George Osborne, announced our joint venture partners in Beijing in October 2013. Having joint venture partners is key to the success of Airport City. A project of this size and scale, which is a UK first, warrants strong financial backing and the right partners to help bring it to fruition. We went through months of negotiation and deliberation and feel we have made the right choices – each partner brings with them a wealth of experience and credentials to the project.
The individual split of the joint ventures is as follows: MAG will have a 50 per cent share, Beijing Construction Engineering Group (BCEG) 20 per cent; Carillion 20 per cent and Greater Manchester Pension Fund (GMPF) 10 per cent. Additionally, Argent is acting as Development Manager.
Each joint venture partner was selected on its merit for what they could bring to the scheme. Each partner complements the other and we feel we have a strong selection in place to help bring Airport City to life.
Carillion and BCEG are both well regarded in their field and will bring excellent construction expertise to the table, and it is great to have a Manchester-based company re-investing in the region with GMPF.
Airport City's first tenant
Not long after the announcement of our joint venture partners, we were lucky enough to confirm who Airport City's first tenant will be. In November 2013, to meet the growing demand for its range of services, DHL signed a pre-let agreement with MAG for the development of a 37,308sq ft building at Airport City South. The DHL construction contract was awarded with landlord works starting in February 2014. Fit out works should be completed by the end of October 2014, to allow DHL to be operational by the end of this calendar year.
2014 and Airport City
We are delighted by the speed at which Airport City is progressing, and 2014 will see the pace pick up even more. A range of infrastructure works, which span both rail and road, are in place to open up access to Airport City. Works have been commissioned to build the new road and install the infrastructure network onsite. The road construction will be complete and open by end of August 2014.
Additionally, the new A6 extension road is gathering momentum with funding and its own joint venture partners now in place. Once finished, this will directly open access into Airport City from the east and on to the M56.
On the rail front, MAG has invested £50 million into Transport for Greater Manchester's new Metrolink line, which will extend to the airport. It will be operational by 2016, with the majority of above ground works completed by spring 2015. As well as connecting Manchester Airport to the region's tramway, it will make the site much more accessible to the people of South Manchester who commute daily to and from the airport.
MAG is also working with Network Rail to increase station capacity by creating a fourth platform which will allow for extra train frequency. This was launched in February 2014, with George Osborne continuing to follow Airport City's journey by laying the foundation stones on site.
2014 will also see us bolster Airport City's marketing proposition. To do this we are working with a range of North West agencies to conceive and deliver a compelling international marketing proposition for the brand, to ensure it resonates across a range of different cultures, markets and territories. Work began in January 2014 and the finished campaign, which was designed to appear to a range of industries, was unveiled when Airport City visited leading global real estate event MIPIM, in March 2014.
We are hopeful that in 2014, Airport City will be a catalyst for other areas of our airport business – such as helping to secure new long-haul routes to serve the global businesses that will soon be based on site.
The drive for a direct service to China continues, and we believe there is enough passenger demand from the Manchester region to certain cities in China. In 2013, 100,000 people began their journeys in the North West and travelled to Hong Kong, while 60,000 went to Beijing; and these are the types of passenger numbers that would support a direct service. It's something we continue to work on and will be supported by our work in the Manchester-China Forum. Plus, with BCEG now on board for Airport City, this should strengthen relationships in China and help people see a direct Manchester route as a viable choice.
For more information visit www.airportcity.co.uk or follow the project on Twitter @AirportCityUK
Airport City timeline
March 2009: MAG announces its vision to develop an Airport City at Manchester publically for the first time
March 2011: Airport City project gains Government Enterprise Zone designation in the Budget
April 2011: The first conceptual image of Airport city is released to the public
July 2011: The Airport City Masterplan team is announced
January 2012: Chancellor George Osborne launches the Airport City Masterplan at Manchester Airport
March 2012: Airport City is internationally launched at MIPIM 2012
August 2012: Airport City South outline planning application is submitted
November 2012: Airport City South outline planning application is approved by Manchester City Council
Airport City North outline planning application is submitted
January 2013: Airport City North outline planning application is approved by Manchester City Council
March 2013: Airport City is presented at MIPIM 2013
May 2013: Chancellor George Osborne breaks the Airport City ground at Manchester Airport
October 2013: Airport City Joint Venture partners announced
November 2013: DHL is announced as Airport City's first tenant
February 2014: Chancellor George Osborne lays first foundation stone on site of fourth Manchester Airport Station platform

Charlie Cornish took up the post of Group Chief Executive at MAG on 1 October 2010. Prior to joining MAG, Charlie was Managing Director of Utility Solutions, the commercial business of United Utilities (UU) with operations in UK, Middle East, Australia, Bulgaria, Poland, Estonia and Philippines. During his seven years at UU, Charlie was a PLC main Board Director of this FTSE100 company. Before UU, Charlie worked for a number of manufacturing and service companies including Plessey Telecommunications, British Aerospace and ABF.