The self-service revolution is over. Long live self-service!
James C Cherry, President and CEO of Aéroports de Montréal and Chairman of the Board of Airports Council International – North America, explains how self-service technology is changing the way we travel.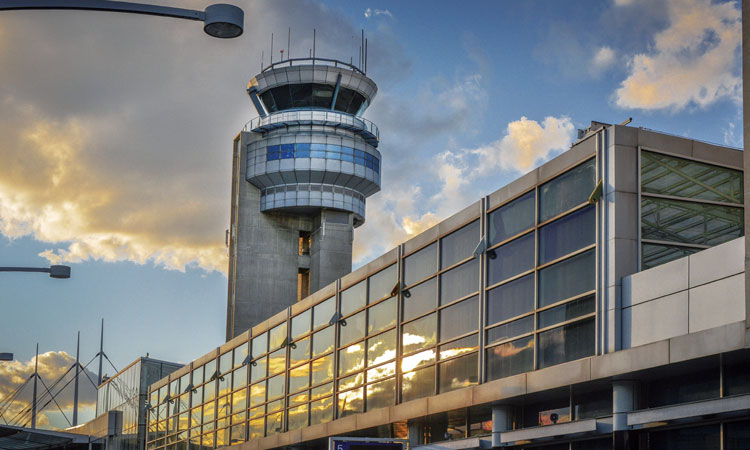 Anyone passing through an airport in the past few years will have noticed a dramatic change in the way passengers and their baggage are processed. The airport environment has been transformed by a self-service revolution and at the vast majority of airports, passengers can now check-in both themselves and their baggage on their own using self-service kiosks. They can self-tag their baggage and use common bag drops. They can also use their mobile devices to receive SMS alerts about flights and even e-boarding passes.
In addition to added convenience and more options for passengers, these and many other technological advances have resulted in dramatic opportunities for efficiency gains among airport operators and airlines. But with a large number of these types of self-service systems reaching a high degree of penetration at most airports, the obvious question is: what's next? The answer is simple: the revolution has just begun!
We are already witnessing the next phase of the revolution. In fact, self-service technologies are increasingly moving into other areas of the airport experience, from parking reservations to customs, immigration and security clearance, but there's much more to come. Technologies and innovations will be leveraged and converged in the next few years to provide a travel experience that is closely tailored to the individual needs of passengers and enable a seamless process the likes of which we have never seen before. Already being tested or on the horizon are exciting new concepts such as 'single passenger tokens', digital bag tags, home-printed bag tags, automatic check-in by default at time of ticket purchase, near field communications (NFC) and wearable technologies such as Google glasses. At the same time, sophisticated data gathering and sharing systems will facilitate location-based, two-way and targeted communication with passengers through 'beacon' or other Bluetooth applications. These chip-based systems will provide passengers with the contextual information they need to make the most of their journey through wayfinding, from shopping opportunities to the latest changes in flights.
Competitive-minded airports are clearly eager to embrace these and other technologies. The latest SITA survey of airport IT trends found that 86 per cent of airport CIOs polled expect budgets to remain the same or grow in 2015. An interesting finding is that 97 per cent of passengers globally carry a mobile device and are embracing technologies in large numbers, including check-in by computer or airport kiosk and automated bag drops. Moreover, an impressive 78 per cent of passengers report being satisfied with their travel experience, which one can't help but link to the enhanced fluidity and convenience offered by the proliferation of technologies at airports.
Pilots and partnerships
The challenge facing airports today is to determine which new technologies should be adopted – and to work closely with all stakeholders to ensure proper integration and convergence. Overriding objectives should be to give passengers more control of their travel experience while offering a highly diversified yet customised menu of options. Also important are leveraging opportunities for interactive communications, primarily using smartphones, ensuring that IT solutions are properly integrated and flexible, and optimising the exchange of available data to ultimately provide better services.    
Aéroports de Montréal, the airport administrator for Montréal-Trudeau International Airport, is currently taking all these factors into account in planning its IT platform of the future. We are participating in a number of working groups examining industry trends regarding emerging technologies and innovations. Moreover, when selecting and adopting innovations, we have always favoured partnerships and a pilot approach to validate systems. This allows us to make adjustments as necessary before full-scale implementation and to avoid costly missteps. By following this strategy in a disciplined way, Montréal-Trudeau has emerged as a recognised leader in self-service and other technologies.
Our journey dates back a decade when Montréal-Trudeau installed Common-Use Check-In Kiosks (CUSSK) in a pilot project, with a self-tagging baggage feature which at the time was a world first. Today, CUSSKs are installed in all sectors of the airport, with their own bag tag printers. In our transborder (Canada – US) sector, we now offer a generic bag drop for all passengers, virtually eliminating queuing. About 70 per cent of Montréal-Trudeau passengers currently check-in using a self-service option, including a high proportion through the Internet as well as through CUSSKs, significantly reducing congestion in the terminal building.
Since 2004, Montréal-Trudeau has steadily expanded and enhanced its technology offerings, ranging from the introduction of free WiFi to real-time SMS alerts, online parking reservations to 'SecurXpress'. This new service allows passengers to book a predetermined time for security clearance and has been well received. Many of these services are accessible through our new 'responsive design' website introduced in 2014 that guarantees an optimum user experience across all devices: desktop computers, tablets and smartphones. The website delivers a modern, user-friendly browsing experience, allowing users to easily find all the information and tools they need to plan a visit to the airport or to catch their next flight.
Montréal-Trudeau was one of the first Canadian airports to fully deploy Automated Border Control (ABC), a high-technology, self-service system for clearing customs and immigration. Developed in partnership with the Canada Border Services Agency (CBSA), ABC uses self-service kiosk technology to partially automate the primary processing of eligible travellers seeking to enter Canada from an international destination. The ABC self-service kiosks installed in the International Arrivals Complex complement a number of CANPASS and NEXUS self-service kiosks for fast-tracking pre-approved passengers. ABC, previously tested in a pilot at Vancouver International Airport, is now being used by a majority of eligible passengers with significant reductions in wait times (the average transaction takes 93 seconds.) In 2013, Automated Passport Control (APC) kiosks were added for Canadian and American passport holders heading to the United States, reducing process times by 40 per cent. 
Airports influencing change
It is important that airport authorities work closely with various industry partners to implement such systems. By doing so, as a group they can also influence change. For example, ADM is now collaborating with ICAO, IATA, ACI, CATSA and others to develop next-generation security checkpoints to improve process times and minimise inconvenience to passengers while respecting the most stringent security requirements. These checkpoints, once known as 'security of the future', are now being called 'Smart Security' and champion a risk-based approach. They employ available passenger data to facilitate screening selection and ensure an easier security process for the vast majority of passengers. The idea is to not have to search everyone to the maximum but to have a more thorough search for those passengers deemed to be a higher risk, supplemented by random searches. Pilot projects for different components of such systems are currently underway at a number of airports, including in London, Amsterdam and Doha, and could go a long way toward mitigating one of the most vexing steps in the travel experience.
With more innovations, new technologies and processes being deployed at airports, extensive data is being collected which can offer better reporting tools and a superior passenger experience all around. Operations and fluidity can be enhanced if all airport partners organise themselves to use such data through clear dash boards and well-identified KPIs. These tools can optimise the available data for better decision making and cross-referencing. For example, data could be used to reposition aircraft at a certain gate depending on where passengers could most benefit. As part of ADM's IT infrastructure update, we are looking at how to access true 'Business Intelligence' to leverage this data.
Smartphones – A key tool
With the widespread use of smartphones, it's becoming increasingly clear that they will play a central role in airport operations of the future. What started as a phone has become one piece of hardware integrating all services where we use different equipment (camera, watch, PC, GPS, agenda, music, etc.). The next phase in smartphone use is emerging as live interaction and sharing of information. Mobile devices will enable customised services as never before. With new applications, they can be used as GPS systems within the airport for locating the nearest washrooms and stores, and even the location of parked cars. Montréal-Trudeau is looking to integrate signage and directional information into various interactive tools which could send personalised information via SMS and email to smartphones. The possibilities are endless.
As we look to the next phase of the self-service revolution, our choice of technologies and innovations should be guided by several priorities. First, passengers want to be more in control of their journey. We must find more ways to interact with them through smartphones and other means, allow for greater options, personalisation and customisation, and be able to adapt to their needs. Second, as more and more technologies are being deployed using smartphones, NFC, RF, 2D, biometrics and others, we need to ensure this data is utilised (i.e. as 'business intelligence') in a structured way and to the benefit of passengers, airlines and other stakeholders. This will require all stakeholders to work together and be flexible enough to respond to the varied needs of passengers, airlines and airports. Finally, we need to focus on the right changes and technologies through collaboration and targeted pilots to achieve our ultimate goal: continuous improvement of the passenger experience.
Supporting sustainability through technology
Advanced technologies are making a difference throughout airport operations, as demonstrated by the recent opening of a state-of-the-art ethylene glycol recovery, recertification and reuse facility at Montréal-Trudeau International Airport's de-icing centre. The innovative 10,000ft2 facility will significantly reduce the airport's environmental footprint while maintaining competitive operating costs for airlines. Using a sophisticated distillation process, it recovers ethylene glycol employed in aircraft de-icing operations and restores it to at least 99.5 per cent purity for reuse. Montréal-Trudeau is believed to be the only airport in the world to currently apply this process in such a way.
"This facility makes us a world-leader in the recycling of ethylene glycol and is an important step in our efforts to promote sustainable development in all aspects of our operations," says Philippe Rainville, Vice-President, Planning, Engineering and Construction, at airport authority Aéroports de Montréal (ADM). "It will enhance efficiencies at our de-icing operations while reducing the use of potable water by two million litres a year. It will also help to lower ethylene glycol costs by up to 30 per cent for our airline customers during the winter months."
Montréal-Trudeau airport's de-icing facility, operated in a joint venture with Aéro MAG 2000, a Canadian leader in the construction and operation of de-icing facilities at airports in North America and the United Kingdom, features eight bays supported by 20 de-icing trucks capable of handling up to 30 aircraft an hour – or an average of about 8,300 aircraft a year. "This recycling facility is yet another example of how ADM is constantly investing in its infrastructure and finding innovative ways to serve its customers, both passengers and airlines," adds Rainville.
Biography
James C Cherry, a chartered accountant and McGill University graduate, has over 35 years of experience in general management, project management and financial management in the international aerospace, defence and rail sectors. He held senior executive positions with Bombardier Inc, Oerlikon Aerospace Inc, CAE Inc. and ALSTOM Canada before joining Aéroports de Montréal as President and Chief Executive Officer in June 2001. He is also Chairman of the Board of ACI-NA.