Sochi International Airport: Russia under wide Open Skies
Sochi International Airport, the main port of entry for the 2014 Winter Olympic Games, gained Open Skies status in October 2014. This will help it to attract new carriers, boost passenger traffic and improve Sochi's tourism attractiveness, explains Andrey Elinson, Chair of the Board at airport operator Basel Aero.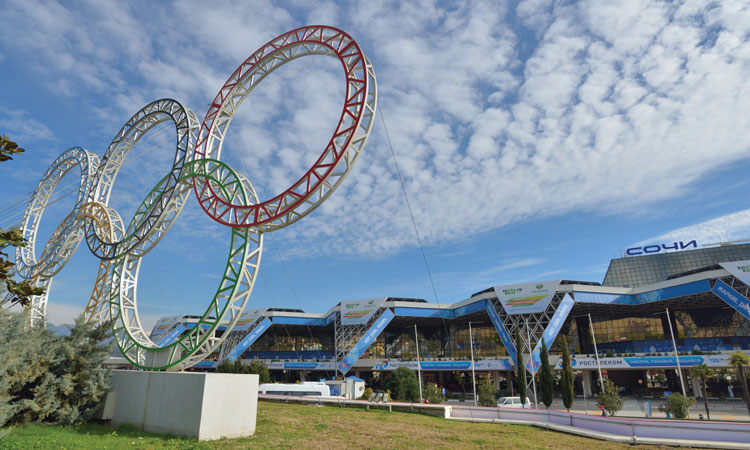 Sochi International Airport, which successfully coped with Olympic-sized overloads when over 600,000 guests and participants arrived at its refurbished $400 million terminal for the Winter Olympic and Paralympic Games in February and March 2014, is one of three Russian airports to enjoy the fifth freedom of the air, or Open Skies. This means that any foreign carrier may pick up and drop off passengers and cargo with no restrictions on aircraft type, frequency, and regardless of interstate agreements. In addition, foreign airlines are also allowed to operate their transit flights between countries with a stopover in Sochi, where they will also be able to take new passengers on board.
Basel Aero, operator of the airport and part of Russian leading industrial diversified group Basic Element, one of the strategic investors in the Olympics, came up with the idea to adopt Open Skies mode soon after the Games. Encouraged by the liberalisation of air traffic during the Games, a common practice at every Olympics, Basel Aero offered Russian aviation authorities its recommendations on granting Sochi more air freedom and facilitating visa rules that would propel the city's growth in the years ahead.
Increasing international traffic and economic growth
In doing so, the company conducted a profound analysis studying the most successful cases of implementing Open Skies in other countries, analysed the structure of the airport's passenger numbers and busiest destinations, and concluded that Open Skies will bring to Sochi at least 100,000 extra international tourists, including those travelling for business and leisure. In 2013, the airport served approximately 300,000 international passengers, or 13 per cent of its passenger traffic.
The Open Skies agreement that took effect on 19th October 2014 can promote increased travel and trade, productivity, high quality job opportunities and economic growth. Airports benefit from the increase in services enabled by liberalisation as they receive more revenues from landing charges or consumer expenditure. Open Skies mode reduces government interference in the commercial decisions of air carriers, and frees them to provide affordable, convenient and efficient air services for consumers. Basel Aero estimates that under the new agreement, the Sochi Airport will earn an additional $1.5 million in revenue and will see a 30% increase in international passenger traffic. The regional budget will, in turn, see a $50 million growth.
Airline attraction
Following the talks with the airlines in 20 countries that would potentially be interested in air links with Sochi, Basel Aero has made the first agreements with Turkish Airlines and Pegasus Airlines. Turkish Airlines has already operated in Sochi for a long time with three weekly flights to Istanbul Ataturk Airport, and has now added a fourth flight as a part of Open Skies. The low cost Pegasus Airlines introduced three weekly Sochi-Istanbul flights last December.
Mahan Air, the second largest Iranian carrier, is close to a decision on whether it will launch scheduled air services. Tehran-Sochi flights are expected to start in July 2015 with one flight per week, and throughout August there will be bi-weekly flights to the Iranian capital. On top of that, Chinese carriers seem to be the next likely candidates to use Sochi's air freedom. The Chinese government allocates up to $50,000 for each new international flight and an average Chinese tourist spends $1,800 during a trip. This means that one flight will add about $360,000 to Sochi's economy. Basel Aero estimates that 62,000 Chinese tourists may visit Sochi during the first year if there will be no less than three flights a week. Russian cities hosted over one million Chinese tourists in 2014.
In late November, Basel Aero's top managers visited Guangzhou and Beijing to discuss cooperation with Chinese tourism agencies and the country's largest carriers – Air China, China Southern and Hainan. The latter has the largest number of Russian-bound flights among the Chinese airlines. Both carriers and travel agencies were optimistic about entering the Open Skies regime.
Sochi has also opened its skies for three IATA seasons from winter 2014-15 through to summer 2016. If successful, this will become permanent. Winter 2014-2015 is a trial season when the airlines are expanding their networks, adding Sochi to their destination maps, and experimenting with the frequencies. The first results of the new policy are expected to come no earlier than summer 2015.
Overview of Open Skies in Russia and abroad
Vladivostok Airport in Russia's Far East was the first in the country to adopt Open Skies mode in 2011, and the liberalised air links are still in force. Under the agreement, Vladivostok was given the third and fourth freedom traffic rights, including a number of designated carriers and a number of frequencies.
As of December 2014, only South Korea has accepted the airport's call to use Open Skies. Korean Air, Asiana Airlines as well as Russia's subsidiary of its largest carrier Aeroflot, Aurora and S7 Airlines operate between Vladivostok and Seoul. Thanks to the liberalised air traffic, the number of Korean-bound flights increased by 46 per cent in 2013 year on year. International passenger traffic however did not grow dramatically in 2013, though an increase of 18 per cent, to 506,000 passengers year on year was recorded.
Khrabrovo Airport, located in the Baltic exclave of Kaliningrad, was the third and most recent airport in Russia to gain Open Skies status. Kaliningrad was granted the fifth freedom of the air a month after Sochi. Open Skies in Kaliningrad will be operational during three seasons: summer 2015, winter 2015-2016 and summer 2016. It is known that Khrabrovo is negotiating with aviation authorities in a vast number of countries including China, Japan, South Korea, India, Turkey, Israel, UAE, Tunisia, Austria, Italy, Germany, France, Switzerland, Czech Republic, Spain, Netherlands, Great Britain and others. It is unclear which airlines from which countries have expressed interest in joining the agreement.
Open Skies around the world
Open Skies has proved successful in many countries all over the world where it has resulted in increased air service levels and lower fares, additional traffic volume and economic growth including GDP increase, tourism development and increased employment. Case studies on the air traffic liberalisation in various countries, prepared by InterVISTAS-EU Consulting for IATA, show that after the UK-India agreement signed in 2004, the number of direct services between the UK and India from 34 (22 services operated by UK airlines and 12 by Indian airlines) increased to 112 (63 services operated by UK airlines and 49 by Indian airlines) per week in 2006, an increase of 229 per cent.
The InterVISTAS study explains: "While most of these new services were operated between the two countries' main airports (Heathrow in the UK, and Delhi and Mumbai in India), services connecting secondary points in the UK and India also arose. In addition, the number of carriers operating between the two countries increased from three to five (with BMI and Jet Airways entered the market)."
The consulting company concludes that the increased competition between UK and Indian airlines resulted in average fares declining by 17% for leisure passengers and 8 per cent for business passengers. "The lower fares and increased service caused passenger traffic between the two countries to increase by 108%," the report reads.
Apart from direct impact on airports' passenger traffic and fare prices, air liberalisation may help to increase a country's GDP, as has occurred in Chile, which has pursued an aggressive policy of air service liberalisation since 1978. According to InterVISTAS, Chile has a broad policy of allowing free entry into its domestic and international air markets with little restriction on pricing and operations (subject to safety regulations), provided it generally receives reciprocity from the other country and there are no conflicts with bilateral agreements related to a third country. As a result, Chile has signed a relatively large number of Open Skies agreements, such as those with the US, UK, Uruguay, Paraguay, Singapore, Panama, New Zealand, Jamaica and the Dominican Republic. In other cases, while an Open Skies agreement has not been achieved, a more liberal bilateral agreement has still been signed (e.g. Brazil, Argentina, Spain).
The study into the Chilean air service's liberalisation policy has found that with each liberalised agreement, passenger traffic grew steeper and generally exceeded previous projections of traffic growth which eventually led Chilean GDP to a $ 489.4 million growth.
Open Skies with no visas will boost Sochi's tourism appeal
All the benefits of the Open Skies status of Sochi International Airport will hardly be possible without visa facilitation. Russia remains one of the most inaccessible countries with an overcomplicated visa policy. According to recent research by Tourism Economics, an independent global advisory firm, visa facilitation will help Russia boost tourism by as much as 20% over a three year period (2013-2016), which will undoubtedly generate additional spending and significantly stimulate the labour market.
Basel Aero is actively working with Russian MPs on introducing amendments to immigration legislation 'On the procedure for exiting and entering the Russian Federation'. Currently, the law stipulates that transit passengers entering 11 Russian airports including Sochi airport, may stay with no visa up to 72 hours. Basel Aero insists on omitting the word 'transit' so that Sochi can become a final destination, not just a transit point.
Sochi would be an ideal place for short term tourism whether it's a brief tour across Olympic venues or a trip to the Formula 1 Grand Prix race, held annually in Sochi at least until 2021. However there is not only the Olympic legacy for Sochi to capitalise on. It is also widely known as a tourist destination where coastal resorts with lush greenery and subtropical climate neighbour ski resorts in the mountains. According to estimations by Basel Aero's analysts, countries that adopt a 72 hour visa-free policy typically see 30-40 per cent tourist growth.
In 2009, Russia and Hong Kong implemented a bilateral agreement to waive visa requirements for short duration visits for both leisure and business trips. Visitors from both destinations were allowed to enter the other without any visa for a stay of up to 14 days. The impact of the waiver was evident immediately in both destinations. In Hong Kong, arrivals of Russian visitors began to increase sharply by the end of 2010. Arrivals from Russia increased 133 per cent between 2008 and 2010, and have continued to increase in the years since. The volume of arrivals to Russia from Hong Kong jumped 184 per cent from 2008 to 2010. Growth in visitors to Russia far outpaced overall growth in visitors from Hong Kong to other destinations. The removal of visa requirements clearly boosted bilateral travel in both directions.
On the matter of passenger growth, Sochi International Airport has all the necessary expertise and technological solutions to deal with congestion. It has successfully operated peak arrivals and departures during the Winter Olympics when up to 3,800 passengers per hour went through the terminal.
Just before the Winter Olympics, the airport underwent a major refurbishment with a new 1,476ft long boarding gallery, 10 boarding bridges, a renovated 43,000ft2 solar powered terminal and other improvements. Not only has the airport successfully handled over 600,000 passengers during the Olympic and Paralympic Games, in doing so it has tested the resilience of all the systems and facilities. It now seeks to repeat the success of its Olympic operations and open its doors to even more tourists from all over the world.
Biography
Andrey Elinson is the Chairman of the Board at the airport holding company Basel Aero and a Deputy Chief Executive Officer of Russia's largest diversified industrial group, Basic Element, which comprises Basel Aero in its portfolio. He was responsible for strategic planning of Sochi Airport's operations during the Winter Olympic Games. Prior to joining Basic Element in 2007, he worked for Deloitte & Touche CIS, where from 1997 he led various consulting projects and audits at Russian and international companies. He subsequently headed an advisory group on financial investigation and economic disputes. From 2004, he supervised the establishment of effective internal control and risk management systems. He graduated with honours from the Russian State Finance Academy with a degree in accounting and auditing. He is a US Certified Public Accountant and a US Certified Fraud Examiner.