Gatwick Airport: Leading in technological innovation
As Gatwick Airport puts its customer satisfaction at the front of its development plan, Development Director, Bronwen Jones, reveals how an investment in technological advances is an investment in the passenger.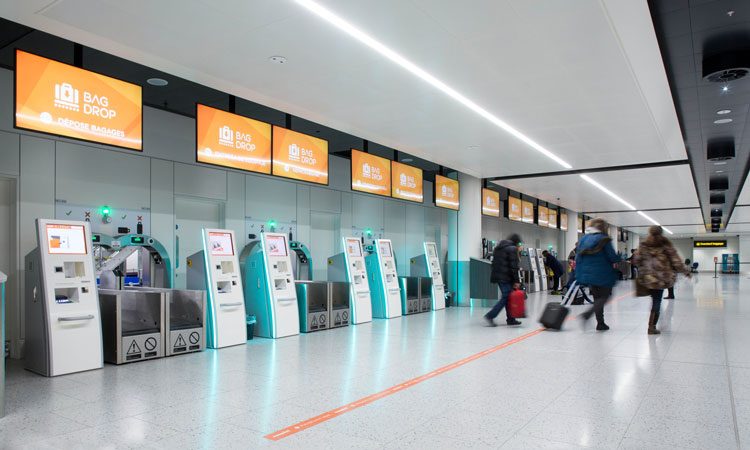 Forty-five million passengers now pass through Gatwick Airport each year; the airport has 60 long-haul destinations served by a network of more than 50 airlines. It also facilitates 290,000 arrivals and departures each year, and it is the only airport in the world's top 20 for passenger growth that has a single runway.
This growth has gone hand-in-hand with increasing levels of passenger service and satisfaction, driven by innovation and investment.
To help manage the increasing number of passengers choosing to fly from the airport, Gatwick's ambition is to reduce queue times and put passengers in control of their time at the airport. Investment in technologies which automate passenger processing through an airport is crucial to making this ambition a reality and includes implementing more efficient security processes and bag drop services.
Self-service bag drop
An investment of £36 million was made in 2016 to create the world's largest self-service bag drop zone in the North Terminal. This has enabled Gatwick to handle a greater number of passengers by increasing peak check-in capacity from 3,000 to 4,350 passengers per hour, with the average bag-drop transaction taking less than two minutes. The North Terminal now has more than 60 self-service bag-drop units, with others located in the South Terminal. 
Five airlines are currently using this self-service bag drop technology at Gatwick with excellent passenger feedback and a further five airlines are due to adopt the technology soon.
The zone has been very positively received by passengers seeking to take control of their journey and avoid the queues. From a customer service perspective, the area also helps to bring the check-in staff from out behind their desks and encourage more interaction with passengers. Overall, passengers are provided with a glimpse into the future of airport design, enabling them to be early adopters of the most innovative, state-of-the-art facilities.
Gatwick's biggest airline, easyJet, is located in the new area and, at the beginning of 2017, consolidated its entire operation in the North Terminal during the Airline Moves transition. This transition also saw British Airways and Virgin Atlantic switch their flight operations, with British Airways moving to the South Terminal and Virgin Atlantic moving to the North.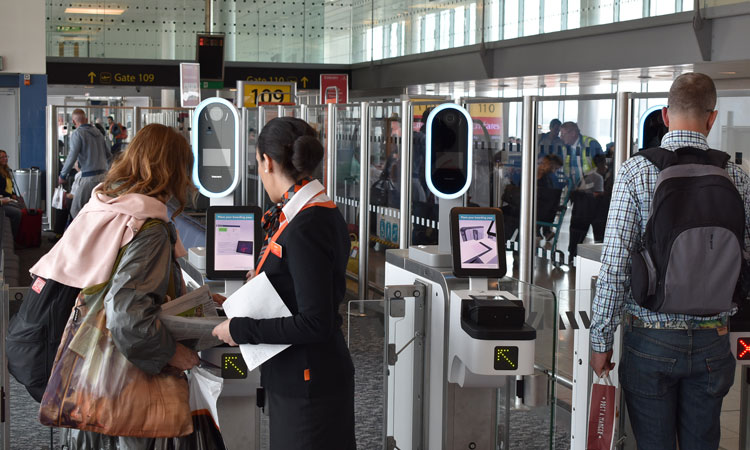 Security screening
A world-leading new security zone was also opened in 2016 as part of the transformation of the North Terminal, following the successful implementation of the technology in the South Terminal.
Five airlines are currently using this self-service bag drop technology at Gatwick with excellent passenger feedback and a further five airlines are due to adopt the technology soon.
Self-service bag drop was originally trialled in the South Terminal, proving that queuing times can be significantly shortened by allowing passengers to take charge of their own journey through the airport. The technology enables passengers who have checked in online to take their bags straight to a machine upon arrival at the airport, where they can print their luggage tag, apply it to their bag, and load it straight on to Gatwick's state-of-the-art baggage sorting system. This means the check-in process can be completed in less than two minutes.
The £36 million project formed a major part of the airport's growth strategy as investment in the state-of-the-art facility has halved the time it takes passengers to pass through security, while maintaining the strictest security measures, and allows Gatwick to screen up to 5,000 passengers per hour.
Each of the 10 new security lanes has seven 'loading points', reducing queue times and increasing the number of passengers able to prepare their belongings for the screening process at any one time. There are also dedicated lanes for premium travellers, families and passengers with reduced mobility.
On entrance to the security area, passengers pass through a set of 17 new e-gates, which also help to reduce the build-up of queues and speed up the process of passing through security.
The throughput due to the new security systems is substantial, ensuring that 95 per cent of passengers are now screened and through security within five minutes. The new 'Gen II' security screening technology can facilitate 600 passengers per hour, per lane – a 68 per cent improvement compared with the 'Gen 0' screening equipment.
Biometrics
Gatwick has also recently announced the UK's first trial of end-to-end biometrics – where personal data at the airport's self-service bag drops will be recognised by new automated self-boarding gates – simplifying and speeding up the process for passengers and reducing the risk of human error.
The ambition is for each departure gate to have pre-boarding zones with five entry points, using both e-gate technology and biometrics to process passengers.
The trial is being run in partnership with easyJet and the new self-boarding technology will identify each passenger and verify that their passport, face and boarding card all match – a process which takes less than 20 seconds. The trial is the first and most extensive of its kind in the UK and will run for at least three months; it is estimated that around 10,000 passengers will take part, which should allow the airport to gather enough meaningful information to be able to spot trends and adapt the technology to ensure the optimum experience for passengers.
Gatwick will be looking at how long each interaction takes, what this means for queue times, how it simplifies the passenger journey, how passengers interact with the technology, and how intuitive the process is. The faster, more efficient process also has the potential to improve aircraft departure times.
Once all the data is gathered, the technology will be adapted and adjusted before taking the idea forward for airport-wide implementation.
The boarding process has traditionally been handled by airline staff, but can now be automated with this unique technology, reducing queue times and freeing up airline staff to assist those who need it most. Self-boarding technology is the obvious next piece in the jigsaw following extensive investment in the airport's automated check-in and security processing areas.
Future innovation
Embracing the latest digital enhancements is vital in assisting the airport to improve its efficiency further, which in turn will allow further growth. To enable its digital transformation Gatwick has just future proofed its entire IT network for the next decade and can now take advantage of new, modern technologies for the benefit of airport users – including more than 250 on-site businesses, 30,000 staff and 45 million annual passengers. It also makes the airport's network more resilient and tolerant to disruption.
New technologies include the Internet of Things, which means sensors can be deployed to measure numerous parameters across the airport campus, including waste bin levels, occupancy of check-in desks, table availability or pond water levels. The airport is also now using machine learning to improve on-time performance. High definition CCTV and facial recognition is being implemented to bolster security, and superfast Wi-Fi is being rolled out to provide reliability for passengers, while allowing airlines and handlers to use it for vital systems including baggage.
Gatwick is transforming the way airport information is communicated and will soon connect passengers to intelligent chat bots using Facebook Messenger, Skype, and other popular apps. Behind the scenes, machine learning is also being used to bolster security and develop passenger journey mapping, so gate staff can track late running passengers and send notifications via a range of apps.
Gatwick prides itself on providing innovative solutions to enhance the passenger experience at every touch point. With the rate of growth, the airport has experienced, it is essential Gatwick is able to continue finding more efficient ways of processing passengers through the airport safely and securely.
Biography
Bronwen Jones is Gatwick Airport's Development Director. She joined BAA in 1989 as a graduate trainee and has worked in a wide variety of operational and capital development roles. She has played a central role in some of the airport's largest transformational programmes including: self-service bag drop, the North Terminal Development Programme and the creation of Gatwick Connects. In her role as Development Director, Bronwen is helping to deliver the airport's ambitious plans for continued growth, ensuring Gatwick has a robust and deliverable 10-year Capital Investment Plan which aligns with the wider UK aviation and airspace strategy.