Sustainability: A key driver in the expansion of Oslo Airport
Gudmund Stokke, Founding Partner of Nordic – Office of Architecture, provides details of the construction and design elements of the new terminal at Oslo Airport which has set new standards in airport sustainability.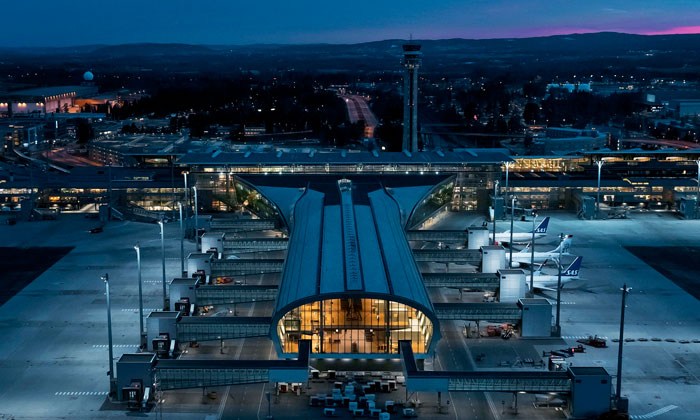 From short passenger walking distances to the inclusion of waterfalls and moss-covered green walls that evoke the Scandinavian landscape; passenger comfort and wellbeing are at the very heart of Oslo Airport's new terminal. While the expansion doubles the size of the airport, our focus was on creating a facility that is not only efficient and easy to navigate but has a distinct sense of time and place all of its own. And crucially, the new terminal is designed to be sustainable, achieving the highest environmental classification of any airport in the world (BREEAM Excellent).
Aviation is particularly important in Norway due to the country's long distances and varying topology. The expansion of the biggest airport in Oslo was therefore a key part of our national infrastructure. The NOK 14 billion expansion creates a 300m-long North pier as well as a new railway station and expanded central processor building, providing 115,000m2 of new build and 25,000m2 of rebuilt accommodation. The project includes new arrivals, departures and duty free facilities as well as extensions to the terminal's original two piers. The spectacular design of the expanded terminal complements the architectural expression of the original building while introducing exciting new design features. Completed in 1998 and now listed, this has an open, flexible envelope formed from a heroic glulam roof beam structure. The new extension similarly prioritises clarity and legibility through the use of a rational and simple design, created using natural materials. The effect is one of simplicity, light and bright airy spaces.
The rest of this content is restricted to logged-in members. Login or subscribe free to read it.