In the midst of redeveloping Chicago Midway and O'Hare Airports
International Airport Review Editor, Holly Miles, caught up with Amber Ritter, Chief Commercial Officer of Chicago Department of Aviation at the Routes America 2023 conference. Together they discussed the recovery of the Department; its present developments and why Chicago is such a great transport destination.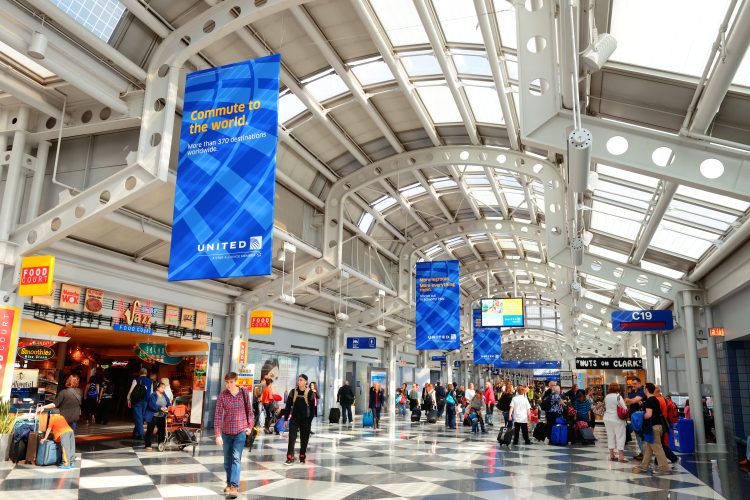 How is the recovery going for the Chicago Department of Aviation?
Business is good. It's certainly on an upswing at both Midway and O'Hare Airports. Midway Airports is at about 80% of pre-pandemic passenger loads, while O'Hare is at about 75%. That of course fluctuates, month by month, season by season. At times, we've been way above 100% at airports, especially at Midway.
What we're finding is a lot of leisure travel. We're finding that our facilities are full of excited passengers. Midway serves mostly a leisure travel market and has been for quite some time, and so we are seeing folks coming back. Our Terminal 5 right now is at record numbers in O'Hare, so we've introduced some new airlines to that space.
Can you tell us about your catchment area in a nutshell?
In Chicago O'Hare, we're located right in the middle of the country, but the location of Chicago itself helped the city grow throughout the 19th and 20th century. Before air travel, we were the biggest rail hub in the country; before rail travel, we were the biggest interior shipping hub in the country. And everything branched out from there.        
That's why we serve the Midwest of the United States here. The bordering states of Illinois, Indiana, Michigan, etc., all have smaller airports, not major ones, but there's a lot of people that live there. They travel to Chicago to feed in from their connecting flight, hence why O'Hare has become such a global force. About half of our daily flights are connecting flights.
How have passengers changed since the pandemic?
That's a great question. Leisure travel is up, we've seen a lot of leisure travel to Latin America, Central America, Mexico, and other vacation spots. Chicagoans famously love some sun, and we need to get out of town occasionally to see that in the winter! We're also seeing an increase of returning business travel.
In Chicago, we've been a big convention centre of the United States. Alongside planning the Routes Americas convention this week, we found that there are several other conventions happening at the same time. This means things are really booking up, such as hotel rooms. We even had a bit of a challenge getting all the hotel blocks we required for the Routes Americas conference (obviously, we got them!). This just shows that conventions are coming back, and I'm expecting to see more of that through 2023.
What are some of the challenges you're facing and how are you set to tackle them?
Well, we're in a lot of development for O'Hare right now. The past couple of years, we kicked off what we called our programme – bringing O'Hare into the 21st century. We have almost completed our big redevelopment of Terminal 5 which, historically, had been known as our International Terminal. But now, we also have Delta flying all their flights from Terminal 5 – including domestic flights – as well as the domestic flights of Southwest and Frontier.
It's been nice being a hybrid of both domestic and international.
We've also built 10 new gates at Terminal 5 and about 12 new concession spaces, which are wonderful new lounges and commercial areas. We've also built a new baggage handling system, and that construction is really going to be wrapping up by 2023.          
Obviously with any construction and development, there are challenges to get through like being a fully functioning, working airport during the time of construction. But we are seeing through to the end, which is a great victory.
I think some of the other challenges we're facing is embarking on the even bigger development programme: O'Hare Global Terminal.
We are one of only five airports globally that serve all six inhabited continents."
Our existing Terminal 2 at O'Hare will be demolished and replaced by a new terminal, called  the O'Hare Global Terminal. This has been designed by a local architect, Jeanne Gang and will have wonderful facilities. The terminal will also have an FIS (Federal Inspection Services Centre) to improve passenger traffic efficiency. People can arrive and go through customs in the core complex of terminals and then potentially transfer to other domestic flights, without having to leave the terminal. So, that's what we envision and what we're going to see happen in the next eight to 10 years. But before that can even happen, we need to build two new satellite concourses to house the flights being displaced from Terminal 2's demolishment.           
So, those are the challenges we're facing. We've got a lot of development going on in the airfield and inside the terminals, but we're getting there. We're moving through it, and achieving great successes already.
What are your ambitions for redeveloping air service this year?
I love this statistic; every widebody international jetliner that we get contributes tens of billions of dollars to the local economy. That is something to really focus on as an airport and make sure we're optimising.
From an air service perspective, we are already one of the most connected airports, if not the most connected airport, in the world – we are one of only five airports globally that serve all six inhabited continents. 
But, of course, we always want to grow, and get more opportunities. We've been talking with a lot of airlines about increasing the cities that we fly to. We always want to see expansion in Central and South America because it is a huge market for us. We want to expand in Africa, Europe, Asia, and everything in between.
Can you give us your elevator pitch to an airline? Why should they fly to you?
It's easy to sell the City of Chicago as a great destination for a new route. I'm a lifelong Chicagoan, and I'm always proud to talk about it. I think Chicago has a lot to offer.
One of the main selling points is our transportation network. O'Hare and Midway are connected to the city through strong public transport. We have trains and subways that connect both airports downtown, and other trains that run across the city connecting 77 neighbourhoods. So Chicago's transportation network and the ability to travel downtown quickly is a strength of ours.
Our culture is a huge asset for us too. We have world-class museums, restaurants, theatres and, of course, our beautiful lakefront. So I think those things together, transportation and culture, are what sell it for me.
What are the three most exciting developments happening at your airports this year?
Our International terminal at Terminal 5 will have many global and local restaurants coming in. This is the biggest expansion of our concessions programme we've had in about a decade at O'Hare.
Midway is amid a Midway Modernisation Program. This is about developing concession spaces at Midway; right now, we're at about 35 restaurants out of 70 that will eventually be built. That number might fluctuate a little bit, but those will all be coming online in the next couple of years.
Chicago's transportation network and the ability to travel downtown quickly is a strength of ours."
We've got some exciting new things coming there, which will invigorate commercial and passenger amenity experience of folks flying into Midway.
The cargo capacity at O'Hare is growing, and we did a lot of intense infrastructure development in the last decade. This paid off for us during the pandemic, because cargo went up by 25%.
We had built a whole new Northeast cargo facility which, with the other cargo facilities we have, is over two million square feet of airside cargo space. We have spaces for cargo parking of over 40 jumbo freighters, demonstrating a robust cargo system.         
In addition to this infrastructure, we have links to a transport network I mentioned earlier, which proves why Chicago has become a shipping hub of the country.
The cargo growth we've seen, and the infrastructure improvements will continue. We have a third phase of one of our Northeast cargo facilities that will open later this year. We're really excited to welcome even more cargo, and we've got plans as well.
Are you optimistic for the future? What's your business outlook?
We are absolutely optimistic for the future. We are in the midst of a real redevelopment and rethinking what airports are. And this is the opportunity to do so via the development projects I've been discussing.
It's always hard work, and we've had challenges during the pandemic, as everyone did, but we kept moving forward and it's paid off for us. All our hard work is really coming to fruition now, it's going to be hard work in the future, but we're very optimistic. We're excited about what's to come.
Amber Achilles Ritter serves as Managing Deputy Commissioner, Chief Commercial Officer for the Chicago Department of Aviation. In this role, she heads up concessions, real estate, air service, marketing, customer service and cargo for both O'Hare and Midway International Airports. She and her staff are responsible for planning the airports' retail offerings through the current expansion projects and beyond, managing leaseholds, airline relations and expansion, cargo operations, marketing and customer service, and other commercial endeavors. 
She received her BA degree from the University of Illinois at Urbana-Champaign, and her JD from the University of Notre Dame Law School. Prior to joining CDA, she represented the City of Chicago for 16 years as an attorney with the City's Law Department.