Two tickets to a digital future at YYC
Megan Gupton, Senior Director, IT and Chief Technology Officer at Calgary Airport Authority, outlines the digital passenger journey the airport is continuing to conquer, as the world looks beyond the pandemic and recovery.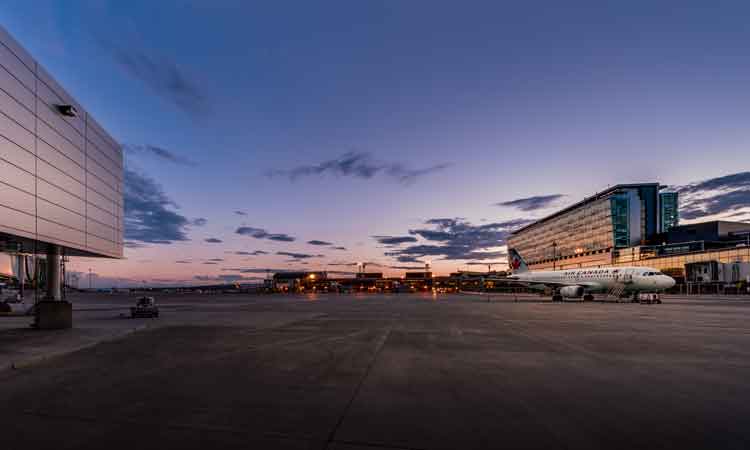 Our sights are set on making a full recovery in the next two years, after coming back from a two-year travel hiatus in Canada and across the globe. Our airline partners, once again, are taking to the skies, dusting off routes and services to formerly established destinations. Calgary's airport was one of four major Canadian airports that remained open to international traffic throughout the pandemic. While that was something, it certainly wasn't enough to keep us out of growing debt.
This year is a different story; we've forecasted to achieve our passenger goal of over 14 million passengers enplaning and deplaning, the most recovered airport in Canada. And, this is where digital transformation comes in to play. To make travel more comfortable, convenient and predictable, we are working towards the integration of digital technology into all areas of our business, converting non-digital products, services and operations to streamlined, contactless solutions.
YYC has come a long way from paper copies and home-grown applications. In the last five years, YYC opened a state-of-the-art baggage system that connects the entire facility and allows us to track every single bag at any given time and in the future, can support passenger-facing applications for real‑time baggage tracking. Operating and maintained a world-class baggage system is foundational to aviation but integrating baggage tracking between airports and airlines from check‑in, in-flight, to baggage carousel, is transformative.
So, what's happening today?
Digital transformation today
Virtual queueing
There are many different technologies that airports can use to digitally transform their touchpoints and improve passenger experience, from contactless boarding to self-bag drop, our latest and greatest achievement is a recently deployed application and system to improve security screening wait times. For many, the security screening experience can be one of the most frustrating processes a passenger can go through at an airport. There can be lengthy queues to wait in and a general uncertainty over how long the whole process will take. As passengers prepare for their journey through the airport and takeoff, frequently asked questions may surface like: "What time should I plan to be at security?", "What can I pack?", "Will I make it to my gate on time?", "Will I have time to eat and drink or shop around?"
By leveraging technology, YYC has taken steps to alleviate these passenger concerns by offering passengers an opportunity to reserve their spot in line at the security screening checkpoints. Working with world-leading software optimisation solution partners, we were the first airport in Canada to launch a digital reservation system named YYC Express. With integration both on our public website, yyc.com, and through our airline partner booking and notification channels, YYC Express allows a passenger to select their flight, party size and reservation time for when they would like to go through security screening. Upon completion of their reservation, they are sent a QR code and a calendar invite for their screening appointment. When they arrive at the security screening checkpoint, their QR code is scanned to validate their appointment and they immediately proceed to the front of the line to go through the security screening process. No more waiting in line and no more uncertainty over how long the process will take. Through our post appointment survey process, we've discovered that most of our passengers said they saved time by booking YYC Express to eat, drink and shop before getting to their gate.
However, elevated passenger experience and an increase in non-aeronautical revenue aren't the only benefits resulting from this example of digital transformation. YYC is also able to leverage this technology solution to drive operational efficiencies. By being able to adjust the number of reservation slots in each period, as well as across multiple security screening checkpoints, YYC can help load balance the checkpoints and shave our operational peak times by offering more reservation slots in off peak time periods. This results in better throughput and experience for all passengers and across all our security checkpoints.
Online parking reservations
Although it's not on the leading edge of technology in the aviation industry, YYC is scaling up in a manageable way. We integrated a virtual parking reservation system on our website to offer guests reserved and covered parking closest to the terminals or in our economy and over height lots. Virtual parking has helped us predict the number of parking slots available and overall parkade usage while offering our guests a convenient and contactless solution. On top of removing the uncertainty of where to park and at what cost, our email subscribers get access to exclusive parking promotions and discounts.
In conjunction with our online parking reservation system, we moved toward digital forms of payment to add convenience and efficiency at the gate arms. Guests can book and cancel up to two hours prior to arrival with no cancellation fee and look at online maps for the best lot or parkade. Not only can our passengers book online, but our corporate partners can now also reserve their spot from their home, office or even in transit.
Digital transformation tomorrow
Apron video analytics
As part of our commitment to digital transformation and our technology roadmap, YYC is also testing and trialling video analytics to improve existing manual business processes and capture new data points for our operation. On our aprons, numerous events contribute to a successful departure or turn of an aircraft off the stand. Currently, the collection and review of the timing around these events is completely manual, based on historical Closed-Circuit Television (CCTV) and other recording device footage review. However, by leveraging our existing apron CCTV infrastructure and adding video analytics software, we can accurately measure operational events such as pushback starts, bridge connection statuses, air and ground power connections and baggage loading. Additionally, the video surveillance AI video analytics can capture safety and sustainability events, like stand clear of ground service equipment, chocks and cones present and in place and engines on. By employing this technology, we're able to identify what processes in the turn or departure of an aircraft can be improved upon, thereby driving operational efficiencies and capacity.
In-terminal video analytics
Moving from video analytics airside, we're also exploring use cases for video analytics to improve business processes within the terminal building. Manual corridor sweeps conducted by personnel checking for persons or objects left behind are now being completed using sensor and video analytic technology. In another example, we need to be able to detect and alert if specific connecting passengers are seen in a particular area of the terminal. However, many other passengers and staff are permitted in those same areas, so the detection must be accurate and specific to transfer passengers only. Based on predictable passenger flows and video analytics, we're able to do exactly that, eliminating manual procedures and labour.

Megan Gupton joined YYC in November 2020, and is the Senior Director, IT and Chief Technology Officer. Megan comes to The Calgary Airport Authority with an impressive technology background, particularly in the aviation industry. Megan is responsible for all aspects of the Technology group, including Cybersecurity, Technology Strategy, Enterprise and Airport Systems, IT Infrastructure, and IT Operations. Megan joined YYC at a critical time as technology is more important than ever to achieving YYC's strategy.