China re-opens to the world and Guangzhou Baiyun International Airport is it's 'southern door'
With China finally re-opening their borders again,. Carol Lobato, Deputy General Manager at Guangzhou Baiyun International Airport Company, tells International Airport Review about their key focus areas for the future.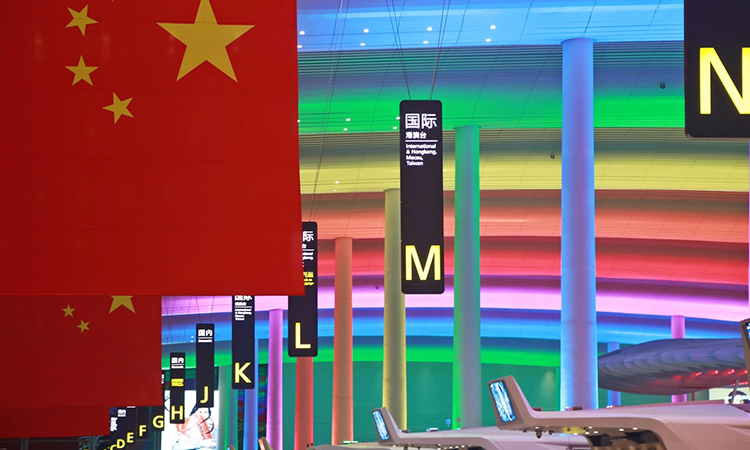 Credit: Guangzhou Baiyun International Airport
After three years of COVID-19 measures, China announced the end of most of the restrictions on 7 December 2022. This led to a nation-wide outbreak of cases. Yet, this outbreak only lasted for a short time and, as a result, prepared the country for the re-opening of its borders on 8 January 2023. Things rolled swiftly from then on, and so were the preparations at Guangzhou Baiyun International Airport.
We welcomed the first international arrival flight at 00:12 on 8 January 2023 at Baiyun International Airport Terminal 2, it was the first inbound flight in China after the restrictions were lifted, and the first in about three years where passengers landed and headed straight to the formalities without any PCR tests. It was emotional to see this once again. Happy faces, excitement, and longing to reunite with families were the marks of this new era of travelling in China. 
Happy faces, excitement, and longing to reunite with families were the marks of this new era of travelling in China"
We have seen the upsurge in passenger throughput and flight movements instantly, and airlines are progressively reinstating their flight schedules, especially for the international sector. All this orchestrates well with the 14th five-year plan for aviation in China, which is to become a world-class hub airport. We may have the infrastructure, but the next step is how to use this infrastructure to build a gateway that truly meets the needs of passengers, and which can stand the test of time. What we really need to build is a platform-based gateway to connect people, business, and cargo. Only then can we be agile enough to satisfy the needs of our customers despite the changing environments.
Rebuilding businesses
One of the first things we are planning to do is reach out to our existing customers to understand what they need to rebuild their business after these three years. Often, airports may believe they know what the end-user's needs are and make plans. However, this may not be the case. As an airport, and at this important milestone, we must be able to be in sync with the airline products or cross-border requirements to provide a suitable environment for the passenger journey at the airport. What we envisage is a seamless, no-touch journey from door to gate.
Seamless by integrating both technology and human service. How we deploy our staff to be located strategically to bridge the gap between each IT process is key. On the one hand, we would like to give our customers the control they need to feel at ease as they go through our airport. On the other hand, we understand that there must be human service. Hence, the art of combining these two would produce a new and flexible service that should cover the majority of passengers' needs.
The aim behind this is to create a relaxed atmosphere, contrary to the anxiety that most passengers may experience when travelling. We would like our airport to become a place for our customers to find what they need and the service they required, as well as feeling confident that their expectations will be met. As such, the customer can already feel relaxed at the thought of travelling to the airport, instead of feeling anxious. Only then will they have the mood to explore what we have on offer, and furthermore, the potential to become their preferred gateway.
Back to basics
We have much work to do to achieve all this. The first being to make the basics right, the first time and every time. The core service of an airport is to enable the passenger, baggage, and cargo to board the right plane in time. Passengers remember when things do not go well and this deters them from using the gateway again. This is therefore our priority – to ensure we have an excellent foundation of the basics. Then, customers will appreciate the extra things we have in store for them.
What is a world-class hub? What criteria must be met to be considered in this elite? These are the questions we are looking into intently, whilst facing fierce competition from within – there are some 250 airports in China, and new airports are mushrooming. One of the current focuses is first-time travellers. How can we offer them a seamless experience right at their first journey? From a world-class hub point of view, how can we offer the same seamless experience for passengers transiting at our gateway for the first time? This could be one of the key factors in joining the crème de la crème of the industry.
ACI, in their article dated 28 December 2022, recognised 'China's reopening completes the normalisation process worldwide post COVID-19.' 1 This endorsement is a strong indication of the high expectation in playing an important role as an international hub and we are taking full advantage of our position as China's southern door, who served 90% of the international inbound flights into China during the COVID-19 period, to becoming a reliable international hub with a world-class service for all walks of customers, to be their preferred gateway!
Reference
1 (https://www.asiacargonews.com/en/news/detail?id=7494)
Related airports
Related regions