We rock all winter long!
For Issue 5 2022, Janne Rostén, Head of Ground Operations and Nominated Person, Ground at Nordic Regional Airlines gives an overview of how they handle their winter operations.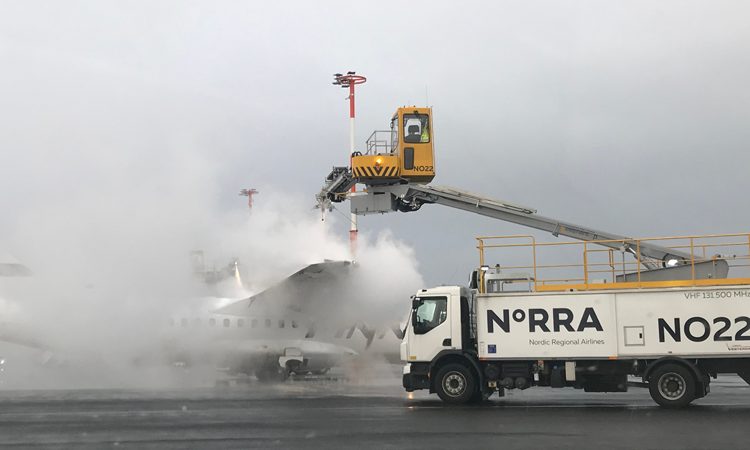 Credit: Nordic Regional Airlines
Nordic Regional Airlines, also known as Norra, has provided de‑icing services at Helsinki Airport from 2019 with four vehicles and a staff of 31 Ground Controllers. But, how did that come to be? Doing it ourselves turned out to be the safest and most efficient option. And don't just take our word for it – our high-quality services are something other airlines are willing to buy.
Status of deicing services and winter operations
The basic idea of deicing is still the same and safety is always priority number one. Our Safety Management System (SMS) plays a key role in how we are keeping up the excellent safety level of our operations. We are closely monitoring our deicing operations through SMS with self‑monitoring process, and it has proven to be an excellent solution to keep up the standards of our operations.
Recently, we gave more responsibility to our duty supervisors in order to improve daily operations. So far, we have seen positive results – we can focus on our employees better and we have more effective processes and procedures, which airport stakeholders are also happy about.
We are following SAE standards in deicing operations and training: the concept of clean aircraft with no exemptions. Our aim is to keep our training practical and train our experts on the job – we use CBT training only when necessary. In classrooms, we encourage debate and discussion, which has several positive outcomes: for instance, it allows our senior instructors to be challenged from time to time.
Here in Finland, the deicing season may start as early as the beginning of September. It means practical training must begin in August. We practice spraying with a test wing in a CDF/in a remote area. When possible, we also practice with operating aircraft.
At Helsinki Airport, areas for deicing are chosen with great care to reduce environmental impact. Strict area limits make it possible to recover and recycle deicing glycol"
Instead of glycol, we spray aircraft with water as it is a cheap and ecological alternative to train with. It is very important to understand what kind of impact the direction of wind has on spraying. Also, it is beneficial to train with various aircraft models since it is quite different to spray Embraer 190 and Airbus A350-900, and some of our airline clients have bigger jets too.
Vehicle maneuvering is practiced with real aircraft. With meticulous training, we want to ensure all our operations are handled professionally when the winter season begins.
The ground services market has seen a rapid change – hybrid and fully electric equipment are the future. Sustainability is everyone's responsibility. At Helsinki Airport, areas for deicing are chosen with great care to reduce environmental impact. Strict area limits make it possible to recover and recycle deicing glycol. Glycol recycling is more and more common at Helsinki Airport, and we are hoping for glycol recertification in the coming years. That would allow us to reuse the recovered glycol instead of recycling it.
Winter seasons are increasingly difficult to forecast. Winters are not what they used to be, and that imposes new challenges for deicing. Freezing rain and dense fogs are more common than ever in Finland and it challenges not only the deicing team, but also the airport apron and runway maintenance team.
Since Nordic Regional Airlines operates a fleet of 12 Embraer 190 and 12 ATR 72 aircrafts, we also monitor the status of the propellers for ATR 72 aircrafts. Our aim is to keep the propellers clear of ice and snow in any weather condition, all the time and without a separate order to do it. It is a rather unique approach to improve the reliability of our operations – to our knowledge, we are the only airline operator to do so as part of our standard operations.
With a professional manner and by focusing on our training procedures, we are able to operate during the winter season without cutting a single corner when it comes to safety. 
Biography

Janne Rostén, is Head of Ground Operations and Nominated Person, Ground, Nordic Regional Airlines. Rostén has more than 15 years leadership experience in Management Board, Management Team, People Management, Operations Management, P&L responsibility, B2B, and business development in small, medium, and large organisations. His strong and safety-oriented leadership style has been honed within the aviation business area and he enjoys building a team spirit and approaching problems with a can do-attitude which is part of his hands-on leadership style.