Airports prepare to fly with a joined up digital vision
After COVID-19 continued to cause trouble for the travel industry in 2021, airports are preparing a joined up digital vision before passengers return.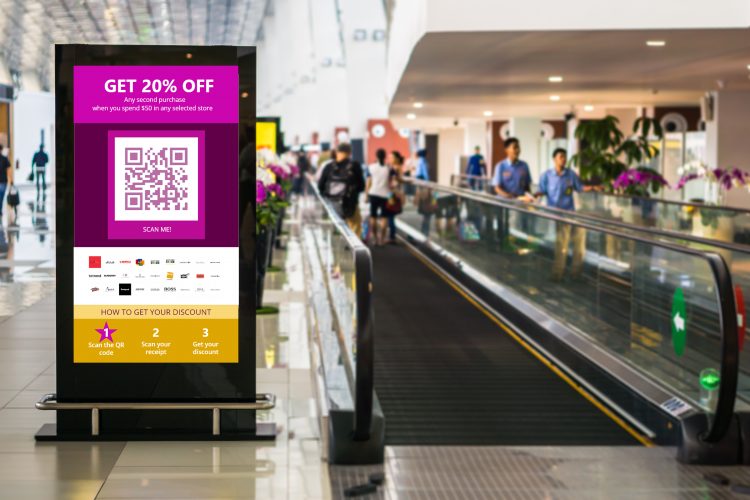 For airports, far fewer people are passing through their terminals and therefore there are fewer opportunities to generate non-aeronautical revenue. Why not use this 'quieter' first quarter of the year to get your house in order?
Now's the optimal time to ramp up your airport's digital tactics and ensure you have all the tools in place, so that when passengers come back to the airport, you can build strong and valuable relationships.
Improving airport data acquisition strategies for a successful 2022
After the COVID-19 pandemic continued to cause trouble for the travel industry throughout 2021, we hoped for a more positive start to the new year. However, concerns about the Omicron variant led to the reintroduction of some travel restrictions on entering and leaving the UK, including a reformed red list of African countries requiring mandatory quarantine.
The uncertainty regarding international travel, coupled with stagnant demand for flights, has seen top airlines cutting thousands of domestic and transcontinental flights from their schedule until early spring. For airports, this means far fewer people passing through their terminals and fewer opportunities to generate non-aeronautical revenue. But let's not dwell on what could have been. Instead, why not use this 'quieter' first quarter of the year wisely?
However, are you wondering where to begin? Here we'll talk you through the many ways your airport can achieve this.
Implement robust data acquisition strategies
Let's dive straight in with the most crucial task of all – ensuring you have robust data acquisition strategies in place for your airport. After all, without the means to collect customers' data, there's no opportunity to get to know them, sell to them, or gain their loyalty.
Start by identifying all of the different touchpoints passengers might use to interact with your airport and check that each is optimised to collect marketing permissions. Obtain these to start building your database, get to know passengers as individuals and use data to create even better airport marketing campaigns in the future.
Pre-arrival at airport
Consider the touchpoints you have with customers before they arrive at your airport. Whether customers are booking flights, parking or COVID-19 testing with your airport or simply visiting your airport website to find out information, these are all fantastic opportunities to optimise your digital channel to collect passenger data and marketing permissions.
One of the easiest ways to capture customers' marketing permission is during online checkout. For example, while they're buying flights or parking from your airport, explicitly ask whether they would like to sign up to your airport emails to hear about updates and exclusive offers. Once you have their permission, you'll also have the opportunity to up-sell and cross-sell relevant products to enhance their customer experience and unlock even more revenue.
But you don't necessarily need your airport website visitors to make a booking to collect their data. Optimise key pages of your airport website, such as your flight search page or travel information page, with an email sign-up and consent form to capture prospective customer data. Incentivise visitors to give their marketing consent with the promise of travel updates, flight information and exclusive offers on the routes they're most interested in.
Right now, customers are hungry for information, and they want reassurance that they're doing the right thing by booking a holiday abroad. Position your airport as a go-to source for accurate travel information, and you'll stand a fantastic chance of not only gaining prospective customers' marketing permission but also building their trust in your brand.
Arriving at the airport
There are many opportunities to acquire the marketing permission and data of passengers arriving at your airport, but you need to ensure you have the tools in place. Even if you've had a 'missed opportunity' where passengers have booked flights through an airline or online travel agency, there are still plenty of ways you can connect with them and capture their data at the airport.
QR codes & WiFi integration
One of the simplest ways to capture customer data is via airport Wi-Fi integrations. We know that most passengers will require access to the internet at some point during their time at your airport, either to search for information or simply pass the time. With airport Wi-Fi integrations, passengers scan a QR code in your airport terminal to access your WiFi. Once they connect, they will reach a dedicated landing page, optimised to gather their marketing permissions.
While you can't withhold access to your airport Wi-Fi if passengers don't give their marketing permissions, you can incentivise them to join your mailing list. Make your proposition clear and instant. For example, 'sign up to our airport mailing list and receive offers straight to your inbox that you can use at the airport today.'
Not only is it a great way to connect your airport with passengers you can get to know and market to in the future, but it will also encourage additional spending in your airport retail stores and restaurants.
Contactless Fast Track Booking & Queueless Journeys
Emerging airport technologies, like Rezcomm's Contactless Fast Track Booking and Queueless Journeys, also provide ways for airports to acquire data from passengers at the airport.
Contactless fast track essentially speeds up a passenger's journey through airport security. Once they purchase an e-ticket, they can scan it and gain entry to your fast track lane. It saves time, prevents the need for mass crowds and queueing, and gives passengers more opportunities to visit your retail stores and restaurants.
Queueless Journeys also ensures a more enjoyable airport experience by preventing passengers from needing to stand in lengthy queues. Instead, they simply purchase an e-ticket and are allocated a dedicated time slot.
Like with airport Wi-Fi integrations, passengers scan a QR code in your airport terminal to purchase contactless fast track booking to speed up their journey through security or queueless journeys to book a slot at check-in, lounge or anywhere in your airport where queues form. When customers purchase a fast track or queue jump e-ticket on their mobile device, ensure the booking journey is optimised with a call to action to sign up to your mailing list. Again, you can strengthen this with an incentive of instant in-airport offers delivered immediately to their inbox.
KPI and feedback system
Digitising your airport's KPI and Feedback system will open up even more opportunities to get to know your customers. For example, switch your feedback collecting kiosk at security, check-in or your airport toilets for a QR code so passengers can submit their feedback via their mobile phones. While this is an effective way to limit the number of surfaces passengers touch in your airport and offers a safer, contactless experience, it also provides an opportunity to collect their marketing permission.
Don't forget to include an incentive that passengers can use in the airport straight away.
Rezcomm's KPI and feedback module links with your airport e-commerce system to connect rewards with feedback seamlessly. So before you go to tender for an expensive new system, chat to our tech partners and learn how easy and cost-effective it is to integrate Rezcomm KPI and feedback at your airport.
During passengers' trips and on their return home
Providing your airport leverages and connects all of the various touchpoints we've outlined, you will have the opportunities to communicate with passengers while they're on holiday and when they return home.
Here we've highlighted some of the key communication opportunities and how you can engage with passengers to develop your relationship, get to know them better and encourage them to spend more with your airport.
Inform passengers about your airport's offerings
Send passengers an email to let them know what they can do when they return to your airport. Perhaps they might want to book a table at one of your restaurants for an easy dinner? Or maybe they want to click and collect groceries from one of your stores, so they don't have to call in at the shops on their way home? Market a convenient and enjoyable airport experience to engage customers, and show them that your airport is more than just a 'passing through' place.
Build awareness of direct airport bookings
Did the passenger book flights with an airline or travel agency previously? Use this opportunity to tell them they can book flights directly through the airport website next time. If they've had a good experience at your airport and know they can book flights with you next time, chances are they will. However, you might want to throw in a discount for good measure.
Even if passengers booked their flights with you, they might not be aware of the different routes you serve, so tell them with attractive travel guides to inspire them and encourage passengers to book with your airport again.
Consider the timing of your airport marketing emails. It's wise to communicate with passengers on their return home or a few days after when they're likely to be feeling the post-holiday blues and already thinking about their next trip. Another great time to communicate with passengers is a year after booking their last flights. Remind them of their fantastic holiday and encourage them to book again.
Create and send timely passenger communications with Rezcomm's email and SMS services. These modules support your airport in emailing or texting your entire database at once, sending personalised communications to a segment of your database and automating hyper-personalised communications to individual passengers.
Gather customer feedback
While your airport should use communications to increase brand awareness and unlock revenue, it's equally important to gain passengers' loyalty. While attractive offers and incentives will go a long way in doing this, passengers are also more likely to be loyal to your airport if they feel valued.
Give your passengers a voice by using your email or SMS communications to gather feedback. Find out whether customers had a great experience in your airport and with the services you provided, such as contactless fast track booking or queueless journeys.  Ask them if there was anything you could improve on and take note.
Feedback doesn't just help you improve your airport services. It tells you what's most important to individual passengers and gives you a good idea of what you need to do to ensure they remain loyal to your airport.
Get to know your passengers
Gathering passengers marketing permissions ultimately enables your airport to get to know passengers more personally. Use the data you have on their interactions with your airport touchpoints, the content they've engaged with and the bookings they've made to learn more about the individual. How did they act in your airport? What did they appear to enjoy most? Use the behavioural data to inform your advertising and marketing for greater success in the future.
Remember, everything you learn about your passengers is valuable and should influence your digital tactics, so your airport continues to perform better and better.
Don't delay
There's no time to wait. Getting your data acquisition and marketing tools in place in the first quarter of 2022 is a top priority. Make good use of this quiet period before airport traffic returns so that when your terminals are packed full of passengers, you have the digital tactics in place to engage with them, get to know them and generate additional revenue.
Future-proof your airport
The work you do now and the airport technology you invest in will also futureproof your business. Ensure that if anything like COVID happens again or tighter travel restrictions return, your airport has a healthier database to work with and the means to communicate with passengers, keep them up to date, and build the customer loyalty and relationships your airport needs to thrive in 2022, and beyond.
Work with Rezcomm
Rezcomm has a COVID-19 recovery system to support airports and their passengers throughout this period. Our solutions incorporates emerging and contactless technologies to offer COVID-19 Testing Pre-Book Platform, Queueless Journeys, Contactless Customer Service, KPI and Feedback, Email and SMS Sending, Contactless Fast Track Bookings and Taxi and Bus Pre-Book. Plug them into your existing airport systems for a fast, flexible and scalable solution.
More than just a platform. Rezcomm is your partner, and we're here to support you every step of the way with tailormade data acquisition and marketing strategies for
your airport.
For more information, get in touch with the Rezcomm team today.