Cleaner, Greener Airports: Making Aviation More Sustainable – San Diego County Regional Airport Authority
Brendan Reed, Director of Planning & Environmental Affairs for the San Diego County Regional Airport Authority, explains how San Diego International Airport's brand-new Terminal 1 will develop the airport's future sustainability goals and endeavours.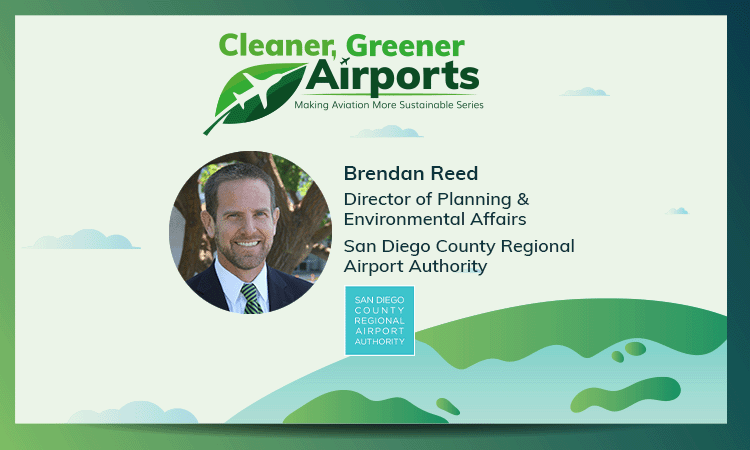 The San Diego County Regional Airport Authority (hereafter referred to as Airport Authority), which owns and operates San Diego International Airport (SAN), has just started construction on its new Terminal 1 (T1). The new T1 programme outlines the replacement of the outdated Terminal 1, as well as improvements to the airfield, transit connectivity to the airport, and a new facility for the Airport Authority administration. The $3.4 billion terminal project will aid the Airport Authority to continue to meet the region's air travel demand into the future, which is expected to grow from 25 million annual passengers in 2019 to nearly 40 million by 2035.
The new T1 will provide a much more modern, comfortable, and efficient passenger experience than the existing 19-gate terminal, which is more than 50 years old. Some of the functionality and features we will incorporate into the new T1 include a dual-level roadway and curb front to separate arriving and departing passenger traffic with an elevated departures roadway and curbside check-in, a new three-lane on-airport entry roadway, and a new parking plaza providing up to 5,200 parking spaces. The terminal will be a 30-gate facility with a 13-lane security checkpoint, a pre-and post-security passenger connector to Terminal 2, with a post-security outdoor patio area providing views of San Diego Bay and downtown, up to two airline or common-use lounges/clubs, and a children's play area.
The new T1 will provide a much more modern, comfortable, and efficient passenger experience"
During the planning and design phases for the new T1, the Airport Authority has remained vigilant that the new T1 should be a showcase for sustainability in the San Diego region and the broader aviation industry.
It all starts with good planning
The new T1 was the focal point for the latest SAN airport master plan, adopted by the Airport Authority in 2020. The master plan's goal was to optimise the use of SAN's limited 661 acres and single runway system. The plan was also guided by six principles, which all had a nexus with social, environmental, or financial sustainability. These principles included maintaining high levels of passenger satisfaction and a local San Diego 'feel,' meeting the region's needs in a socially responsible manner and improving ground access and public transit to the airport. Specific sustainability management plans – focused on carbon neutrality, climate resilience, sustainable energy, water stewardship, clean transportation, biodiversity, and zero waste – were also created to guide future development. These planning efforts proved critical in informing the Airport Authority's early decision-making around airport land uses and project features. 
More efficient aircraft movements
An important decision in the planning process was to prioritise the development of a new Taxiway A to parallel the proposed new T1 and existing Taxiway B. The current airfield taxiway system does not accommodate bidirectional aircraft movement within the airport terminal area. In addition, the current layout requires aircraft using the northern ends of the existing terminal concourses to push back directly onto active Taxiway B, thereby conflicting with arriving flights needing to exit the runway and impeding free flow taxi movements on Taxiway B. The new Taxiway A directly addresses these airfield congestion issues and provides one of the project's most significant greenhouse gas emission reductions, as well as helps reduce flight delays for passengers. The new T1 will further enhance the airfield's efficiency with its linear design, which avoids bottlenecks on the surrounding apron areas. 
A carbon-free electric future
San Diego International Airport is powered by 100 per cent carbon-free electricity through a combination of 5.5MW of onsite solar photovoltaic arrays and grid-delivered renewable resources. The Airport Authority expects that the new T1 will provide an opportunity to install an additional 4MW of rooftop solar at SAN that could be paired with a battery energy storage system to provide significant utility cost savings and operational flexibility. The Airport Authority has also decided to invest heavily in transportation electrification infrastructure as part of the new T1. Every new gate will have 400Hz ground power and pre-conditioned air units to avoid parked aircraft having to burn jet fuel, as well as to be outfitted with five charging ports, on average, to support airlines' transition to all-electric Ground Support Equipment. In the new T1's adjacent parking structure, there will be more than 250 electric vehicle (EV) charging stations with an additional 250 EV-ready spaces for use by passengers, rideshare drivers, and the Airport Authority fleet. 
A multi-modal facility
The new T1's design will greatly improve the interface between surface and air transportation in the San Diego region. A new, on-airport, access roadway will remove more than 45,000 vehicles daily from surrounding local streets and provide quicker access for passengers to SAN's terminal area. At the new T1, a dual-level curb front will separate arriving and departing vehicles and further reduce traffic congestion. Safe and convenient bicycle access to the new T1 will be achieved through a multi-use path along the new on-airport roadway and more than 300 bicycle parking spaces near the terminal's entrance. More long-term, the Airport Authority is working with the San Diego Association of Governments to establish a fixed-rail connection between SAN and the regional transit network by 2035 and has preserved an area adjacent to the new T1 for this future transit station.
The Airport Authority has remained vigilant that the new T1 should be a showcase for sustainability in the San Diego region and the broader aviation industry"
Maximising water resources
Drought conditions and restrictions in California have made managing water resources a priority. The new T1 will have an expanded storm water capture and reuse system, including a 1.5-million-gallon underground cistern that joins the current storm water capture and reuse system located under the Terminal 2 Parking Plaza and another three-million-gallon cistern on the northside of SAN campus. Once all pieces are operational, it is estimated that SAN will be able to collect, store, treat, and reuse more than 40 million gallons of storm water annually, thereby reducing the airport and region's reliance on imported water supplies.
The Airport Authority is committed to partnering with key stakeholders in the San Diego community and making sustainability a core component of SAN's operations. The Airport Authority is pursuing the U.S. Green Building Council's LEED Gold certification for the new T1 project, as it has achieved at least this level on all new major construction projects over the last 15 years. Furthermore, the new T1's sustainability design features meaningfully contribute to the San Diego region's broader pursuit of achieving net-zero carbon emissions within the next 20 years.
Biography

Brendan Reed is the Director of Planning & Environmental Affairs for the San Diego County Regional Airport Authority, which operates San Diego International Airport and plans for the region's long-term air transportation needs. As a senior member of the airport's Development Division team, he is responsible for guiding the organisation's policies concerning airport land use compatibility and airport master planning, corporate sustainability, environmental compliance, and noise abatement. Reed is a Certified Member of the American Association of Airport Executives and currently serves as the Chair of the Airports Council International-North America's (ACI-NA) Environmental Affairs Committee.