Cleaner, Greener Airports: Making Aviation More Sustainable – LAWA
In the latest instalment of International Airport Review's exclusive sustainability series, Los Angeles World Airports explains how despite bold, they are determined to achieve their net zero energy, water, waste, and carbon emissions vision by the year 2045.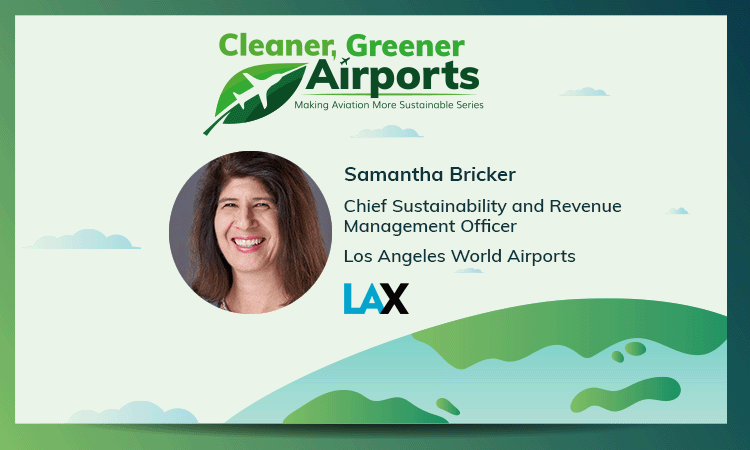 Since the 1980s, Los Angeles World Airports (LAWA) has embraced sustainability as part of its airport operations, often pioneering practices and policies that have spread to other airports throughout the world. LAWA is leading the aviation industry in sustainability in the management of energy, water, air emissions, material resources, and natural resources. And now, it has a bold vision to achieve net zero energy, water, waste, and carbon emissions by the year 2045. In November 2019, LAWA adopted its Sustainability Action Plan (SAP), which provides a sharp focus on areas of vital community importance and challenges the airport and its partners to implement plans for renewable energy and conservation.
As the organisation that governs Los Angeles International and Van Nuys Airports, LAWA is committed to Mayor Eric Garcetti's Green New Deal initiatives and embodies our city's pledge to make a meaningful difference for the future. We are proud of LAWA's culture of environmental leadership. Our journey started over a decade ago as one of the early airports to commit to a comprehensive sustainability plan. Today, LAWA's Sustainability Action Plan sets a vision that is even bolder than before. In each of our focus areas, we have goals designed to go all the way – not just reducing or mitigating our impact, but also setting a vision and a pathway for a future with net zero across all elements.
We have goals designed to go all the way – not just reducing or mitigating our impact, but also setting a vision and a pathway for a future with net zero across all elements"
From eliminating food waste, to eliminating the use of potable water for landscaping and industrial uses, to reaching net zero electricity by 2045, we are engaging with our partner airlines and external stakeholders to reach these goals. We can shape our future environmental footprint by making impactful changes in our daily operations. By investing in energy efficiency, renewable energy, air quality, and water conservation programmes, we can realise our vision of being Gold Standard Airports.
Passenger activity at Los Angeles International Airport (LAX) in 2019 was at a record high, reaching close to 90 million annual passengers. LAWA is amid a $14.5 billion Capital Improvement Programme at LAX. The LAX modernisation programme is considered one of the largest public works programmes in the history of the City of Los Angeles. Several projects have been completed, or are well underway, including the recently opened West Gates at Tom Bradley, a replacement Central Utility Plant, new taxiways and taxi lanes, and major renovations and infrastructure upgrades in all the other terminals. The largest projects underway include the Landside Access Modernisation Programme (LAMP), which will feature an Automated People Mover train, a Consolidated Rent-a-Car centre (ConRAC), Intermodal Transportation Facilities (ITF) and a station linking to the regional public rail system. Several of these projects have achieved LEED Gold Certification and include sustainability elements such as solar panels, hundreds of EV charging stations, and reclaimed water infrastructure.
Similarly, Van Nuys Airport (VNY) is also improving its infrastructure. Over the next four years, LAWA is investing millions to ensure a minimum 20-year lifespan of its taxiways and to improve aircraft operating areas and fixed base operator tenant facilities. In 2019, VNY became the first general aviation airport to offer sustainable alternative jet fuel and launched the first of several solar power projects, more than any other such airport in California. As part of the historic modernisation at LAX and VNY, LAWA is proactively investing in sustainable infrastructure and implementing policies to promote sustainability and encouraging innovative solutions. 'Operating Sustainably' is one of the four key objectives in LAWA's Strategic Plan.
By investing in energy efficiency, renewable energy, air quality, and water conservation programmes, we can realise our vision of being Gold Standard Airports"
Dating back to the 1980s, when we introduced alternative fuel fleets, industry-leading water conservation efforts, and an environmentally responsible purchasing programme, LAWA has been a pioneer in sustainable aviation. Over the past decade, the LAWA programme has reached new heights in support of social, environmental, and economic vitality, while continuing to weave sustainability directly into operations and the unique guest experiences that define LAX and VNY.
Here's a look at where LAWA is today on this path.
Energy stewardship
LAWA has significantly reduced its energy consumption all while serving the second-busiest airport in the nation. By enhancing and augmenting existing energy monitoring and management infrastructure and possible on-site renewable power generation and local power storage for LAX, LAWA anticipates more reductions to come. At LAX, the construction of a new power receiving station will provide power reliability and resiliency. The new Airport Police Facility and the Consolidated Rent-a-Car Facility, which is currently under construction, will be the first facilities to produce solar energy at LAX. At Van Nuys Airport (VNY), over 20,000 rooftop solar panels have been installed, producing an estimated 7.2MW of solar energy and reducing about 7,000 tonnes of greenhouse gas (GHG) emissions per year. LAWA is actively looking for additional opportunities to expand its renewable energy portfolio at both airports.
Air emissions management
LAWA continues to be recognised for its efforts toward reducing GHG emissions and promoting air emissions reduction initiatives. LAWA is transitioning its fleet of buses and sedans to all-electric, which is helping to reduce our carbon footprint. LAWA retired all airfield diesel buses and began operating only electric buses for airfield operations. Our Ground Support Equipment (GSE) Emission Reduction policy sets emission reduction targets for airlines and GSE fleets, driving LAX's GSE fleet towards zero emission. Since its inception, the LAWA GSE Programme has reduced air polluting emissions on the airfield by 337.5 tonnes per year, which is equivalent to the daily operation of 235,000 passenger vehicles.
Since 2016, LAWA has received Airports Council International's Airport Carbon Accreditation for mapping and reducing its carbon footprint – both LAX and VNY are certified at Level 3 (Optimisation). In 2020, LAX became an airport member of The Good Traveler™ programme, the world's first aviation-focused carbon offset programme where guests can offset the emissions from their flight. As part of a Smart Parking programme, LAX will also add 1,200 electric vehicle charging stations in the Central Terminal Area and at the new LAX Economy Parking facility. In addition, we continue to encourage our airlines to use sustainable aviation fuel (SAF). VNY has been a leader in this area and is currently taking regular deliveries of over 100,000 gallons of SAF annually and the demand is growing.
Materials resource management
Following the development of a Zero Waste Plan and Roadmap, LAWA aims to be zero-waste by 2028. LAWA is increasing waste diversion through the implementation of waste and recycling requirements for construction projects, as well as continued partnerships with local, regional, and national organisations. The LAX Food Donation Policy, which was adopted in 2020, requires airport tenants that sell or distribute food to participate in a food donation programme to ensure that excess edible food is donated to those in need. The Single-Use Plastic Water Bottle Ban will phase out the use of plastic water bottles at LAX by 2023.
Sustainable construction
LAWA is amid a $14 billion Capital Improvement Programme with many projects under construction. The LAWA Sustainable Design and Construction Policy requires new construction and major renovation projects to achieve a minimum of LEED Silver certification. Our Design and Construction Handbook (DCH) serves as a one-stop resource for designers, architects, planners, and project managers on standards and guidelines for capital projects and incorporates sustainability requirements for new projects. The Clean Construction requirements include requiring Tier 4 diesel equipment, or the cleanest available construction equipment.
Noise management
LAWA strives to reduce and mitigate noise impacts to surrounding communities through sound insulation programmes and noise abatement measures. In 2020, LAWA met all the SAP Noise Management targets, including implementation of the LAX 'Fly Quieter' Programme, which recognises airlines that fly quieter and follow noise abatement procedures. A user-friendly web-based noise portal for LAX and VNY was also launched and the Residential and School Sound Insulation Grant Programmes continue.
Water conservation
Over the past decade, LAWA has worked to reduce water consumed on a per-passenger basis through a variety of strategies and initiatives. Further reductions are expected from expanding and enhancing water-monitoring infrastructure to better audit and metre water usage. LAWA continues its efforts to increase the use of reclaimed water throughout its facilities and properties. At LAX, reclaimed water usage has increased to 27 million gallons, which is a 39 per cent increase from 2019. The use of reclaimed water is expected to increase even more upon completion of the new advanced water treatment project that will bring reclaimed water to the Central Utility Plant at LAX and terminals in the Central Terminal Area.
This is just the beginning of our future as the country's most sustainable airports.
As Mayor Garcetti said in the introduction of the LAWA Sustainability Action Plan: "LAWA is a model of how we want our public sector to lead and an example for airports around the world to follow — where we have adopted aggressive sustainability targets, invested in green infrastructure, and pushed for carbon neutrality at LAX and the Van Nuys Airport.
"What's more, LAWA knows progress won't happen overnight, so it's adopting multi-faceted and innovative programmes to get the job done. That's why LAX has achieved Airport Carbon Accreditation Level 3 three years running, reflecting LAWA's comprehensive accounting of third-party greenhouse gas emissions. That is why we're seeing LAWA's Landside Access Modernisation Programme focus on transforming ground transportation at LAX and ultimately reducing vehicle distance travelled by 117,000 miles per day by 2023. LAWA's Sustainability Action Plan will ensure their airports remain the gold standard in environmental conservation and customer service."
Biography

Samantha Bricker was named the Chief Sustainability and Revenue Management Officer for Los Angeles World Airports (LAWA) in September 2020. She is responsible for overseeing Commercial Development, Mobility Strategy, Sustainability and Environmental Programmes, as well as a new Procurement Centre of Excellence. The Commercial Development Division includes all key revenue and generating activities, including real estate, concessions, and parking. Bricker joined LAWA in 2016 as Deputy Executive Director for Project Management and Coordination. Prior to joining LAWA, she was the Chief Operating Officer of the Exposition Metro Line Construction Authority, where she managed a budget of $2.5 billion and directed the Authority's environmental planning, third party agency co-ordination, procurement, real estate, and external affairs. Previously, Bricker served as a Senior Legislative Deputy for the Expo Construction Authority, focusing on transportation and environmental matters. She earned a Master of Arts in Political Science from UCLA and a Bachelor of Arts in Political Science from Northwestern University.