A first-class passenger experience from bedside to planeside
Airports are constantly trying to improve the passenger experience to make commercial air travel the easiest, most enjoyable, and most preferred method of travel. For International Airport Review, Karen W. Ellis, Chief Customer Experience Officer at the San Antonio Airport System (SAAS), shares her insight into cracking the passenger experience code.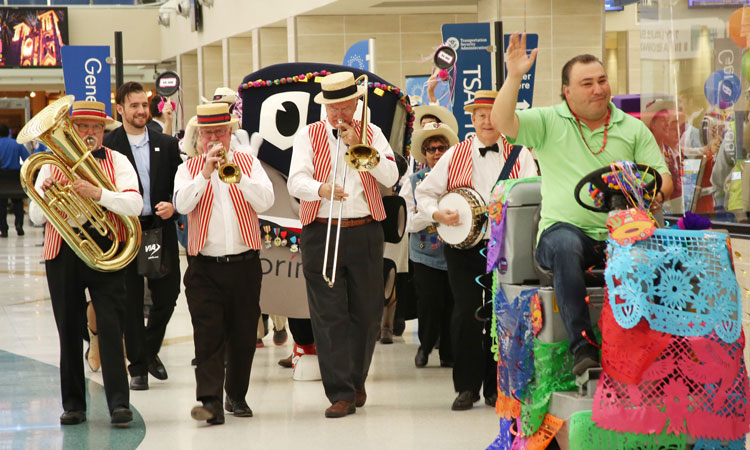 Deep in the heart of Texas, San Antonio International Airport (SAT) approaches customer service from the passenger's perspective. Our customer experience team launched a dynamic passenger feedback initiative, in which we executed numerous polls and surveys to gather valuable information from our passengers. From this feedback, SAT developed a series of 'passenger journey' models – where they identified hundreds of opportunities to improve the passenger experience, based entirely upon the data received from the passengers they were seeking to serve. These efforts have certainly paid dividends, with SAT ranking in the top 10 on the J.D. Power 2021 Airport Satisfaction Study, despite the challenges presented by COVID-19, and in a year that SAT moved from a medium to large airport in an extremely competitive category.
SAT's 'p
assenger

j

ourney' model

Using the 'passenger journey' model, SAT focused on the very first touchpoint a passenger would have with the airport – its website. Often the first-place passengers look to find information on flights, parking, and concessions – SAT's website had grown stale and outdated. We directed a team of stakeholders and web engineers to create a state-of-the-art, user-interactive website that provided all the information that passengers need in a user-friendly, easy to navigate webpage. Following the new website's launch, passenger questions and inquiries decreased significantly – proving valuable customer service was being delivered to passengers before they even arrived at the airport.

Continuing to focus on the passenger perspective and their journey model, SAT saw the need to immediately adapt to passenger concerns about health, safety and hygiene when travelling through the airport. SAT placed more than 300 sanitation stations throughout the campus, including: parking garages, baggage, and luggage cart locations, elevators and kiosks, and numerous other high-touch points passengers would frequently encounter during their travels. SAT also became the first airport in the world to use a robot to disinfect all high-traffic areas with an ultra-violet light, proven to kill the COVID-19 virus. This response to our passengers' concerns led to ACI-NA's awarding of its first-ever 'Best Airport Hygiene Award' to SAT in 2020. The award recognises airports that best listen to their customers and respond in a way that meets their changing expectations, to provide a hygienic and safe airport environment.
C
elebrating local culture
Critical feedback from passengers expressed that SAT had a very clean, yet sterile atmosphere and was not warm or welcoming to passengers upon arrival. Many also expressed dissatisfaction with a lack of local concession offerings within the terminals. Responding to this feedback, my team launched several passenger experience initiatives with overwhelming success. We completely overhauled our concessions to showcase many local and regional favourites, including Texas' iconic Whataburger chain and local San Antonio favourite, Smoke Shack BBQ. To compliment the tastes of San Antonio, an Arts, Culture and Music position was created within the Customer Experience team to bring the sounds, music, and culture of San Antonio and the region to the airport. Providing a sense of place through live music, art, and food, passengers are immersed in the culture of San Antonio from the moment they step off the plane. This has resulted in a tremendous groundswell of community pride and support of the airport, which now plays host to several community outreach events, such as: the annual Fiesta Parade, art contests and exhibits, a week long customer appreciation celebration with prizes and giveaways, and more. This has contributed to San Antonio International Airport receiving the 2021 Airport Council International – World's (ACI-World) 'Voice of the Customer' Initiative Award. This initiative recognises airports that continue to prioritise customers and remain committed to ensuring that customer and passenger voices are heard, to provide the premiere passenger experience.  
Improving the exper
ience of disabled passengers
What really separates SAT's passenger experience from other airports is its efforts in passenger inclusivity. In developing the various 'passenger journey' models, our team viewed customer service through a different perspective – encountering the travel experience through the lens of those passengers that have unique challenges. SAT set out to engage with various organisations and groups with different disabilities and identified gaps in the 'passenger journey' that made air travel challenging for members of the disabled community. The partnership and collaboration was phenomenal, and directly resulted in a number of passenger experience improvements that SAT would not have considered if not for engaging with the community and receiving their invaluable feedback. 
SAT became one of the first airports to fund and install an adult changing room, to provide accessibility for adults in need of this facility. SAT also contracted with Aira to provide a free service to all blind or low-vision passengers, which allows them to connect with an Aira agent through their mobile device or a set of special glasses – enabling them to be guided throughout the airport and navigate to their gate, concessions, or anywhere they would like to go without the need of assistance from another person. Information booths and self-serve, kiosks throughout the airport were modified to include wheelchair access and low-level access to counters and passenger services. Focusing internally, a series of special training seminars are provided to airport staff and volunteers, on the best practices to be used when assisting or supporting passengers with special needs. The hallmark of SAT's inclusion initiatives is our participation in the globally recognised Sunflower Lanyard programme. This programme allows both passengers and staff to wear a recognisable lanyard, which indicates that a passenger may have a hidden disability, or that the airport staff member has specialised training in assisting passengers with hidden disabilities. This initiative allows SAT to offer special services to passengers, who may require them but would not have been known otherwise.   
Building
on our successes
Our 'bedside to planeside' approach to the passenger experience has transformed travelling through San Antonio International Airport into a first-class experience. Passengers can check their most current flight information, weather, parking garage capacity, and more in just a few clicks on their computer or mobile device before leaving their home. While at the airport, they will continue to experience and enjoy everything that makes San Antonio the top tourist attraction in the state of Texas, from food, music, culture, shopping, and events.
As a testament to our efforts, our passengers have spoken, and the industry has responded. San Antonio International Airport received the top industry honour from ACI-World with the 'World's Best Airport Award for Customer Service', and in 2021 became one of only six airports in the world to receive the ACI Director General's Roll of Excellence Award recognising SAT for consistently delivering excellence to their customers and providing a world-class passenger experience.
We are absolutely passenger and customer focused – so naturally, we are very proud of our awards and the recognition we have received. However, this is just the beginning. We are already hosting public engagement meetings to collect feedback and listen to our community, as we roll out our Strategic Development Plan for new buildings and terminals at SAT. We are already focused on future improvements and how we can continue to provide our passengers with the best experience possible.        

Karen W. Ellis is the Chief Customer Experience Officer for the San Antonio Airport System. The position is responsible for the oversight of the Customer Service, Public Relations, and Community Outreach at San Antonio International Airport. Karen's previous experience came from the Houston Airport System, which included George Bush Intercontinental, William P. Hobby and Ellington Airport. While there, Karen had oversight of the airport-wide Customer Service Training Programme, and served as liaison between the travelling public, the City of Houston, the airport-side community, and passengers' responses to comments regarding the airports. Karen holds a Bachelor of Science Degree in Management and Marketing from Jacksonville State University and a Masters of Service in Human Resource Management from Troy State University.