How augmented and virtual reality are reimagining experiences and workplace support
Brian Cobb, Chief Innovation Officer at Cincinnati/Northern Kentucky International Airport, explains his team's latest innovations within the AR/VR space and the endless possibilities for airport staff and passenger experience.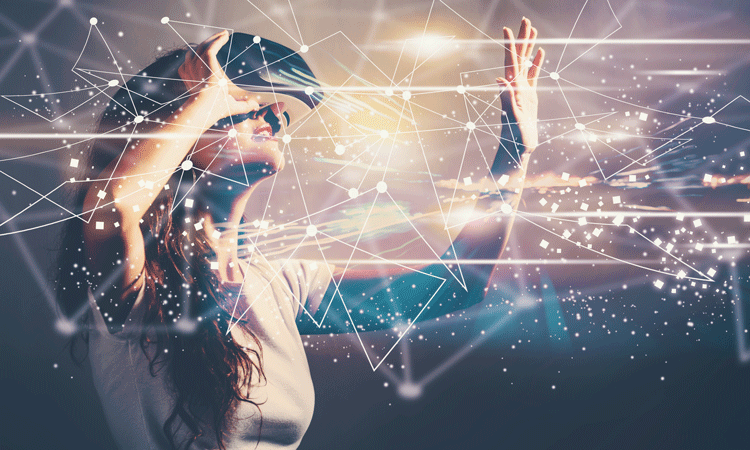 The pictures and renderings certainly do not do justice to just how massive this woodland creature is. What lumbers a short distance away stands 10 feet wide by 20 feet tall (3m x 6m). Without hesitation, she stretches her arm outward as far as it will go, turning her hand over and relaxing her grip to reveal an apple. Despite the intimidating size and bellowing sounds, she steadies her hand as the hairy beast reaches out with its trunk to clutch the fruit before slowly lifting its head, opening its massive jawline, and lowering the apple closer before dropping into its mouth. She instinctively ducks just as the majestic mastodon's 8ft (2.4m) tusks sweep over her head.
And just like that, the simulation is over. Curi, our inquisitive young traveller, just experienced virtual reality (VR) before her departing flight at the Cincinnati / Northern Kentucky International Airport (CVG). The Pleistocene-era mastodon Curi, is admiring roamed the local marshes around the current day airport over 11,000 years ago. She's learning this and more while looking at the local museum's mastodon skeletal display in the centre atrium of one of the airport's concourses.
CVG is amplifying experiences through educational opportunities."
CVG's innovation team engaged AR and VR technology by exploring the possibilities with Vectre, a start-up company, in early 2019 and developing a baseline understanding of use case applications. The airport staff sampled training scenarios ranging from: office indoctrination and copier use, confined-space training and emergency welding, as well as sensitivity and biases training.
A virtual world
It was shocking how quickly a headset and hand controllers can quickly immerse someone into a virtual world where the brain seems to naturally begin to adjust to the surroundings. In short order, I found myself stepping cautiously down a ladder, left hand gripping the railing, right leg lowering to the next rung, then opposite in succession as I lowered into a dark tube, with only my headlamp illuminating the way ahead. On my left wrist was the toxic gas sensor, and on my right, my oxygen sensor and elapsed time. Once I reached the bottom, I was instructed to manoeuvre around to locate a smaller opening, crawl through a gap and then into a crawl space. I only had seconds to locate, identify, and seal a gas leak before the fumes would overtake me.
I ran into a problem when my gear caught on the smaller opening. My upper body was inside the danger zone, while my lower extremities were in the safe zone. That meant that I was likely breathing noxious fumes. Before I could process this, my left wrist band alarm was triggered telling me to evacuate.
I panicked, fumbled about, and apparently passed out. This all culminated in meaning that I failed, but brilliantly without loss of life or bodily injury. The only thing damaged was my pride from failing a simulation model."
This immersive VR Confined Space training example was an instrumental demonstration on the future of training and well beyond gaming status. Imagine the tailored and highly detailed scenarios that businesses can construct opposed to standardised, full scale mock-up sites that are only used on occasion.
There is considerable opportunities in savings by hosting the technology in an equipped VR room for the trainees opposed to a field site reporting, sometimes in unsuitable conditions where the traditional training may need to be cancelled due to unsafe conditions, such as heavy rains or other environmental hazards. Additionally, consider the amount of data collected during each simulated VR scenario on each trainee relating to how they performed, under what conditions, and collectively, what were the patterns to best outcomes.
The benefits of operating in the safe confines of a virtual world for experiential, learning, performance, and more continue to emerge at a rapid pace and far greater than businesses are prepared to adopt or adapt. The crossroads lie between practical application and seemingly endless use cases. The VR value proposition may not be found, at least initially, in a traditional return on investment (ROI) model.
Augmented support
CVG recently entered into an agreement with Miami University of Ohio for management oversight of the University's Oxford Airport (OXD). This general aviation airport supports CVG's diversification interests in aviation services, in addition to the innovation strategies in development with the university and other local partners. The two primary buildings include the fixed base operations space, maintenance shops, and light-aircraft hangar space. The structures are somewhat historic in their own right, which brings a host of challenges related to age-related facilities. While our on site staff have some level of maintenance capabilities, there are limitations to what they can do when it comes to heavy-maintenance responsibilities or complex repairs.
CVG Innovation deployed it's Matterport camera for supportive site evaluation, awareness, and insights purposes. A Matterport camera and accompanying web-hosting service provides for high-resolution image capacity storage and manipulation in 360-degree room scan, touring feature, overall floor plan, and 'dollhouse' view of your chosen facility. By placing the camera and tripod in a chosen location and allowing it to complete a full rotation, capturing images of the room, and uploading the same to the cloud, then repeating until you have captured as much of the facility as desired, a 3D virtual model is created in your cloud account. The fidelity of the images is determined by the number of scans in a singular space. The ease of use right out of the box is quite astonishing. The two facilities took less than eight hours to set, capture, and repeat for both facilities at OXD. This device is in fast adoption among retail and real-estate marketing given its ease of use, minimal skill set required, and rapid access to end-users.
Perhaps the most important feature is the pin feature, where similar to mobile mapping, a pin can be placed in a desired location. When hovering over the pin, hosted content will appear providing the viewer with additional insights as to what they are specifically looking at. In the OXD use case, given the dated HVAC and other mechanicals, staff has uploaded content to include manufacturers, models, serial numbers, date of installs, weblink PDF user manuals, and more. Should our OXD site experience an issue within the mechanical room, an on-call remote facilities representative based at CVG, who may not be familiar with the specific units, can either navigate to the room via the webhosted site or enter the OXD room virtually using a VR headset and hand controllers. Through voice and or visual connections, the remote Facilities Representative can simulate and explain to the less experienced on site OXD representative basic to moderately complex repairs.
The advantage of the remote staff placing themselves in the virtual environment reduces ambiguity about what components are being discussed and what steps are being enacted in which order to achieve the necessary repair.
Biography

Brian Cobb is Chief Innovation Officer at Cincinnati / Northern Kentucky International Airport (CVG) and leads CVG Airport's team of professionals, who support customer experience and terminal services, information technology, and innovation programming. His deliverables include strategic competitive and customer experience advantages consistently achieved through successful visioning, facilitation, and acquisition of talent and technology.