Contactless has become the new airport buzzword
Protecting passengers and staff from COVID-19, Bangalore International Airport Limited emphasises the importance of minimising physical contact during the airport journey.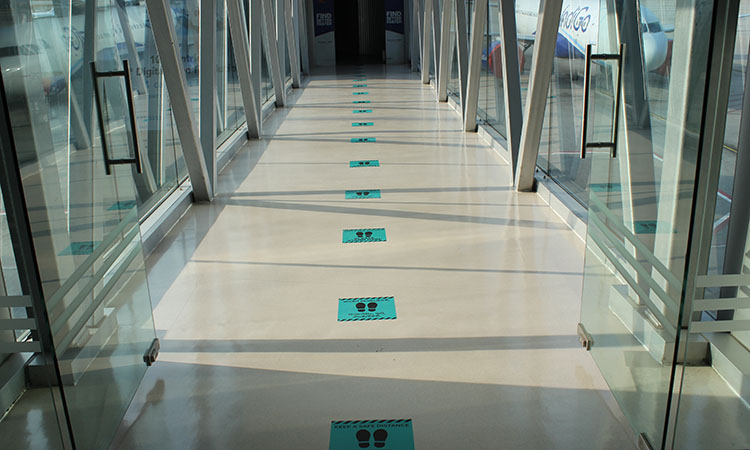 To enable the resumption of operations on 25 May 2020, and as part of its mission to protect passengers and staff from the risk of COVID-19 transmission, Bangalore International Airport Limited (BIAL) introduced a parking-to-boarding contactless journey at Kempegowda International Airport Bangalore(BLR).
A contactless airport journey
Minimising touch and exposure between passengers and staff, BIAL aims to reduce all physical contact at the airport. The technology will continue to enable a seamless airport journey, with an additional emphasis on health and safety. 
"BLR Airport has a key role to play in helping passengers through this global health crisis, by reassuring them that their safety is our top priority. With the highest priority on health and safety of passengers, employees and other stakeholders, we have introduced innovative methods to minimise exposure from the transmission of the virus at the airport," said Hari Marar, Managing Director and CEO of BIAL.
The process
Pre-entry process
As part of the new contactless procedures, passengers must wear face masks and carry an e-/printed boarding pass. 
At the Departure Gates, the passenger will undergo thermal scanning and must show that the Aarogya Setu app on a smart device is all clear. CISF personnel will verify the boarding pass and Government ID using an electronic device or through a magnified glass screen. 
All passenger baggage will be sanitised prior to entering the terminal. Mats and carpets will be soaked with bleach (a Sodium Hypochlorite solution) at the airport's entrance and exit to disinfect footwear.
Staff attending to passengers with additional needs, like individuals using wheelchairs and unaccompanied minors, will wear protective gear. Wheelchairs and pushchairs will be sanitised after every use. Trolleys will also be sanitised after every use, however, are discouraged except in the case of genuine requirement. 
Check-in process
Once inside the terminal, the passenger will scan their boarding pass at a contactless self-service kiosk, collect a baggage tag and tag baggage before proceeding to the airline counter to drop-off the luggage. Passengers will have the option of using the assisted bag-drop counter to print and tag their baggage. Initially, a maximum of one hand luggage item and one checked-in bag will be allowed, as mandated by the Director General of Civil Aviation (DGCA).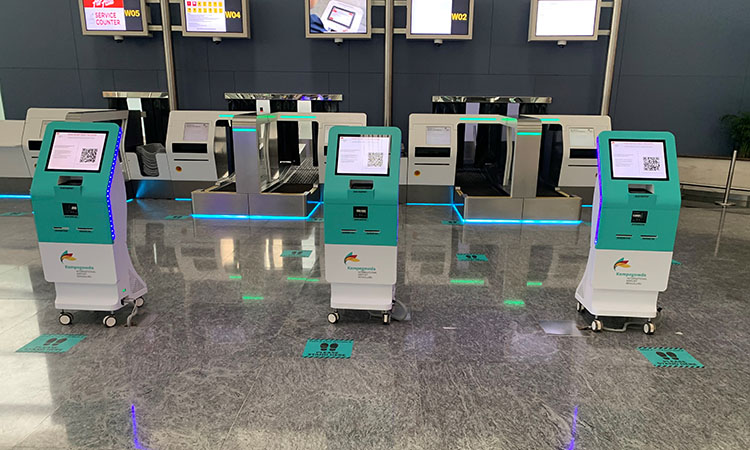 For the protection of staff at the airline bag‑drop counters, a transparent partition has been installed. In addition, the passenger will have to follow the safe distance markers placed on the floor. The passenger will scan the boarding pass on a sensor machine and airline staff will accept the bags, ensuring at all times that the boarding pass does not touch the glass screen.
Throughout the terminal there are touch‑free hand sanitisers available to passengers. To ensure the upmost safety regarding frequently touched surfaces – such as door handles, ATM machines and chair armrests – BIAL has implemented a nano coating which inhibits the virus living on surfaces.
Security check process
At the pre-embarkation security check, the passenger will scan the boarding pass at a kiosk and put all metal and other objects in the tray before going through the body scanner. Each tray will be manually sanitised after every use.
Under the new contactless process, body scanning will be done using Door Frame Metal Detectors (DFMD). CISF will carry out manual frisking of passengers only if the scanner indicates that prohibited items are detected. Hand sanitisers will be available before and after security check. Alongside this, stamping of the boarding pass has been suspended, as directed by the DGCA. 
Food and beverage outlets
BIAL has also introduced heightened safety measures to ensure food and beverage (F&B) and retail outlets are safe for passengers.  
These measures include the pre-ordering of food to minimise waiting time, seamless takeaway or at-location delivery, contactless payments and ensuring superior training of hygiene standards for all staff. 
All F&B outlets have contactless options to help travellers avoid human contact and eliminate queues.
Both food and beverages can be pre-ordered using the 'FSTR by BLR' tab on the official airport website, through self-ordering FSTR kiosks or by scanning the QR code displayed across the terminal, with an option to have it delivered at a location of choice.
Boarding process
At the boarding gate, the airline staff will hand over a kit containing a new mask and sanitiser to the passenger, who must put on the mask and sanitise hands before boarding. The passenger will scan the boarding pass on the sensor machine. 
Baggage
On arrival, all baggage will be sanitised before being put on the baggage carousel. Passengers must follow the safe distance markers at the baggage collection area and transit passengers will not be allowed out of the transit area.
Parking
At parking zones, the ticket dispensing machine will print a ticket after recording the time and date of entry, thereby reducing human processing. On exit, the ticket will be scanned against a machine and the payment can be made digitally. Cash and card payments will be available, carried out with due precautions. 
Transport
At the taxi boarding area, fumigation is being completed, taxis sanitised and drivers screened before every trip. Masks are mandatory for all and each taxi will accommodate only the driver and two passengers. The BMTC buses are operating at 50 per cent capacity. 
Sanitisation and other measures
BLR Airport is all geared up to welcome our passengers back and is committed to offering them a safe experience"
Alongside the contactless processes, BIAL has introduced a slew of other measures, including frequent sanitisation, disinfection and fumigation of the terminal. All touchpoints are being sanitised regularly at a predetermined schedule. 
Repeated announcements will be made, reminding passengers to maintain social distancing and wear masks. Information related to social distancing and personal hygiene will be displayed on the Flight Information Display System (FIDS) and seating within the terminal has been rearranged and marked in a manner that promotes maintaining a safe distance.
The terminal will be well ventilated, with minimum reliance on air-conditioning to avoid the spread of disease.
"BLR Airport is all geared up to welcome our passengers back and – working with various government departments – we're committed to offering them a safe experience for our passengers by implementing the best‑in‑class standards, procedures and practices," Marar concluded.