High hygiene levels are now the backbone of passenger experience
Sue Hudson, Head of Service Proposition at Heathrow Airport, details how Heathrow examined what passengers need to regain confidence to travel.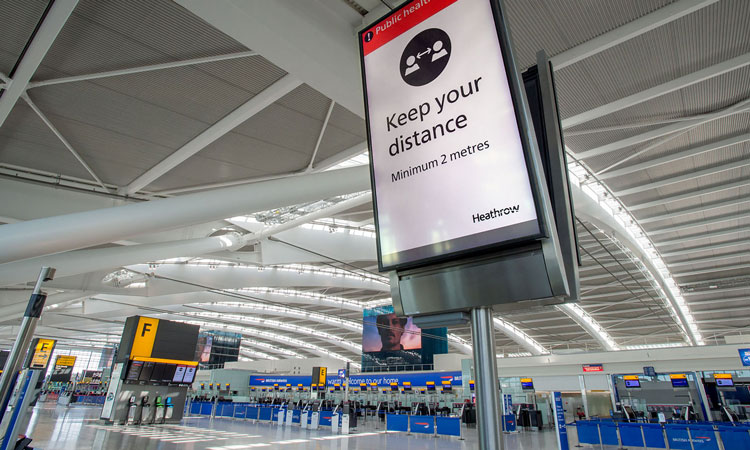 Our Heathrow vision is to give passengers the best airport service in the world. Putting people at the heart of what we do means everything to us. Like many companies in aviation, we began 2020 with ambitious plans and we had clear priorities to realise our vision. However, the reality of the COVID-19 pandemic kicked in hard and fast. Within weeks of the first headlines, Heathrow's mindset was focused directly on our customer and colleague's safety, whilst taking the measures required to protect our business.
Heathrow was quick to act, inviting both customers and colleagues to use masks, calling for a Common International Standard for health screening and trialling new technologies which would help to reduce the risk of transmission.
Restoring passenger confidence
So, the exam questions we set ourselves: How do we keep our passengers and colleagues safe, encourage customers to fly again, and increase consumer confidence?
We explored what customers would need to have enough confidence to make the decision to fly through Heathrow. We discovered that communication and engagement would be essential.
Heathrow has been an international airport for well over 70 years – until recently serving over 80 million customers a year. Our well-established knowhow and operational credentials gave us confidence to design and deliver the best solutions to look after everyone during these unprecedented times, creating robust processes and safe environments.
We are proud of our colleagues and partners across Team Heathrow, together we are well placed to take care of customers and continue delivering the highest service levels. Giving excellent service instils confidence, which is needed now, more than ever, as we navigate through the COVID-19 crisis.
Importantly, when implementing measures, we wanted to ensure that any change to our operation was scientifically proven to reduce the risk of transmission, boost consumer confidence and was suitable to an airport environment. 
We established clear and open customer communications and our digital channels
From regular interaction with our Heathrow Rewards loyalty customers, through to email conversations and enabling 'push notifications' to customers as they arrive at Heathrow to make them aware of the new measures and providing links to useful information, we ensured open communication was a priority. We also produced several short customer films explaining what might be different to the last time people travelled and importantly, that customers can continue to rely on a warm welcome and high quality service.
We adopted a strong and consistent approach to signage and information
At the very start of the crisis the team created a bespoke set of guidelines for COVID-19, which have now become a familiar thread across the whole customer experience. During times of anxiety and unfamiliarity, most people find it difficult to absorb a lot of information; they crave simplicity and clarity. We've found that adopting a consistent approach to messaging, across the whole journey, has helped enormously – regular patterns and familiar symbols make it easier to feel in control and reassured.
We instilled the highest levels of cleanliness
High levels of hygiene and cleanliness are now the bedrock of any customer experience, and airport environments are no different. Across Heathrow we've installed hundreds of hand sanitiser stations in key locations. We've applied technology with virus resistant wraps and sprays on trolleys, door handles, lift buttons and security trays, and we continue to explore new and innovative products. We also have a dedicated team of Hygiene Technicians. These colleagues are highly visible through their unique uniforms and make sure they blend their essential enhanced technical activities with proactive customer engagement.
We have embraced a greater rollout of touchless technology
Heathrow already had several well established, automated 'touchless' solutions across the customer journey. These include automatic access gates, boarding gates, reserve-and-collect options for retail purchases and food pre-order through the Heathrow App. We're actively exploring many other touchless opportunities, knowing that customers are most confident when they can use their own devices and take control in order to navigate an airport experience.
We have adapted quickly to drive innovation
The pace of change and need to find solutions to 'open up' the aviation sector has led us to trial many emerging technological solutions. From crowd monitoring systems to help with social distancing and temperature checking technology, right through to exploring a range of COVID-19 testing options to be ready when the UK government supports aviation testing, we're adapting and learning every single day.
We have co-created the airport experience with our customers
As the Heathrow team we'll do all we can to create a safe and welcoming airport, but we're acutely aware that we need to 'co‑create' the experience with our customers. Social distancing signage and 'nudges' are in place to encourage safe flow and waiting at the airport, reminders to wear a mask and keep clean hands are prevalent. We are in this together, so we keep observant and listen to what our customers are telling us.
Without a doubt – there is plenty more we will be doing over the coming months to build and sustain customer confidence and everyone at Heathrow is learning as we navigate our altered reality.
It is up to us all to do everything that we can in this 'new normal', to continue to deliver our vision of giving passengers the best airport service in the world.

Sue Hudson, Head of Service Proposition at Heathrow, has over 30 years of experience working in aviation and for the past three years has led the Service Proposition agenda at Heathrow. She focuses on helping Heathrow understand and gain value from service experience within the airport environment, including embedding Heathrow's unique service personality which reflects the airport's people, customers and heritage.