Istanbul Sabiha Gökçen International Airport versus COVID-19
To tackle the COVID-19 pandemic, Istanbul Sabiha Gökçen International Airport has implemented a variety of initiatives and measures, to both protect passengers and safeguard the airport for the future.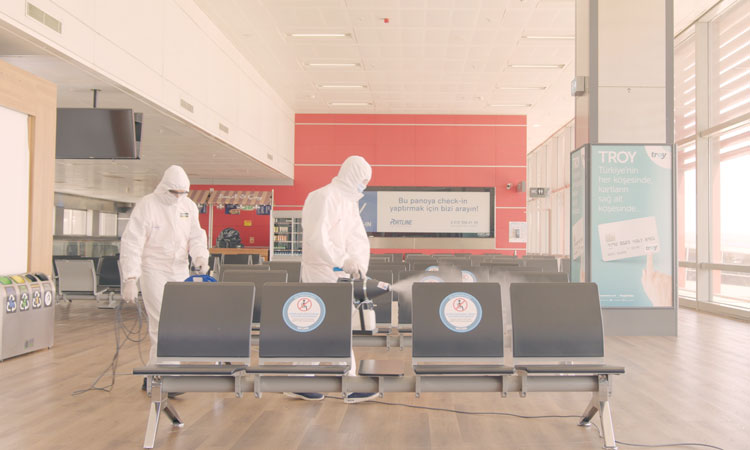 Istanbul Sabiha Gökçen International Airport (SAW) re-opened on 1 June 2020 after two months of temporary closure; commencing several domestic flights. This was followed by international flights gradually resuming on 10 June. SAW had been shut down on 28 March following an announcement from the Turkish government regarding all international flights were to be suspended and intercity travel restricted in response to the rise of COVID-19.
This is the first ever time in SAW's history that it had to close and experience such drastic declines. During these two months of closure, SAW – whose main traffic network is concentrated in Europe, CIS and Middle East – lost over 80 per cent of its passengers and more than 45,000 traffic movements.
The COVID-19 outbreak wasn't something that could have been anticipated, especially in the light of SAW's strong growth that has been achieved since the opening of the new terminal in 2009. Since opening, SAW has remained resilient despite the global economic downturn in 2009-2010, the Russian crisis at the end of 2015, failed military coup, and terrorism in Turkey in 2016. After each of these incidents, SAW has been able to recover within one to two years.
According to Ersel Göral, CEO of SAW: "The crises that SAW has faced in previous years has taught us how to maneuver and turn a crisis into an advantage. Being a busy terminal and operating on a single runway, the airport saw this pandemic as a window of opportunity to optimise its facilities; carrying out full rehabilitation and refurbishment of the runway and apron. Before this unexpected closure, there were only minor works able to be carried out due to the airports' 24/7 ongoing operations.
"We were also able to speed-up the construction and completion of additional check-in islands in the terminal. The time taken for all these initiatives would have been much longer if the airport had remained partially open and operating," Göral added.
Post COVID-19, especially after travel bans are lifted, it is of utmost importance to restore passenger confidence in travelling. SAW has undertaken several measures to ensure the best level of safety for all its passengers, stakeholders, staff and airlines. Beyond the basic investment in social distancing markers, handheld scanners and screen guard protectors, SAW also accelerated its technological investments.
Investing in technology at SAW
ePassports and eGates
SAW became the first-ever airport within the country to install this technological innovation. Before COVID-19 struck, eGates and ePassports had a huge impact in easing the passenger queues and bottlenecks at border control. The trial began with an initial implementation for Turkish citizens departing, and was then extended earlier in 2020 for arriving passengers. The time-saving technology using facial recognition enables passengers to pass through border control within a minute. This provides a contactless travel experience; ensuring the safety of passengers during this epidemic.
Thermal cameras
Prior to the re-opening of the airport, in coordination with the Ministry of Health, several cameras were set up and activated at the each of the terminal entrances, measuring the temperatures of passengers and employees entering the terminal and arriving to SAW. This helps to evaluate the risks associated with COVID-19.
Passenger flow tracking system
This system is in place to provide effective crowd management; observing the movements of passenger flow within the terminal. In this instance, it ensures social distancing is being adhered to at the airport, lesser queues and shorter waiting hours. This technology has been implemented in terminal entrances, airside security points and passport controls. The same technology is also planned to be used in terminal restrooms to help provide high quality cleaning services by adjusting the cleaning frequency schedule based on the areas' amount of use.
Contactless processing systems
Passengers who have checked in online can complete other processes – such as boarding and security control – using their mobile phones or Turkish identification cards without any human contact. There is also the option to complete the whole check-in process using the check-in kiosks and self-bag-drop systems. Additionally, passengers can make their car park payments using their contactless payment cards. In the near future, through collaborations with airline partners, SAW intends to roll out a single-token passenger journey system; providing seamless and contactless passenger processing.
Aerobot
Speaking more than 20 languages including English, Arabic, Russian, Spanish and French, the Aerobot is a digital passenger assistant that works as a passenger address system, providing passengers with all the necessary information at the airport.
Digital lost-and-found office
Passengers who have lost or forgotten any of their belongings at the airport can use SAW's online platform to enquire about possessions without coming back to the terminal. The requisitions made via this platform are automatically crosschecked with the found items. If a matching item is determined, ID verifications are made by the authorities and if found appropriate, the item sent by cargo.
Blockchain terminal management system
Integrated terminal management systems allow information-sharing across the airport between respective stakeholders, such as airlines and ground handlers. This helps to prevent any potential operational failures arising.
Digital survey
This platform allows for greater performance measurements of the airport, especially during the COVID-19 pandemic. It provides passengers with easily accessible questionnaires which allows quicker evaluation regarding how to improve the airport services.
Beyond these immediate investments, SAW intends to further invest into digital platforms.
Enhancing the passenger experience
IoT systems
The use of IoT systems has gained popularity amongst airports to help transform passenger experience. Providing smoother experiences for passengers, these systems create significant advantages for the airport operators, from correct data collection to the prevention of income loss. Automatically readings of analogue metres from a single centre promotes efficiency in the workforce.
SAW digital loyalty programme
This initiative aims to integrate the SAW loyalty programme with the existing e-passport/gates to promote the single-token passenger journey at the airport; benefitting frequent users of SAW and providing a seamless passenger experience.
Automated baggage-handling system
The upgraded automated baggage handling system will be deployed to eliminate some existing manual processing, reduce the cost of maintenance and energy, and optimise the use of space.
Common-use-self-service (CUSS) kiosks
More CUSS kiosks will be deployed across the check-in halls for other airlines, independent of the existing base carriers in SAW.
The future outlook at SAW
Moving forward, COVID-19 will change the landscape of the aviation industry; dictating the need for social distancing, improved hygiene and technology-driven processing. However, one thing that will not change is that travelling remains a necessity, especially for business purposes. Therefore, it's only a matter of time before travel picks up and returns to 2019 levels.
With that in mind, in preparation to welcome back demand and growth, SAW will continue with its next phase of development in constructing an additional passenger terminal, with a potential capacity of 25-30 million passengers per annum. This will increase SAW's capacity to 65-70 million passengers per annum.
The development is in tandem with the completion of a 3,500m x 60m length second runway in early 2021, as well as metro connectivity, which is expected to be completed at the end of 2021. These future developments bode well for SAW, and its aim to provide passengers with an enhanced experience and support various stakeholders in managing operations more efficiently.
Related airports
Related people