Visualising the sky better at Jersey Airport's remote air traffic control tower
With air traffic control on the cusp of a digital revolution involving remote towers, Jersey Airport's Air Traffic Controller, Peter Moore, explains how the airport overcame some of the challenges involved, including the use of eye-tracking technology.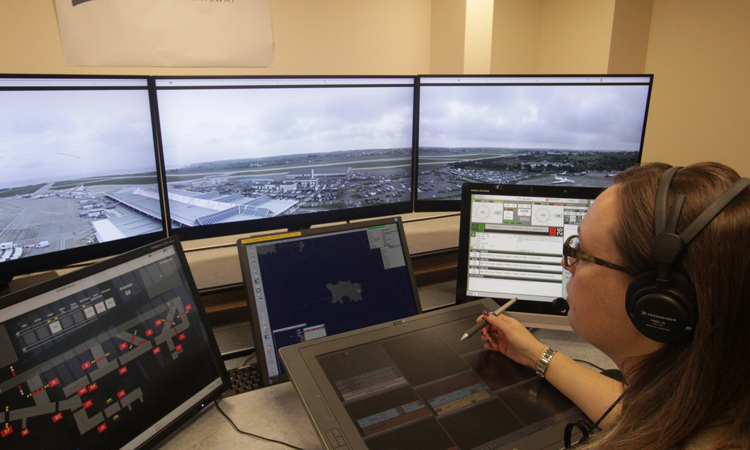 Controlling aircraft from an airport tower has, for decades, been a hands-on job, with controllers relying on excellent vision, powerful binoculars and high vantage points to assist them in their role of guiding planes to land and take off.
But advanced technology and the development of remote towers mean that controllers of the future could carry out the role from afar, using high‑definition computer screens and cameras. Ports of Jersey has recently made a considerable investment in developing one of the UK's first remote towers – with the facility based just a few hundred metres from the airport's 39m tower.
A home away from home
With the remote tower designed to act as a contingency for Jersey Airport – in the event of equipment failure in the existing site or an evacuation – a decision was made to replicate all of the technology and equipment used in the conventional tower so that controllers would be in familiar surroundings.
As such, the only real difference for controllers was the view. From the outset, for the project to be a success, it had to ensure that it was at least as safe as the existing tower and that controllers were happy that their current view – which allows them to see landmarks, such as lighthouses, as far as 46km in the distance – could be digitally recreated.
This was achieved via 11 fixed cameras, providing a 240-degree panoramic picture, and two pan-tilt zoom cameras. They produce a faithful recreation of the view from the tower – a digital image that is stitched together across three screens in the remote tower. The stitching allows different camera views to be displayed on a single screen which continuously blends light levels, contrast and focus to create one seamless panoramic picture.