CEO of Liverpool Airport hopes to see growth for regional airports
As part of International Airport Review's exclusive CEO series, John Irving, CEO of Liverpool John Lennon Airport, discusses the impact of technology within aviation and the significance of regional airports for the UK.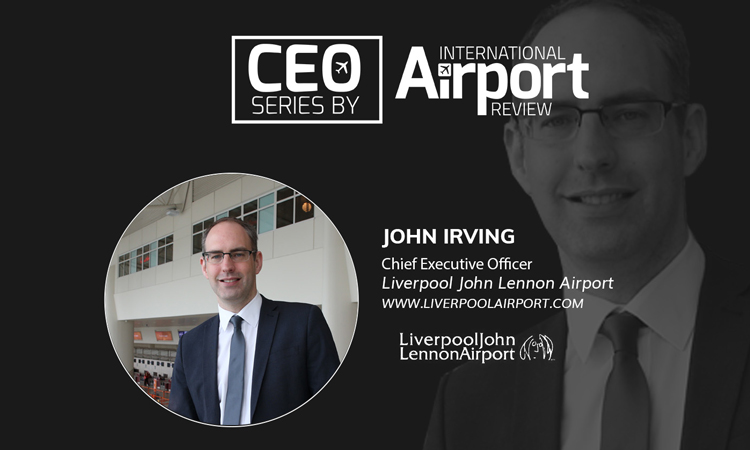 How did your career in the aviation industry begin?
I have only been working in the industry for four and a half years, with the past two years spent here, at Liverpool John Lennon Airport (LPL). I moved from Newcastle United Football Club to Newcastle Airport in 2015 to lead the Commercial and Aviation teams. I was responsible for all revenue lines at the airport and gaining new destinations from the airport to serve the North East market. There are lots of similarities in football and aviation, both are customer-focused, high-profile industries that people have instant buy-into.
What is the most rewarding aspect of being an airport CEO?
Having a team that is passionate and proud to deliver the highest standards of customer service, combined with best-in-class operational performance for our customers across the region, has been the most rewarding. We see this every day at Liverpool John Lennon Airport when we deliver industry-leading operational results and nationally-recognised levels of service.
We recently received a couple of national awards – the first was voted for by the public and the second by UK airlines. Being recognised as the best UK airport of its size in this way, by both our passenger and airline customers, was a tremendous achievement for everyone who works at the airport and something we are all really proud of.
Can you give us an overview of any exciting developments currently happening at Liverpool John Lennon Airport?
An airport is an ever-evolving business with developments happening all of the time, some behind-the-scenes that make the business stronger and some that our passengers will see and can experience for themselves.
We are constantly looking at ways to improve the passenger experience at Liverpool and offer the Faster Easier Friendlier Airport experience for everyone, every time. We will be investing in more equipment in our main passenger search area before our busy summer period, which will help to ensure that we continue to keep passenger queuing times as some of the shortest of any UK airport – currently 97 per cent of our passengers pass through security in less than 10 minutes.
We are also hoping to introduce a new food offer at the airport and continue to make improvements to our arrivals area – which is particularly important for overseas visitors perhaps arriving at the airport for the first time. We promote the airport as a gateway to the North West and North Wales, and improvements such as the new Halton Curve rail line means rail access between the airport, Chester and North Wales is now far better.
What is the biggest challenge Liverpool John Lennon Airport is having to tackle?
It is a challenging time for the aviation industry at the moment, with many external factors putting pressure on airports and airlines. We are on target to have five million passengers for the third year in a row and continue to work hard to attract airlines and new routes to our ever-expanding network. We want to see connectivity in and out of Liverpool John Lennon Airport improve as we serve the wider North West and North Wales catchment area. The Halton Curve rail line and the subsequent new Transport for Wales rail service is a big improvement, as is the Mersey Gateway bridge, which now enables traffic from Cheshire and North Wales to access the airport much quicker and easier. These improvements compliment the work we have been doing to grow the business and increase the choice of destinations, but we know more needs to be done and we are working closely with our transport partners to look at ways to improve the regional connectivity of the airport.
How might the use of new technology impact on business at Liverpool John Lennon Airport?
Technology in our industry is as dynamic as it is in other industries, from aircraft efficiency to passenger experience. We are seeing new aircraft being developed which are more efficient and greener, with potential opportunities to open up new routes from regional airports. The way passengers book travel continues to evolve through technology too, and we need to stay ahead of it at the same time as looking at ways to use technology to make the airport experience the best possible.
From facial recognition systems helping us to better understand passenger behaviour and run the airport more efficiently, to artificial intelligence helping in areas such as cleaning and aircraft turnarounds, we have some exciting times ahead.
In your opinion, how does the aviation industry need to adapt to secure its place in the future?
This is an ever-changing industry and we must address the issue of climate change with our partners and look at ways to support this international challenge. As a member of the UK Sustainable Aviation coalition, we have recently committed to achieve net-zero carbon emissions by 2050. Reductions in CO2 emissions can come from smarter flight operations, new aircraft and engine technology and the use of sustainable aviation fuels. Modernising UK airspace will help too, and we are currently consulting with the public about how we might change flight paths in relation to aircraft operating to and from the airport, which will improve aircraft efficiency and ensure that the highways of the sky are fit for purpose. 
What does the future of the aviation industry look like to you?
I hope we continue to see growth in regional airports to support the growth of the important cities and regions they serve. At Liverpool, we expect to see substantial increases in passengers and destinations, and to make Liverpool the airport of choice for the region's air travellers, whilst addressing the issue of climate change.
John Irving was appointed as Chief Executive Officer of Liverpool John Lennon Airport on 12 March 2018. Prior to joining the airport, Irving held the role of Chief Commercial Officer at Newcastle Airport for three years, overseeing the relationships with all key commercial and airline partners and driving the growth strategy for the airport.
Irving is a qualified accountant and spent eight years as Finance Director of Newcastle United Football Club, where he had responsibilities for finance, commercial and operation. Irving led a turnaround programme to deliver a strong and sustainable business model at the football club during his time at the club. He previously worked for Procter & Gamble across many financial and project management roles over a nine year period after graduating from Loughborough University.
If you are a Chief Executive Officer, General Manager or Director of an airport and would be interested in participating in this series, please contact Leah Hockley, Junior Editor of International Airport Review.