CEO of Bristol Airport believes 2019 was the turning point for aviation
Dave Lees, within International Airport Review's CEO interview series, explains how, through being CEO of Bristol Airport, he will help aviation maintain its position as the gateway to the rest of the world.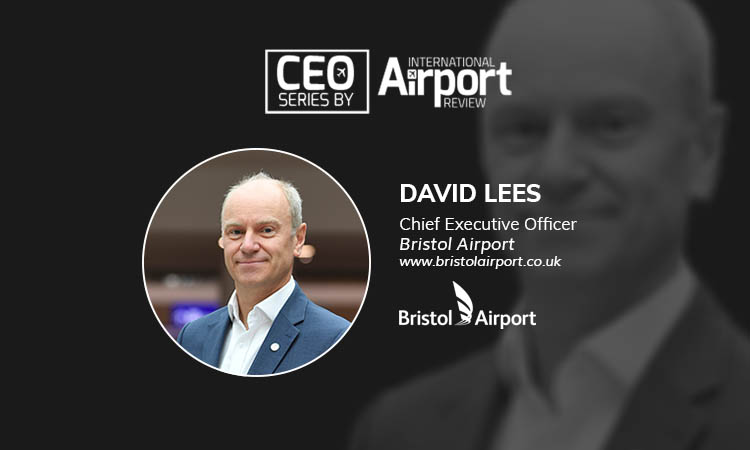 How did your career in the aviation industry begin?
At the sharp end – I started in the operations department for a major UK airline that focused on passenger handling activities as well as load control, which involved ensuring correct fuels, baggage organisation and passenger calculations before an aircraft could depart safely. This was an exciting and, at times, incredibly busy role which highlighted many of the varied issues involved in the turnaround operation of an aircraft. It also provided a huge insight into the challenges involved with disruption management and the importance of being visible and reassuring to customers.
What is the most rewarding aspect of being an airport CEO? On the other hand, what is most difficult?
The most rewarding aspect is the strong sense of teamwork across the many teams who work together, both internally as part of an airport and also across many companies.
There are many challenges of being a CEO. However, one of the greatest is the responsibility for the safety and security associated with both the over 4,000 colleagues who work at the airport, along with the millions of people who fly through the airport each year.
Can you give us an overview of the three most exciting developments currently happening at Bristol Airport?
Bristol Airport has a strong track record for delivering great new facilities for our customers. Amongst the many schemes implemented in 2019, the delivery of new food and beverage facilities in the terminal have transformed the choice and breadth of what is on offer; the creation of a new consolidated car rental facility, including the provision of integrated cleaning and fuelling facilities, will deliver a transformation for both passengers and the team working at the facility. 
Finally, we have recently completed two new buildings for our airline staff, whilst also opening a new headquarters building for our non-operational teams. This new facility has created a highly collaborative work environment in an open plan office format.
What is the biggest challenge Bristol Airport is having to tackle?
The airport is currently operating at 90 per cent of its capacity. The airport has a planning cap of 10 million passengers per annum, and a planning application was lodged in late 2018 to increase the capacity to 12 million passengers per annum. This represents a further opportunity to build on the success of the airport and to build upon its gateway status for the City of Bristol, as well as the wider region.
Infrastructure planning in the UK is always challenging, however, the scale of the opportunity for the region is huge given the increased inward investment opportunities, along with the continuing growth of inbound tourism. We are expecting the planning application to be determined in early 2020.
At this moment in time, what do you see as the biggest disruptor to the aviation industry?
There isn't a single disruptor, but rather a multitude which reflects a wider societal change. For example, the increased focus on climate change is something that aviation is having to respond to. The real challenge of global warming and how quickly aviation responds will be a defining period in our industry – I see 2019 as the turning point, with the aviation industry, including airports, taking a stronger leadership role. Cyber-security is a growing and very real threat which, if not taken seriously, can be catastrophic to an airport given the number of interconnected services with other parties.
Finally, market disruptors such as demand responsive travel companies, including Uber, are shifting traditional travel patterns and threatening key income streams for airports. 
In your opinion, how does the aviation industry need to adapt to secure its place in the future?
The move to a lower carbon future for aviation is absolutely critical. Climate change is a responsibility for all of us, and aviation, whilst a small contributor to overall carbon emissions, needs to play a greater leadership role in developing and implementing new technology. Flying brings huge benefits to society, however, action needs to be taken now and maintained to deliver a carbon-free future. 
At Bristol Airport, whilst we are working towards a net-zero carbon position, we are taking action in the short term by increasing onsite electricity generation from solar, increased electrification of vehicles and, as a UK first, we will also be carbon offsetting all car journeys to and from the airport from January 2020. Whilst carbon offsetting isn't a perfect solution, it does represent positive action and an interim step towards a zero-carbon future.
What does the future of the aviation industry look like to you?
I think the future of aviation is hugely exciting. The pace of technological development is increasing, which is delivering improvements for the customer as well as the environment. 
Today, there is greater choice between airports due to increased competition. Investment plans will continue to maintain this focus on delivering for customers. In addition, you can then board aircraft which provide greater levels of comfort, are quieter and more efficient than at any time in history. I see this trend continuing, which will enable aviation to maintain its position as being the real wide web to society across the globe.
Dave Lees joined Bristol Airport as its CEO in August 2018, after several years as Managing Director of Southampton Airport, and previously as the Airport Operations Director and Planning and Development Director. During his time as MD, Southampton achieved record growth in both passenger numbers and service level achievements. Lees has also had a successful aviation career across a range of roles at other UK Airports, including Heathrow, Gatwick and Stansted. Lees has a BSc in Transport Management from Loughborough University, where his passion for aviation developed.
If you are a Chief Executive Officer, General Manager or Director of an airport and would be interested in participating in this series, please contact Leah Hockley, Junior Editor of International Airport Review.