Smart Airport Plan: Making the future of the airport a reality
We spoke to Myojung (MJ) Koh, Smart Airport Team Manager at Incheon International Airport, about how the airport's Smart Airport Plan is revolutionising the passenger experience.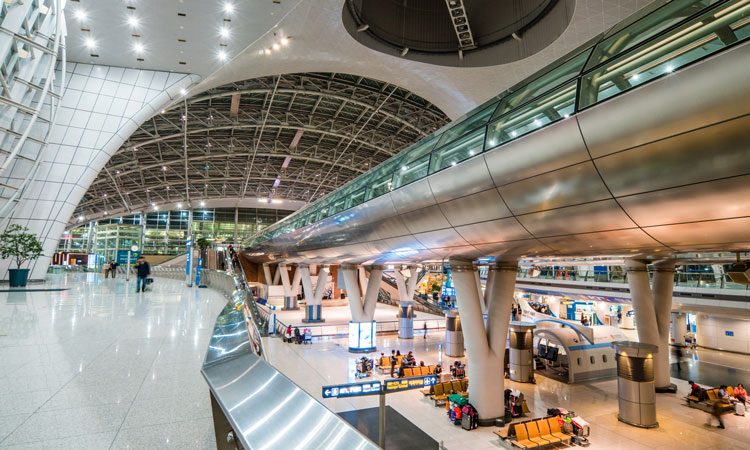 Passenger experience at Incheon International Airport has long been an important aspect for the airport, with it receiving numerous awards for customer service. Now, with modern passengers' expectations getting ever higher, the airport is taking its passenger experience initiatives a step further, implementing its Smart Airport Plan.
This includes a mixture of initiatives including a walkthrough self-service security screening system, facial recognition technology-enabled SmartPass check-in and boarding, home baggage drop-off courier service and the deployment of artificial intelligence robots at passenger terminals.
To find out just how integral new technologies are to the future of airports we spoke to Myojung (MJ) Koh, Smart Airport Team Manager from Incheon International Airport at International Airport Review's flagship conference – Airport IT & Security – where Koh presented the Smart Airport Plan.
Can you give us an overview of Incheon's Smart Airport Plan?
The Smart Airport Plan at Incheon International Airport is a feature of our future airport model. Passenger expectations have changed, and so the role of the airport has also changed, and we wanted to make the airport a more intuitive and personalised place that connects the passenger and the future.
We wanted to eliminate inconvenience caused by the physical limitations of the airport such as long waiting times and complicated procedures. We also wanted to make being at the airport more enjoyable.
Incheon Airport has therefore created a Smart Airport Plan consisting of 100 tasks which apply the latest technologies to maximise the passenger experience in three aspects: Process, service and operation. In our Smart Airport Plan, passengers don't have to leave their homes with heavy baggage or waste their time looking for a parking space as a personalised mobile app and robot will help them.
Also, passport and boarding pass inspection procedures will disappear during all departure processes. It is the latest technologies that make the Smart Airport Plan a reality.
Airport IT & Security, International Airport Review's annual conference, gathers industry leaders from across the globe to discuss future technologies with airport IT, including AI, robotics, self service and blockchain. Register your interest for Airport IT & Security 2020 now!
Why are new technologies so important for airport operations?
New technology is a key factor to make our Smart Airport Plan a reality. Until now, it has been common for passengers to wait a long time for each departure procedure to be checked for their passport and boarding pass. However, this inconvenience can be eliminated if biometrics, blockchain, big data and AI technologies are used.
It is the latest technologies that make the Smart Airport Plan a reality
With the latest technology, passengers can complete all the identification processes simply by passing through each point. New technologies help the airport of the future, which we have thought of before, to become a reality rather than a dream.
The latest technology is at the core of our Smart Airport Plan, as the element that makes dreams come true.
T
o what extent will automation play a part in the airport's future?
Many of Incheon International Airport's 100 tasks are related to automation. Although automation itself does not mean smart, we are very interested in it because it allows us to operate the airport efficiently. For example, using an AI-based guidance system at the helpdesk would provide more information quickly in comparison to being provided by a person.
Automation allows us to operate the airport efficiently
Self check in and self bag drop are already widely used and help increase the passenger handling capacity of the terminal. In addition, autonomous driving cart robots and PM (Personal Mobility) make it easier for passengers to use the airport. As automation has been a great help to both passengers and airports, I think future airports are very closely related to automation.
What passenger feedback did you receive on the AI robots?
Incheon Airport's AI robots provide passengers with a pleasant experience as well as information. In addition to answering passengers' questions and guiding where they want to go, they also take photos and hand out photo cards to make the passenger experience at the airport a happier one. As a result, many children can be seen staying near robots at Incheon Airport. At Christmas, the AI robots even wore Santa Claus hats.
According to a recent survey, 92 per cent of the passengers were satisfied with the robot service and gave very positive feedback, saying they hoped that more robots would enter the airport. Based on that, we continue to think about the use of robots to entertain and assist passengers.
In your opinion, what is the most important technology within an airport's approach to seamless travel?
I personally think that the One ID (single token) concept, which is gaining a lot of attention in recent years, will be a major aspect in the future of seamless travel. Each step in the departure process interferes with seamless travel. At each step, passengers must hold their passports and boarding pass and wait for their turn. However, these waiting times can be greatly reduced if identification is made using only biometric information such as face recognition.
One ID will be a major aspect in the future of seamless travel
This is the concept of One ID and the technology I consider important. Sharing this information in different countries will enable seamless travel throughout the journey from departure to arrival. It is also very important in that it makes it impossible to manipulate documents, such as passport forgery and therefore enhances aviation security.