What airport self service means for the future
Analysing the evolution of terminal technologies, Chris Wilson, Head of Terminal and Capacity at Birmingham Airport, looks at the rise of self service and how this has affected the overall terminal operation.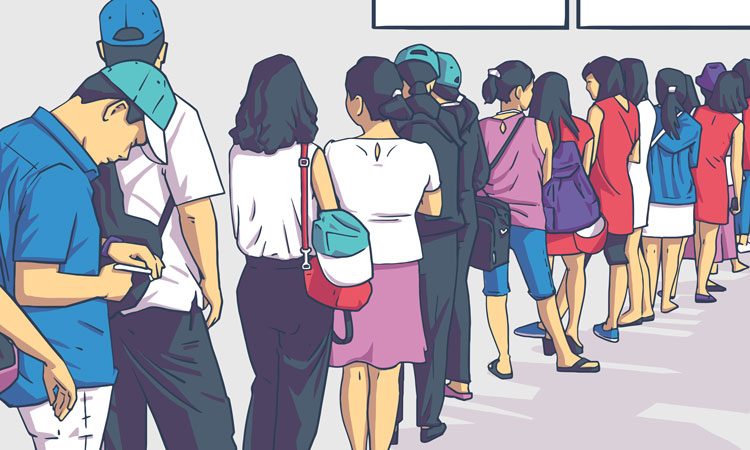 Looking back to the start of the decade, the effect of the global financial crisis was still being felt and passenger numbers were falling at a drastic rate, along with airlines cutting routes. The future was uncertain and it was difficult to predict which way the industry would go.
Today, the industry is in a strong position and the future looks positive. The UK now has the largest aviation network in Europe, ranking as the third largest in the world. The industry now contributes £22 billion to the UK economy, creating over 230,000 jobs1. This growth is imperative to the UK, improving and increasing tourism, trade and business investments.
The digital transformation
Over the last few years, airports across the country have experienced unprecedented growth – many reaching double digits in both 2016 and 2017. With the continued rise in passenger numbers, airports across the country have had to develop systems and operations to cope with increased demand, as well as meet the ever-changing needs of the passenger. Whether this be through plans to open new terminals, new flight launches or developments and improvements to terminal facilities – they all had the aim of improving customer experience.
When people think of air travel, they will often relate their travel experience with waiting. From check-in queues and security queues, to boarding queues, all result in a poor airport experience and often lead to tiresome passengers venting their frustration through social media platforms. What's more, as the Internet of Things continues to evolve, passengers have the internet at their fingertips wherever they go, resulting in them becoming savvier shoppers. From comparing holiday prices to checking in online, passengers want to feel in control of their travel, avoiding waiting times and speeding up formalities where possible.
The digital transformation in the aviation industry has boomed in recent years to improve customer experience and reduce these waiting times. Changes have already been implemented in areas such as check in, passport control and baggage management but there is still work to be done.
How can customer service be measured?
Many airports work alongside the Airport's Service Quality (ASQ) – an industry body which uses a benchmarking programme for airports to measure passenger satisfaction whilst travelling through an airport. The ASQ programme provides the research tools and management information to better understand passengers' views, as well as what is important to them in terms of the products and services provided by an airport.
The overall scores are marked out of five and are important when benchmarking against other worldwide airports. The scores can also be supportive in helping to deliver the aviation 2050 strategy which points out where improvements are needed. For instance, the CAA found 49 per cent of passengers experienced a travel issue when flying and in the handling of complaints only 64 per cent of passengers were satisfied2.
The rise of self service
In the same way supermarkets have introduced self-scanning technology for customers to pay for their shopping, or similarly, when ordering food from a fast-food outlet, airports are finding self-service kiosks to be useful in improving customer experience and reducing queue times.
Self-service bag drop (SSBD), is an automated technology designed to reduce passenger check-in times. Used across many airports, SSBD technology allows passengers to print bag tags and boarding passes and inject their luggage into the baggage system themselves, using a simple, customer-friendly user interface. The self-service technology allows the processing of a substantial number of passengers to be decentralised from the airport itself, allowing better use of staff who may be needed in other areas of the airport.
At the bag-drop point, to start, passengers place their luggage on the scales. They are then prompted to scan their boarding pass where a set of instructions are displayed on the screen regarding how to check in their bags. Each bag tag will have any details of connecting flights, priority or heavy bag information automatically printed, along with a receipt at the end of the transaction.
Through using self-service kiosks passengers are given full control of their travel and according to IATA, by 2020, 80 per cent of global passengers will use a complete self-service set developed under standards produced by the association3.
Benefits include:
Fewer check-in staff are required to serve passengers, resulting in resources being used in other areas of need; enhancing customer service
Less queuing and reduced waiting times for passengers
More passengers checked in and ready to go through security in a shorter timeframe
Providing passengers with control as well as the convenience of checking in their own luggage 
Kiosks need less space in the terminal compared to more check-in desks, which is useful if the space is limited with passenger numbers growing.
The use of SSBD technology at Birmingham Airport
Birmingham Airport has 67 SSBD kiosks available, with 53 that allow passengers to print boarding cards and check in, and 14 that also allow them to inject their bag. Some of the airlines which currently use this service include TUI, Aer Lingus, Ryanair, Thomas Cook and Flybe, Air France, KLM and Swiss Air.
For us, it is important our passengers have a seamless journey from the moment they walk in, to the moment they leave. This is especially important in an age where customer experience is a real focus in all business areas. Passengers will experience good and bad journeys, and will share their experiences with their peers, on social media and through feedback forums. With the use of our SSBD systems, we hope to improve the customer journey, so that passengers positively resonate with Birmingham Airport and continue to travel with us time and time again. In April 2019, we welcomed our one millionth passenger to use the SSBD system, with statistics showing up to 17 per cent of our passengers use the systems. It's great to see so many of our passengers taking advantage of the SSBD kiosks and we hope to roll the systems out to even more of our passengers and airlines in the coming months.
Since introducing the SSBD system to the airport in January 2018, passengers are being checked in 12-15 minutes quicker in comparison to using the traditional method of check-in desks, and queue times have been reduced by an average of 10 minutes. Looking at our ASQ results, the results show how efficient the SSBD systems are. For Q2 2018 check-in times we received a score of 3.94, which rose to a score of 4.05 during Q2 2019. For check-in staff efficiency, in Q2 2018 we received a score of 4.03, which increased to a score of 4.19 in Q2 2019.
The future of self-service technology doesn't stop there. We will soon have live feedback stations allowing us to gather feedback directly from passengers at check in, as well as the option of looking at biometric technology; future proofing systems where we can use technology to gather information on our passengers, for example to enable a facially-simulated boarding pass. There are many routes for us to explore and we're looking forward to seeing just where self-service technology takes us.
References
1. https://assets.publishing.service. gov.uk/government/uploads/ system/uploads/attachment_ data/file/769696/aviation-2050- print.pdf
2. https://assets.publishing.service. gov.uk/government/uploads/ system/uploads/attachment_ data/file/815736/CMA_response_ to_Aviation_2050.pdf
3. https://www.iata.org/whatwedo/ passenger/fast-travel/Pages/ index.aspx
Biography

As Head of Terminal and Capacity at Birmingham Airport, CHRIS WILSON leads the Capacity Planning, Control Centre and Terminal Operations teams, ensuring the delivery of service quality improvements and efficiency programmes which contribute to customer experience and the overall success of the airport. Prior to this, Wilson worked in several roles across the airport including operations, safety and airport development.