Grappling with gridlock: Can data help overcome airport traffic congestion?
With the rise of ride-sharing services, airports are having to minimise the impact these vehicles are having on congestion at the terminal. But where to start?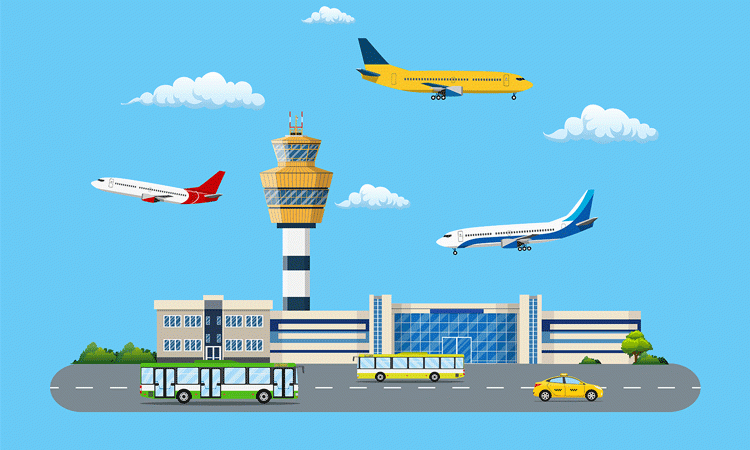 While airports brace for ride-share gridlock at airports, the same digital technology that has led to the congestion could be the secret to solving it.
New York Times article 'Ride-Sharing Adds to the Crush of Traffic at Airports' may be a sign of what's to come this Labor Day weekend.
U.S. airlines are expecting 17.5 million passengers to fly between 28 August and 3 September 2019, meaning you can expect big crowds at the airport terminal – and on roads leading to it.
At the same time that the demand for air travel has surged, so has the popularity of ride-sharing services such as Uber and Lyft – leaving airports scrambling over how to reduce traffic gridlock around the terminal.
Ride-sharing a contributor to airport traffic delays
A study released by Uber and Lyft found that their cars contributed to an increase in overall congestion in Boston, San Francisco, DC, Chicago, Los Angeles, and Seattle. Another report found ride-share services accounted for more than half of San Francisco's 62 per cent surge in weekday traffic delays between 2010 and 2016.
For airports, traffic delays can be a nightmare. When passengers and crew are late or miss their flights, not only does it cause stress at the departure airport, it has a knock-on effect to other destinations, causing delays and traffic jams everywhere.
So, what are airports to do?
The rise of airport ride-share zones
For airports where there is simply no room to expand, many have begun introducing ride-share zones located away from the terminal.
In June, SFO airport did just this – diverting the 1,200 ride-share vehicles which arrive every hour to a ride-share zone in an underused parking lot around five minutes walk from the terminal. Similarly, Boston Logan Airport has decided that from October, ride-sharing companies will be banned from dropping passengers off at the terminal except between 04:00 and 10:00, instead directing them to a central drop-off location.
Meanwhile, some airports are building new terminals and waiting for bays to better handle the influx of passengers and ease road congestion, although construction is only adding to their current traffic woes. In early August, at New York's LaGuardia Airport, closed exits resulted in cars backing up for miles on nearby highways, with many desperate flyers forced to race to the gates on foot.
Using data to tackle traffic problems
Travel uncertainty is not what airports want, and it's certainly not what passengers want. Fortunately, there's another way airports can tackle traffic problems around the terminal – with data.
Several forward-thinking airports and governments are now using intelligent traffic monitoring platforms to help them detect congestion and minimise bottlenecks both inside and outside of the airport.
For example, after traffic caused widespread delays at New Zealand's Auckland Airport in 2016, it decided to collaborate with Auckland Transport and the New Zealand Transport Agency – pooling city-wide data from multiple monitoring sources, including Wi-Fi sensors and radar, into a traffic analysis platform. 
By being able to visualise critical data in real-time, operators can assess when and how much to intervene with traffic management. Since adopting the Veovo system, the airport has shaved on average ten minutes off arrival to terminal door times
What's more, if a sudden influx of late arrivals at security did happen, the same platform will alert the airport ahead of time to scale up resources in those areas, ensuring the smoothest possible throughput of passengers.
Keeping passengers informed
Traffic monitoring technology is also proving to be useful for airports in managing passenger expectations, allowing them to give travellers warning of any likely delays or bottleneck locations.
For example, in New York, passengers at JFK, Newark Liberty, LaGuardia, and Stewart International airports can now access real-time TSA and taxi wait times on airport websites and in-terminal screens.
From managing taxis to ride-share
The New York airports are also using the Veovo flow management technology to balance taxi availability at their terminals – increasing the flow of taxis when they are needed at pick-up points to reduce wait times, and reducing taxi numbers at quieter times to minimise congestion.
Importantly, the same technology has the potential to provide airports with real-time data to identify ride-share shortages and bottlenecks, reduce ride-share wait times, minimise traffic, all the while keeping travellers informed, allowing them to better plan their journey to the airport.
Living in a digital era may have contributed to airport traffic congestion, but it may also be the very answer to the airport traffic problem. With access to real-time data through connected traffic and queue monitoring systems, airports and traffic authorities can have the power to ease traffic in and around terminals for a smoother journey for all.
Biography
Siobhan Boyle – Product Marketing Veovo. The Veovo Predictive Collaboration Platform assist airports globally to plan, predict, and perfect the airport ecosystem. It enables effective operational, capacity and commercial decision-making, generating role-specific, business-oriented answers to challenges faced. Veovo is headquartered in New Zealand, with offices in the UK, USA, and Denmark. Take off at www.veovo.com.
Related topics
Related organisations