Construction projects at Schiphol will ensure the airport is fit for the future
In a bid to maximise the longevity of Schiphol Airport, construction work is taking place throughout the terminal to ensure the airport is ready for the exponential growth of passengers through its doors.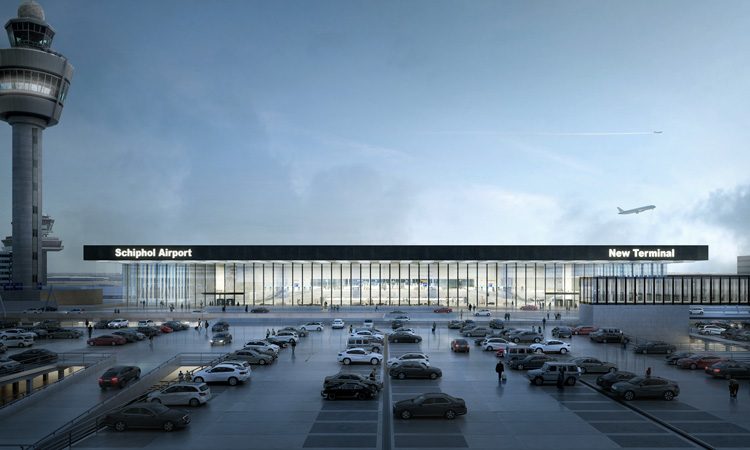 Passenger numbers at Schiphol Airport continue to increase year-on-year and so in order to prepare for the future and the growing number of passengers, Amsterdam Airport Schiphol is engaged in several construction projects which will increase the capacity of the airport and the passenger experience throughout the terminal. In addition to building a new pier, Schiphol is also preparing for the construction of a new terminal. These are unique construction projects being undertaken in one of Europe's busiest airport operations.
All work is taking place while the airport remains in operation around the clock as usual. There will continue to be sufficient capacity and space for airlines and travellers throughout the duration of the work. This is in part due to the fact that Schiphol is implementing the projects in a particular order.
Renovation of Departure Hall 1 and Lounge 1
The construction work in Departure Hall 1 is already well under way. The work includes introducing a mezzanine floor in Departure Hall 1, creating more space for passengers throughout pressure points such as security, check-in and waiting areas.
In addition to the extra security lanes that are to be installed in Departure Hall 1, Schiphol will be putting in a temporary security filter on Cockpitplein. This is set to be ready by the end of 2019 and can remain in use until the new terminal is opened. Completion of the renovation work is scheduled for mid-2020 for Departure Hall 1 and for the start of 2022 for Lounge 1.
The new terminal
The new terminal will be situated partly where temporary Departure Hall 1A is currently located. Construction on the new terminal will only commence once the temporary departure hall has been completely dismantled. The dismantling of temporary Departure Hall 1A (which is expected to be finished by the end of 2020) will commence once the renovation work on Departure Hall 1 is complete.
Tendering process for the new terminal
The construction work for the new terminal was put out to tender last July. The contract will be awarded in spring 2020, when the airport will announce the construction firm or consortium with which Amsterdam Airport Schiphol will be working.
André van den Berg, CCO at Royal Schiphol Group, said: "A new construction plan will be drawn up in conjunction with them. One thing that's certain is that a construction project on the scale of the new terminal will take at least three and a half years."