Fraport Greece reveals new design of Mykonos Airport
Due to be completed by 2021, the €25 million investment in Mykonos Airport combines traditional Cycladic architecture with a modern airport environment.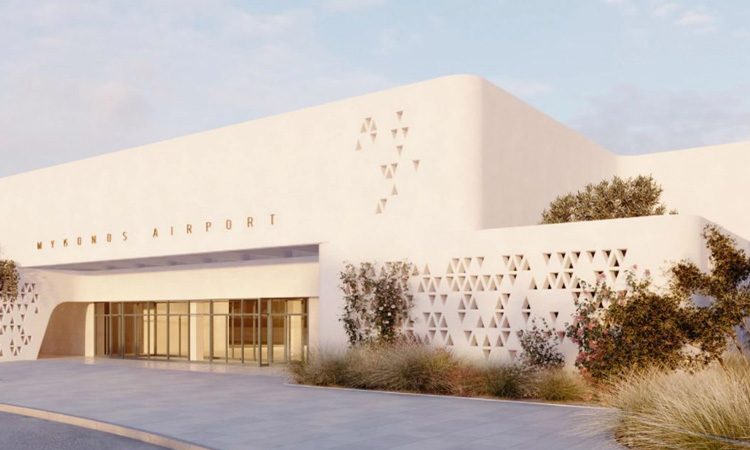 Photo credit: Fraport Greece
Fraport Greece has presented the architectural design of the new Mykonos Airport during an event on Mykonos Island.
The event was attended by representatives from the local authority, local stakeholders, and the tourism and airline industry.
The development of the airport will include:
Extension of a total area of 2,000m2 to the northern side of the existing building which will host the airport's new arrivals area
Expansion of the existing building by another 500m2 creating more gates
Complete re-modelling and refurbishment of all airport areas
New retail and food and beverage areas
Complete refurbishment of the existing sanitary facilities
Creation of two new VIP lounges
Installation of a new automated luggage handling system
Redesigning of the entire kerbside area.
The design presented to the public for first time highlighted the philosophy behind the new face of the Mykonos Airport, which combines modern architecture with the traditional style of the Cyclades.
The challenge for the architectural teams at K-STUDIO and BETAPLAN was great, as since 1971 the airport has gone through repeated expansions. The aim was to come up with a façade making special reference to the morphological principles of Mykonian architecture but at the same time meeting the requirements of a modern-day airport terminal.
First and last impressions are generated at an airport and therefore the architectural teams wanted to create an area where the first image would be one of expectations of what is to follow, whilst the last impression would be one that would enhance the memories from Mykonos.
Inspired by the Aegean pigeon houses, traditional samples of popular Aegean architecture, the design approach combines the tradition of Mykonos with its modern side. 
Alexander Zinell, CEO of Fraport Greece, stated: "We are particularly proud of the architectural design of the new Mykonos Airport, which combines the vision of the company with the unique features of the Myconian lifestyle. This new architectural approach is the result of a continuous dialogue with the local community. The new Mykonos Airport in 2021 will be a prominent symbol of Cycladic architecture. To date we have implemented a series of upgrades on an operational level, while construction is ongoing during the high season. With a total investment of €25 million, Mykonos Airport will become one of the most modern airports in Greece – a worthy gateway to this outstanding island."