Glasgow Airport announces new £200,000 green vehicle fleet
Eight petrol and electric plug-in hybrid Mitsubishi Outlander PHEV 4x4s arrive at Glasgow Airport to make airside operations more sustainable.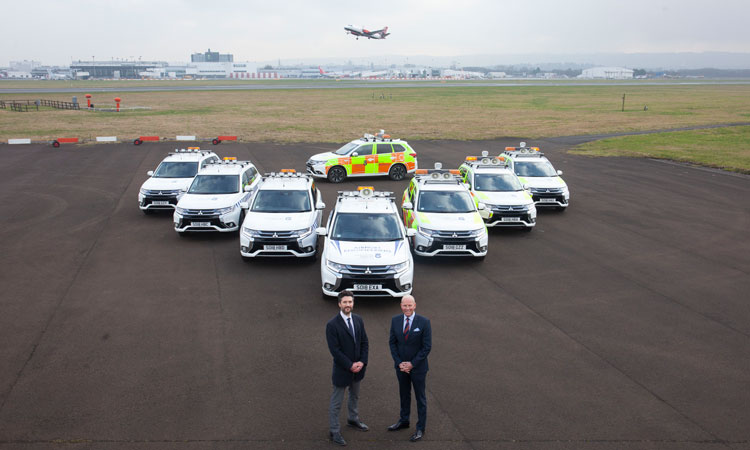 Glasgow Airport has invested more than £200,000 to introduce an eight-strong fleet of petrol/electric plug-in hybrid vehicles to its operations.
The Mitsubishi Outlander PHEV 4×4 vehicles will be deployed across the airport's security, engineering and airfield operations teams. A number of charging stations have also installed across the airport campus to accommodate the two-litre engine vehicles.
Unlike conventional hybrids, PHEV vehicles like the Mitsubishi Outlander can be plugged-in and recharged from an outlet, which allows them to drive extended distances using just electricity. When the battery is running low emptied, the conventional engine kicks in to support it.
Each of the airport's new vehicles have been supplied by Arnold Clark and can achieve up to 166-miles per gallon, bringing both attractive cost reductions and environmental benefits.  
Mark Johnston, Managing Director at Glasgow Airport, said: "The Outlander hybrid vehicles are fantastic additions to our fleet. The vehicles they have replaced produced between 200- and 230-grams of CO2 per kilometre whereas the Outlander is around the 41-grams mark. As well as delivering up to 166-miles per gallon, they also have the ability to drive over 30 miles with zero emissions using just electricity. As the fleet makes short journeys around the airfield, the Outlanders will be charged frequently at one of our stations to again minimise the amount of fuel used. We also enjoy the added bonus that 100 per cent of our own electricity supply at Glasgow Airport is generated using renewable energy. The environmental benefits and considerable cost reductions associated with the introduction of these hybrid plug-in vehicles are very attractive, so much so that through time we are considering rolling them out across the entire airport fleet."
Scott McPhail, Group Business Franchise Manager, Arnold Clarke, said: "We are delighted to be adding Glasgow Airport to our expanding portfolio of business customers, especially given their locality to our head office at Hillington, and with us being relatively new to working with Mitsubishi from a business supply perspective. We are sure our plug-in hybrid will be an excellent addition to their fleet, and we look forward to working with Glasgow Airport, as well as Aberdeen and Southampton airports, in introducing these vehicles across their operations."