Toronto Pearson installs 250 new automatic external defibrillators
Toronto Pearson has invested in the installation of 250 new automatic external defibrillators (AED) at the airport to provide key emergency assistance.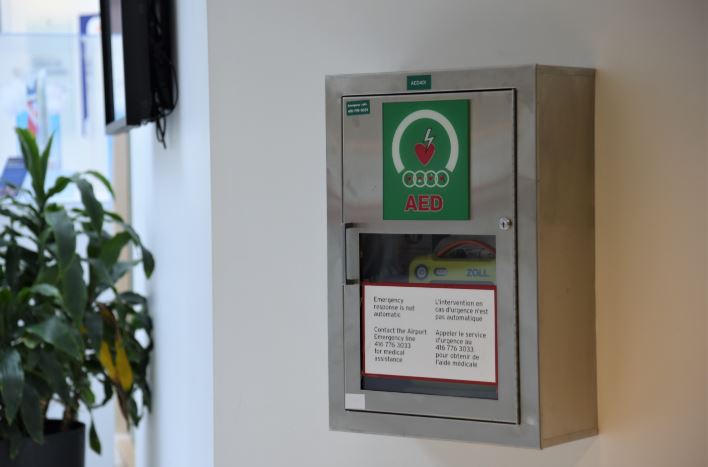 Credit: Toronto Pearson Airport
A major enhancement of emergency preparedness measures is underway at Toronto Pearson, protecting the airport community and passengers with new training and equipment.
Coinciding with Heart Month in Canada, Toronto Pearson's Fire & Emergency Services has completed a total overhaul of Automatic External Defibrillators (AEDs) at Canada's largest airport.
The programme will see over 250 new Zoll AED3 units installed at key employee- and passenger-facing locations. The new units will be part of a Public Access Defibrillators (PAD) Programme, making them searchable by emergency dispatchers who can direct bystanders to the nearest device. As well as making new cardiac treatment technology available, emergency preparedness has been further reinforced with the installation of over 250 bleeding control medical kits. These kits can be used by immediate bystanders during a traumatic event to significantly increase the survival rates for victims at risk of major blood loss.
David Hollett, Deputy Fire Chief at Toronto Pearson Fire and Emergency Services, said: "For an airport employee on the job or a traveller at Toronto Pearson, AEDs and bleeding control kits are safe, easy to use and extremely effective in an emergency. Safety is top priority at Toronto Pearson, so installing the best equipment and building awareness of it gives an individual the opportunity to save a life in an emergency."
The new AEDs are clearly marked with signage and are conveniently located throughout the airport community. When removed from their cabinet, first responders receive an automated alert with the time and location, assisting in emergency dispatch.