Gerald R. Ford International Airport begins Phase Two of transformation plan
Expected to cost over $18 million and generate over 40 full-time jobs, the second phase of the transformation at GFIA is finally underway.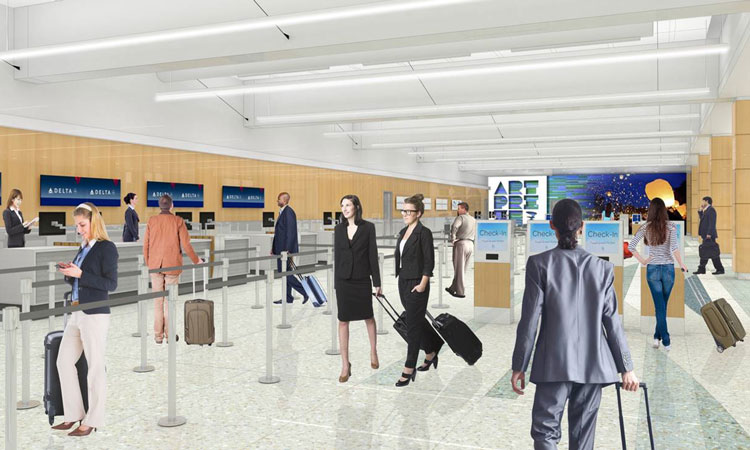 Projected design of the transformation project at the ticketing hall at GFIA
Construction on the second phase of the Gateway Transformation Project has begun at the Gerald R. Ford International Airport (GFIA), and will continue through summer 2020. 
GFIA is the second busiest airport in Michigan and served over 2.8 million passengers in 2017, while over 7,000 travellers pass through each day. The airport offers a nonstop service to 26 major market destinations with more than 120 daily nonstop flights. So this upgrade to the airport is very much needed to help with passenger flow through the airport. 
Construction improvements will be focused on the airline ticket counters and baggage service offices, baggage claim, curbside, and 'front of house' areas. The main features will include relocating TSA screening equipment from the airline queuing areas, upgrading the space around the baggage claim carousels, and increasing the retail options and toilet facilities in the same area. 
The remodelling project will include new terrazzo flooring, new LED lighting fixtures, and an upgrade in the signage. 
Phase 1 of the Gateway Transformation Project started in December 2015, and wrapped up in September 2017. The first phase included a consolidated security checkpoint which centralised and combined security screening, along with new retail and concession space, toilets and nursing rooms and business centres. 
GFIA President & CEO, Jim Gill, said: "The comments we have received regarding Phase One of the Gateway Transformation Project have been overwhelmingly supportive and have generated excitement for what's to come in Phase Two. We look forward to completing the next round of construction to make our entire airport reflective of the scenery and beauty of West Michigan as we continue to be the gateway to our region."
As some of the construction will have an impact on passenger operations both in the terminal building and those picking up and dropping off passengers at the curb front,  passengers are encouraged to prepare  for disruption and should arrive at least 90 minutes before their scheduled flight.