Another budget airline bites the dust as Cypriot airline suspends operations
Cobalt Air has suspended operations, leaving passengers stranded, as financial backing from potential investors were not found.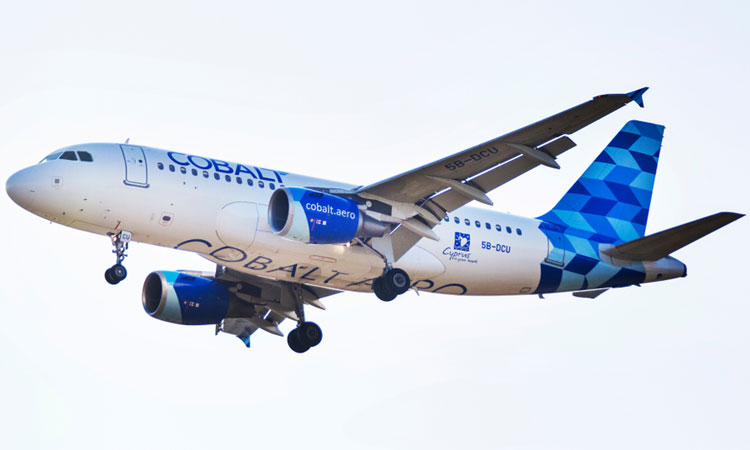 Following the demise of budget airline Primera Air, Cypriot airline, Cobalt has followed suit and suspended all flights as of the 17th October. 
The airline said in a statement: "Cobalt regrets to announce that it will be cancelling all Flights as of 23:50 on 17 October 2018 due to indefinite suspension of Cobalt's operations. As a result, future flights or services provided by Cobalt will be cancelled and will no longer operate. Passengers who have un-flown tickets are instructed not to go to Larnaca Airport or any departure airport tomorrow, 18 October 2018 as no Cobalt flights will operate and no Cobalt staff will be present. For refunds, please contact your credit card provider or Travel Agent."
The airline has been operating in and out of the UK since 2016 from airports such as Gatwick, Heathrow and Stansted. 
The Cyprus Mail has indicated that the airline is seeking financial backing from investors, as the potential investors of the airline were not found. 
Cobalt flew to 23 destinations, and had recently added business class and a frequent flyer programme to their flights.
The Ministry for Transport in Cyprus said in a statement: "The airline company Cobalt informed the Ministry of Transport, Communications and Works that will cease its operations from Thursday 18 October 2018 at 00:30 AM. A meeting [was] held at the Minister's Office, with officials from the Department of Civil Aviation, Treasury of the Republic of Cyprus, Hermes Airports and other stakeholders aiming for the smooth and best possible operation for the repatriation of the stranded passengers, due to the cease of operations of Cobalt. 
"The passengers that were due to fly with Cobalt the evening of 17th October, 18th October are kindly asked to secure an alternative single ticket in Economy Class for their repatriation, and keep all the evidence and receipts to be eligible for reimbursement. The remaining passengers that were due to fly with Cobalt in the next seven days, will be informed with subsequent announcements for arrangements for their repatriation. The Ministry of Transport, Communications and Works exerts all efforts to minimise the inconvenience of the passengers. Finally, it expresses its deep sorrow for the cease of operations of Cobalt and for the inconvenience that will be caused to the passengers in the upcoming days." 
Update
The CAA has released additionally information for passengers that are currently out of the U.K. 
The Cypriot Government has announced that for passengers due to travel on 17 and 18 October 2018 that they will refund the cost of an alternative economy flight.  You will need to arrange that flight yourself and keep receipts.
The Cypriot Government press release which details this programme can be found here
Cobalt Air is not covered by the Civil Aviation Authority's (CAA) ATOL protection scheme. 
If you booked directly with Cobalt Air and paid by credit card you may be protected under Section 75 of the Consumer Credit Act 1974 and should contact your card issuer for further information.  Similarly, if you paid by debit or charge card you should contact your card issuer for advice as you may be able to make a claim under their charge back rules.
If you purchased travel insurance that may include cover for scheduled airline failure, known as SAFI, you should contact your insurer.  If you did not book directly with Cobalt Air and purchased your tickets through an intermediary, you should contact your booking or travel agent in the first instance.