Oakland International Airport goes green with new blue buses
OAK has begun its use of new blue buses which promise to make the airport greener as they are powered by compressed natural gas.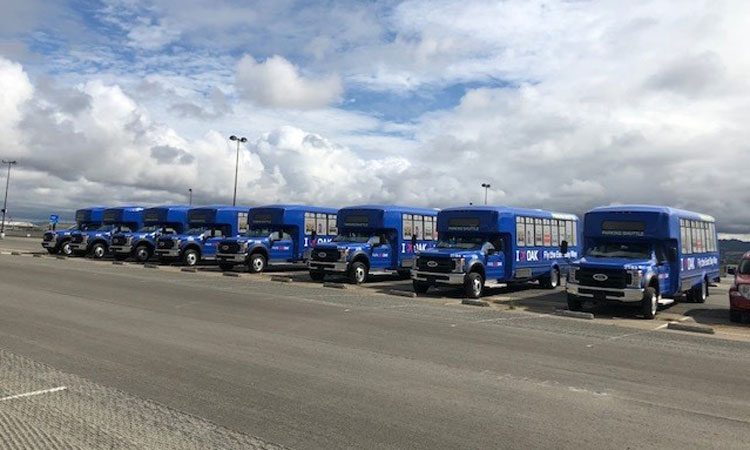 Oakland International Airport (OAK) proudly presents the arrival of nine new parking shuttle buses. The vibrant blue buses have just completed the testing period and are already in use. OAK now provides convenient and environmentally sustainable services between airline terminals and parking facilities. This scheme, of environmentally friendly buses, is popular with other airports around the world as an integral way to cut greenhouse gas emissions.  
Powered by compressed natural gas, the shuttle buses can reduce fuel costs by up to 50 per cent and greenhouse gas emissions by 25 per cent. The new fleet replaces the 2003 Ford Aerotech "Cutaway"-style minibuses with El Dorado Class-E buses from Creative Bus Sales.
OAK's public and employee parking facilities – the Economy Lot, the Oakland Maintenance Centre (OMC) Lot, and the Neil Armstrong Lot (NAL) – are just a short bus ride away from the terminals. 
During the last fiscal year, which ended in June, 921,457 passengers utilised OAK parking shuttles. This is up five per cent from 875,381 passengers served in the prior fiscal year.
Acting Parking and Ground Transportation Manager, Alma Peña said: "Safety, security, and enhanced customer service are top priorities at OAK. This is just as true for customers boarding aircraft as it is for passengers riding the new and improved parking shuttles. From concept to delivery, this journey has been extremely rewarding." Alma has been overseeing OAK's parking facilities for 10 out of her 21 years with the Port and is excited to see the opportunities the new shuttles will offer.
Oakland International Airport served 13.1 million passengers in 2017, and is poised to surpass 14 million in 2018.
Oakland International is the fourth busiest airport in California and second busiest in the San Francisco Bay Area. Serving over 13 million travellers annually, OAK is the closest airport to the region's top business and tourism venues. It is also the closest airport for most local residents.