'One Too Many' campaign launched to raise awareness of flying responsibly
The 'One Too Many' campaign is the first-of-its-kind to bring the main Aviation Industry partners together to raise awareness of the need to fly responsibly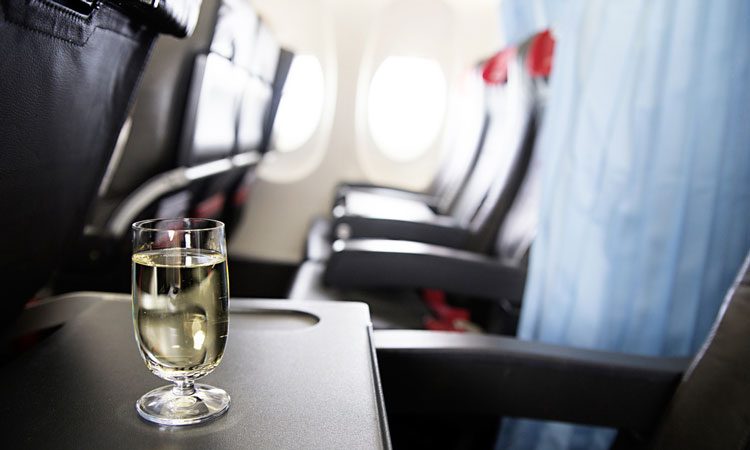 Travel retailers, airports and airlines have joined forces to unveil a summer passenger awareness campaign, concerning alcohol consumption, to encourage people to fly responsibly.
These include the risks of being denied boarding, having a plane diverted and the associated costs which include heavy fines, up to two years' prison, an airline ban and a diversion fee up to £80,000 for the most serious in-flight incidents.
The campaign has been rolled out via a national Facebook and Instagram social media campaign and in ten pilot airports across the UK.
Launching the campaign, Francois Bourienne, Chair of the UK Travel Retail Forum said: "It is an offence to be drunk on a plane. Not least to other passengers. The 'One Too Many' campaign is to remind people of the consequences of irresponsible drinking at any stage of their journey and to highlight the fact that, while serious disruptive behaviour remains rare, it can be costly and cause delays. Other passengers become upset and a lot of holidays are ruined. The UKTRF, IATA, AOA and Airlines UK are committed to tackling the issue of disruptive passengers and to working together to ensure that passengers are aware that this behaviour will not be tolerated. The campaign complements existing individual airport initiatives being used by airlines, airports, bar and pub operators and retailers – bringing it all under the one banner for the first time as we enter the busy holiday season."
Building on the UK Aviation Industry Code of Practice on Disruptive Passengers, the campaign is the first of its kind to bring the UK Travel Retail Forum (UKTRF), the Airports Operators Association (AOA), the International Air Transport Association (IATA) and Airlines UK (AUK) together.
Participating airports including Manchester Airport Group, AGS Airports, Bristol, Birmingham, Newcastle and Gatwick will work with airlines and other airport stakeholders to promote the campaign across digital screen signage, POS display, F&B retailer notices and through a dedicated police leaflet.
Rafael Schvartzman, Regional Vice President, Europe, IATA, said: "While we should remember that disruptive passenger incidents are still relatively rare, they rank in the top three concerns of cabin crew, and any incident is one too many. Airlines have a zero-tolerance approach to unruly behaviour and cabin crew and passengers have a right to a flight free from disturbance and harassment. We are proud to partner with UKTRF, AOA and Airlines UK on this campaign to remind passengers to fly responsibly. The party should be at the destination, not on the plane." 
Aviation Minister, Baroness Sugg, added: "Disruptive passengers have the potential to ruin other people's flights, and this campaign is an important new step to ensure all passengers are aware of the consequences they face if they behave disruptively after drinking before or on board a flight. I am pleased to see the industry come together to ensure the experiences at our airports and on flights remain positive for everyone."
UPDATE: 
Commenting on the IAS Fit to Fly report, Francois Bourienne, Vice-President Aviation Affairs of ETRC and Chair of UKTRF, has said: "Disruptive Passenger incidents, although rare, are a serious issue and require collaborative industry initiatives to tackle them effectively.
"In this regard, it is extremely disappointing that some of the sound recommendations in the Fit to Fly report have been overshadowed by the sensationalised anecdotal evidence and inaccurate figures that are provided as a policy basis. This, coupled with the promotion of the vested interest views of one airline and the misrepresentation of some of the insights of other participants in the forum is unacceptable.
"Drinking to excess is a societal issue and is not confined to any one stage of the passenger journey or hour of the day. Unfortunately, if someone is determined to drink to excess, opening hours or restrictions will have limited impact. Education of the consequences – both personal and on other passengers, information sharing, timely reporting of incidents, and full enforcement of the penalties available are key to effect change.
"The 'One Too Many' campaign launched earlier in the summer is a prime example of this. It builds on the 2016 Aviation Industry Code of Practice by bringing together the UKTRF, AOA, IATA and AirlinesUK to educate core at risk groups including Group bookings of the consequences of becoming disruptive.
"All signatories to the code also commit to extensive staff training in early intervention and reporting, as well as the responsible sale of alcohol applying the same standards as licensed premises. This includes policies such as refusals to serve and 'Challenge 25'. It is also made clear – at point of sale, on till receipts and on bags – that Duty Free purchases cannot be opened until passengers reach their final destination.
"ETRC and the UKTRF strongly support constructive collaborative measures to tackle this issue, including best practice multi-stakeholder initiatives at airports – from airport forecourt to the boarding gates – to facilitate early intervention and to deny boarding where appropriate. Enforcement of the Montreal protocol to empower police forces at the landing airport to prosecute disruptive passengers would also act as a key deterrent, providing airline crews systematically report incidents."
UPDATE:
The aviation industry has warned group bookings to fly responsibly or risk the party ending at the airport. The warning comes as figures show that the larger the group, the greater the risk of a disruptive incident during the passenger journey – with groups accounting for up to two-thirds of all incidents at individual airports.
The warning comes from the partners behind the Government-backed 'One Too Many' public awareness campaign which was unveiled in July by travel retailers, airports and airlines. 
Campaign findings reveal that at individual UK airports, up to two-thirds of incidents caused by irresponsible drinking when travelling have involved those travelling on group holidays including hen and stag parties.
The campaign highlights that disruptive behaviour caused by irresponsible drinking will not be tolerated and passengers risk being denied boarding, heavy fines, an airline ban and fees of up to £80,000 for the most serious in-flight incidents. 
Francois Bourienne, Chair of the UK Travel Retail Forum commented: " Cases of serious disruptive behaviour are not just limited to younger parties of lads and girls but over the Summer period they have been found to be an at-risk group. Traditionally, late September and October is a popular time for single travellers taking advantage of cheaper flights or jetting off for end of season parties. We want to particularly remind these groups that consequences will be enforced and that means the party could end before you reach your destination."