Renovation at Denver Airport begins ahead of 80 million expected passengers
Renovation at DEN finally begins, with a phased construction plan aimed at minimal passenger disturbance while expanding for 80 million expected passengers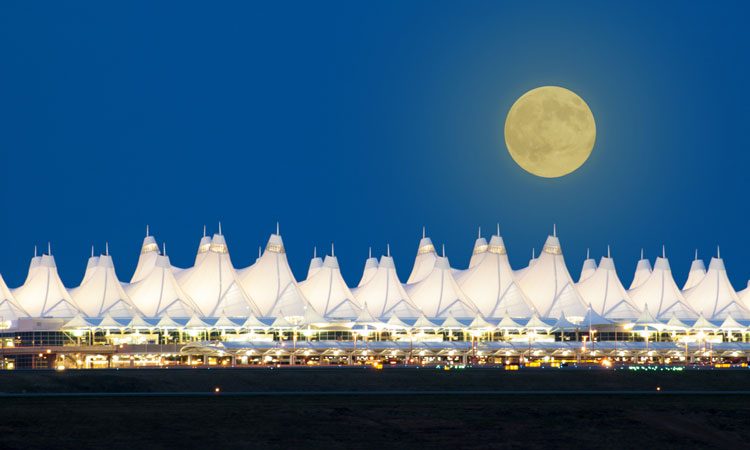 UNDER THE TENTS; Construction is expected to be complete in late 2021
Work has begun at Denver International (DEN) on a three-year terminal renovation aimed at coping with growing passenger numbers.
Currently, the airport is running at 20 per cent over its 50 million capacity at more than 60 million passengers a year. The redesign of the Jeppesen Terminal is aimed at helping DEN deal with 20 million more over the coming years.
Ignacio Castejon, CEO of Great Hall Partners, said: "The renovation process has been carefully planned with a phased approach so that passenger impacts will be minimised while still allowing for safe and efficient construction." 
The project will aim to enhance safety and security by relocating the TSA screening checkpoints, and implementing new, state-of-the-art "automated security lanes". 
DEN's operators expect an upgrade to infrastructure and systems in the terminal, including heating and cooling systems, escalators, elevators, restrooms and security will allow for a more seamless travel for passengers which will also help to make better use of technology and space in airline check-in areas. Moreover, there will be a new meeting/greeting area at the south end of the terminal, which will serve as a new "front door" from the plaza to the airport. 
The cost of the project is is estimated to be between $650-770 million, which includes an airport-controlled contingency of $120 million to cover unexpected issues or changes. 
It will be completed in four phases, finishing in 2021. The first three will take approximately 10 months each with the final phase lasting about 12 months.
The first change is expected to be seen in mid 2019, with the opening of new check-in counters and commercial area. In early 2020, more new check-in counters will open, with all airlines in their final locations. By the end of the development there will be new TSA screening areas. This, it is hoped, will aid in the increased passenger numbers and waiting times. 
Denver Mayor Michael B. Hancock said: "This project will create a terminal for the future allowing Denver to accommodate its continued growth while competing on the global stage."