Wedding fever triggers Heathrow's busiest May ever ahead of crucial expansion vote
Ministers in the House of Commons may get the chance to vote on the expansion plans within weeks.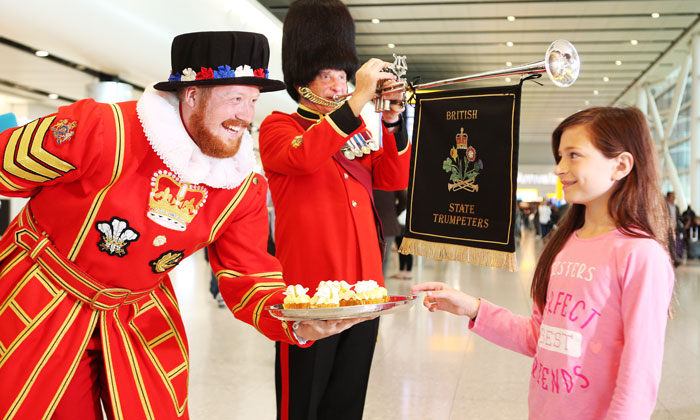 WELCOME: Heathrow brings a taste of the royal wedding to arriving passengers
Wedding watchers from the U.S. prompted a surge in passenger numbers at London Heathrow as ministers get set to debate the relative merits of its proposed expansion.
The news of another record breaking month at Europe's busiest airport will doubtless be welcomed by the UK Cabinet which last week announced its support for Heathrow's third runway proposal. 
During May, 6.7 million flyers travelled through the London Hub, up 3.1 per cent on 2017, with passenger numbers on North American flights rising by 5 per cent. This surge was attributed to tourism inspired by the marriage of Price Harry and Meghan Markle on May 19 with so-called 'wedding watchers' arriving in droves. Domestic flights also saw an uplift, boosted 5.5 per cent as more passengers filled flights to Aberdeen, Edinburgh and Leeds.
Cargo also saw a bumper month.  Over the course of May, 144,000 metric tonnes of cargo passed through Heathrow, the 22nd consecutive month of record growth at the UK's largest port by value for non-EU trade. The long-haul cargo markets were the fastest growing, with Japan (28 per cent) and Brazil (33 per cent) taking the top spots.
Heathrow CEO John Holland-Kaye said: "We have a robust plan to expand Britain's hub airport, unlocking billions in growth and creating tens of thousands of new skilled jobs – from Plymouth to Perth and Swansea to Southend. With strong cross-party support and a united voice from business and unions – MPs must finally seize the opportunity to expand Heathrow and secure a prosperous future for all of Britain."
Though no date has been set for the Commons debate, after the Cabinet decision last week to endorse the airport's proposal it is widely expected to take place within weeks. Opponents to the plan cite, among other things, the additional disturbance it could cause to residents of nearly a million households under flight paths with the increase in traffic and question Heathrow's ability to deliver on time and on budget.