Qatar Airways CEO starts year as IATA board Chairman amid sexism row
The CEO of Qatar Airways has begun his year as the Chairman of the International Air Transport Association's (IATA) board of governors, on the same day as his sexist remarks triggered an outrage.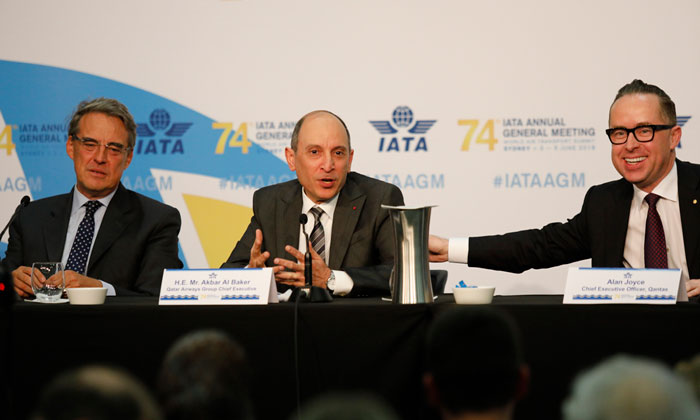 NEW ROLE: Mr Al Baker at IATA's annual conference in Sydney
Akbar Al Baker has apologised for saying that an airline must be run by a man "because it is a very challenging position" at IATA's annual conference on Tuesday in Sydney. On the same day, it was announced that he had taken up his role as the 77th chair of the IATA board of governors and the first CEO from Qatar Airways to hold the position. He has served on the board since 2012. He succeeds Goh Choon Phong, CEO of Singapore Airlines.
Upon taking up his role, Mr Al Baker, said, "I am delighted to be here in Sydney and honoured to be leading the IATA Board of Governors as Chairman for the year ahead. To be nominated to such a prestigious leadership position in the industry is a great honour, made all the more pertinent in the difficult circumstances in which Qatar Airways currently operates.
"I look forward to continuing my work in the coming year for our great aviation industry, connecting safely the peoples of the world, a sector which will only continue to grow in the years ahead, and one in which I am most proud to work and represent one of the world leading airlines."
Al-Baker was named Qatar Airways' Group Chief Executive in 1997. In this position, Al Baker has spearheaded the growth of Qatar Airways from a small regional carrier into a major global company. He was President of the 70th AGM which was held in Doha in 2014.
"I want to thank Goh Choon Phong for his strong support and leadership over the past year. He has led major changes in IATA's governance that will enable the association to work even more closely with its members. Under his leadership the industry approved a major modernisation of our settlement systems, and made excellent progress on transformative initiatives such as New Distribution Capability and ONE Order. Choon Phong's insights were particularly helpful as we contended with the PEDs ban and growing infrastructure capacity shortfalls in key regions, while also working with governments to prepare for the arrival of the historic CORSIA program to help airlines manage their future emissions growth," said Alexandre de Juniac, IATA's Director General and CEO