Hartsfield-Jackson sets record for most gun confiscations in one month
Fines for carrying a firearm in cabin baggage can vary from US$1,960 to $13,000 with a criminal referral.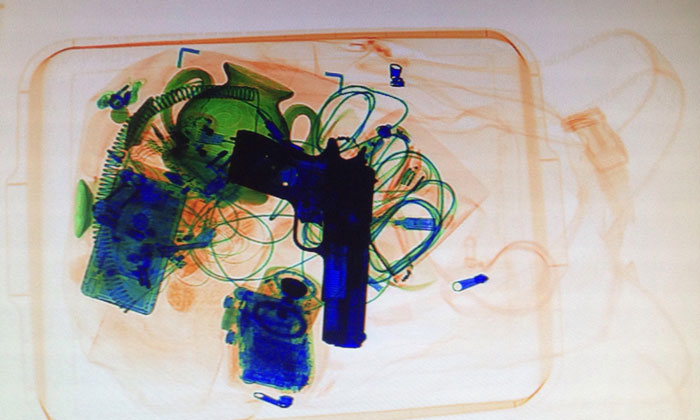 CAUGHT OUT: More than 1,700 firearms have been discovered in hand luggage so far this year
Security staff at Hartsfield-Jackson Atlanta International Airport (ATL) confiscated more guns in May than any American airport on record. Thirty firearms were discovered at the East-Coast hub, which is also the busiest airport in the world, last month, topping the previous record, also held by ATL, of 27 from 2016.
During the course of the record-breaking month, there were several days when Transportation Security Administration (TSA) discovered multiple firearms in the carry-on bags of passengers flying out of ATL. TSA officers discovered four firearms May 3 and four more May 6. Three were detected by TSA officers May 26.
The TSA has said that it has seen a continued rise in the number of guns brought to security checkpoints, both locally and nationwide. Through the end of May 2018, TSA officers at ATL had discovered 108 firearms, up from 91 for the same time period in 2017. More than 1,700 guns have been found at security checkpoints nationwide so far this year.
Each week, the administration issues a newsletter featuring how many guns it has discovered, how many of those were loaded and, perhaps more worryingly, how many had a round in the chamber. From May 14 to May 20, for example, 101 guns were confiscated, more than a quarter of which had a round chambered.
People who bring weapons to a checkpoint are subject to federal civil penalties of up to US$13,000. Even people with gun carry permits are not permitted to carry a gun on an aircraft. A typical first offence for carrying a handgun into a checkpoint is $3,900, and can vary depending on whether the item is loaded or not. The TSA's complete list of penalties is posted online.
A spokesman for the TSA said: "Passengers are permitted to travel with firearms in checked baggage if they are properly packaged and declared. Firearms must be unloaded, packed in a hard-side case, locked, and packed separately from ammunition.
"The gun must be brought to the airline check-in counter to be placed in the belly of the plane with other checked baggage. Firearm possession laws vary by state and locality. Travellers should familiarise themselves with state and local firearm laws for each point of travel prior to departure."